News
2009
OB Day
20th June 2009

The Day began with the Chairman of the Club, Judge Paul Waterworth, beginning the AGM at 10.00am in front of 30 or so OBs gathered in the Colin Beale Centre.

OBs gathering outside Chapel before the Service

OBs gathering outside Chapel before the Service

The first ever OB crèche began at 10.00 am on the bottom floor of the Colin Beale Centre

John Hollands entertains Brian Jenkins and David Chapman-Andrews

The Head Master, Paul Waterworth and Reverend Anna Norman-Walker (Preacher for the Day) enjoying pre-lunch drinks on Big Field

The top table enjoying lunch

OB Club President, Martyn Grose, fulfilling a Grandpaternal role at lunch

OBs mingling at lunch

Paul Waterworth introduces speakers

The Mayor of Tiverton, Paul Graham.  Paul's father, David Graham, worked at Blundell's for many years as Chemistry Technician.

David Bentata enjoying the speeches!

Nick Burkitt, Karen Barton (nee Soffe), Janet Wooff (nee Frankpitt) & Mark Wooff at lunch...

...and catching some sun on Big Field afterwards.

Katharine Rackham speaking as President for the Day

David Bentata and Tim Courtenay getting comfortable in the range after lunch

Henry Parkin and Nick Markell displaying excellent technique and physique in the OB tennis match
About 100 OBs and staff enjoyed a drink before lunch and 80 OBs and guests stayed for the lunch. Thanks go in particular to Sue Beale and the Atkins family for their tireless efforts in making OB Day so enjoyable.
OB Day Shooting Match
As part of OB Day celebrations, a mini-range shooting match took place on Saturday afternoon. The form of the shoot was agreed to be the competition between nominated pairs – as James Postle is coaching this year on the basis of taking two cadet pairs to Bisley.
The school's nominated pair proved too strong for the best Magpie pair, with a score of 190 against 187. Additionally, the highest school scorer (with 96) was the top man of the day, thereby winning the trophy presented many years ago by the late Lt. Col. Digby Willoughby. Altogether seven OBs shot, and a further two attended to see fair play. It was the first time since 2000 that we had actually managed a shoot, and the atmosphere was extremely convivial, not least because we learned that the boys had recently won a significant mini-range competition against a number of other schools. The Magpies are most grateful to James Postle and the cadets for making the range available and doing all the admin to set the shoot up.
For the record, the OBs who attended were Lt. Col. Tim Courtenay (Chevithorne Captain), Ben Wrey, David Bentata, Ian Anderson, Bill Thomas, Robin Wellesley, Hugo Brooke, David Willoughby and Peter Ward.
[ TOP ]
Cornwall Show
4th June 2009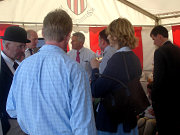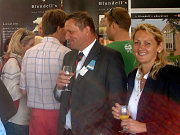 Old Blundellians enjoying drinks, canapés and chat at the Cornwall Show on 4th June 2009.
[ TOP ]
Tom Wigram in Indian Ocean Rowing Race
June 2009
The following is a brief excerpt from an email from Sue Wigram, Tom's mother: -

Tom Wigram (SH 1991), my son, has asked me to contact you to see if you could highlight his current situation on your website! On 19th April 2009 he and three friends set out in a bid to become the first four-man crew to row the Indian Ocean. They are competing in the inaugural Indian Ocean Rowing Race to raise some much needed funds and awareness for prostate cancer. For more details on their endeavour, click here.
[ TOP ]
Drinks at the Carlton Club in London
20th May

2009

Over 100 OBs and partners enjoyed a pleasant couple of hours.

[ TOP ]
Bath & West Show
2009
[ TOP ]
Winter Lunch
March 2009
Twenty five Old Blundellians and friends gathered for lunch in the Colin Beale Centre for the last of the Winter lunches for this year.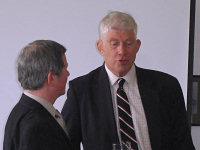 Amber Oliver, Blundell's Development Director, spoke about her role at Blundell's, the School's future plans and School/Old Blundellian links. Questions followed and guests left at 3.00pm.
Winter lunches will resume on the second Wednesday in October (October 14th). The first lunch will conclude with an address from Tom Clough (OH 1942-47, Master 1958-71) entitled 'Four and a half Head Masters'.
[ TOP ]
Visit of OB Film Producer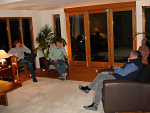 Nick Hippisley-Coxe, an Old Blundellian film producer based in Los Angeles visited Blundell's on the 11th and 12th of February. He spoke to the U6 Film Studies group, talked to some School House pupils and counselled Blundellians wanting to make a career in the film industry. Nick's daughter Mei Lai is also in the film business and specialises in costume design. Many thanks to Nick for giving up his time. Please contact Paddy Armstrong if you would like advice from Nick or Mei Lai.
[ TOP ]
Winter Lunch
February 2009
Old Blundellians and guests enjoyed lunch on a beautiful day in the Colin Beale Centre. They were treated to an illustrated lecture after lunch, given by Captain Andrew Welch RN (retired) about his walk from Canterbury to Rome. His wife Carole accompanied him and also contributed to the lecture.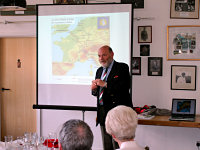 The next Winter lunch is on Wednesday 11th March at 12.30 in the Colin Beale Centre. The speaker will be Amber Oliver, Blundell's Director of Development, who will talk about the School's future plans.