News
2012
Blundell's Sydney Reception
Dec 2012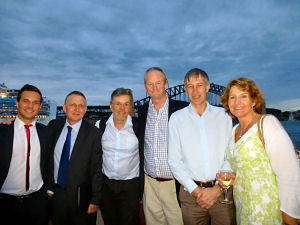 Current Teacher, Ali Deighton-Gibson (Biology-1981-Current) & his wife, Penny Deighton-Gibson (Libarian, 1998-Current) met with Old Blundelians, Jack Hunt (P 2000-07), Guy Capper (SH 1974-79), Sam Calder (SH 1971-72), David Airey (W 1971-75). They enjoyed a few drinks by the Sydney Opera House. Ali & Penny Deighton-Gibson would like to thank the OBs in Australia for their very 'warm' welcome. Overseas OBs that are visiting the UK are encouraged to get in touch with Blundell's School as we would love to show you around your old School and perhaps treat you to lunch in the School cafeteria.
Hare and Hounds Alumni Race
15th Dec 2012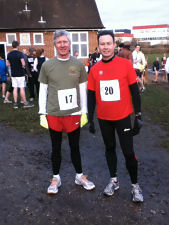 The Annual Hare and Hounds Alumni Race took place on December 15th at Wimbledon Common in Southwest London. This year's team included Alistair Knight (NC 70-74), Giles Stimson (NC 60-65), Anthony Jacques (SH 62-66), Justin Reynolds (SH 86-91), Will Holland (P 86-91) & Mark Norton (P 78-83). This was no run for the faint hearted.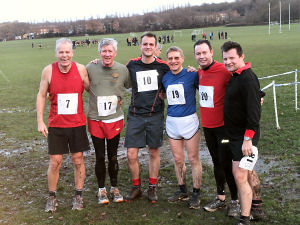 The run up the field from the Lowman after going down from Gornhay may have been deep sometimes, and cold on many occasions, but the constant slippery mud as they went up and down and left and right, up tracks and down dale, picking over roots and ducking beneath the branches on the firmer ground presented a special challenge on the race course. Who would have thought this of Wimbledon Common? The race times ranged from 40 mins to c.50 which for the conditions was very creditable. Next year's race is on December 14th.
Graham Caskie Concert
30th Nov 2012
On Friday 30th November Graham Caskie (M 1980-85) came back to Blundell's to perform in a piano concert. He played the Debussy Preludes Book One and the Chopin Piano Concerto No. 1 to a very appreciative audience in Big School. The Debussy Preludes were full of atmosphere and melody, and Graham captured the essence of them perfectly. The Chopin was full of expression and emotion, and played with great expansiveness. Parts of the Chopin are very moving, and Graham captured all of this beautifully.
This was a very balanced concert, though a lot of work for the pianist, as both sections of the programme required great energy and drama.
The orchestra was conducted by Andrew Barlow, Musical Director at Blundell's and the paintings are by Heather Barlow.
London Dinner: House of Lords
Tues 20th Nov 2012
We held our annual London Dinner at the House of Lords on Tuesday, November 20th. Old Blundellians, Past & Current Parents and Masters joined us to dine in the exclusive House or Lords by kind permission of Baroness Wilcox & OB Simon Davenport (P 1976-82). We dined in the Cholmondeley Room & Terrace and were delighted by the wonderful sights of London throughout the meal.
After dinner, Cedric Clapp, our Chairman of Governors & Old Blundellian, spoke about Blundell's Current situation, mentioning both the success in the classroom and on the sports fields. He was followed by the new Head, Nicola Huggett with her vision of continuing to maintain the School and all its success.
Everyone enjoyed seeing old class friends and a number of guests indicated they would like to come to next year's dinner already!
Many thanks to all those that attended and we hope you will all be able to join us at next year's dinner.
Medical Day
6th Oct 2012
Over 100 Medical related professionals gathered together for lunch and an afternoon exhibition. It was a chance for OBs, Parents and former staff members to meet old friends and colleagues. Our current pupils interested in Medicine gave our attendees a tour of the School, including the Science buildings. We then had the privilege of listening to John Shepherd (FH 1961-66) & his daughter Emily, speak about their experiences within the medical profession. We were able to enjoy a wonderful exhibition of medical related materials from Old Blundellians, ably compiled by our Archivist Mike Sampson following lunch. Our most sincere thanks go to Tim Forster (NC 1971-76) from Medical & Financial for key sponsorship of the day.
Download the Blundell's Medical Day Programme here.
Blundell's Olympic Ball
6th July 2012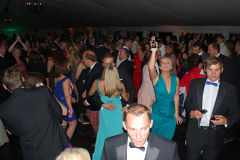 No amount of rain the night before could spoil the Olympic Ball as the show did go on with 400 guests including Old Blundellians, Parents, Staff & Supporters gathering to celebrate the London Olympic Games. The evening started off with Canapés and Champagne while our fantastic Caricaturist and Magicians went around delighting and amusing our guests. We were treated to the enchanting Alex Everett (P 10-12) on piano while dining on a 2 course meal from the local Keepers Cottage. Many of the guests participated in a post dinner raffle in which we raised over £1,000 for the Peter Blundell Foundation. A list of supporters & prizes are below. The night ended with a lot of dancing and overall the Ball was a terrific success. Thank you to the Olympic Ball Committee & Prize Sponsors for making this evening possible.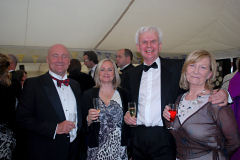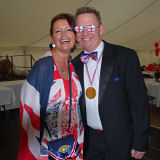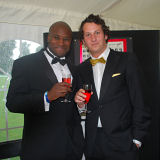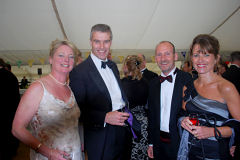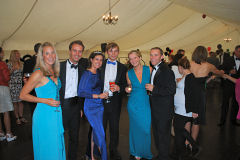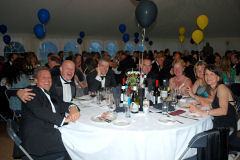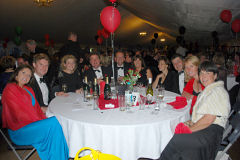 A Thank You to our Sponsors
Many thanks to our kind sponsors for their support, we appreciate their generosity. Please help us thank them by supporting their services.
Happy Holiday - James Bullock (P 81-86)
A week in a Croatian luxury Apartment, sleeps 4-6
Flybe.com - Flybe (Supporter)
2 Return Flights on the Flybe Route Network
Pia Jewellery- John Beale (M 56-61)
£250 Voucher
Jolly Vintner - Rory Stapleton (Supporter)
Case of Wine worth £80
Old Blundellian Club - Nigel Preston (W 70-73)
Lunch & drinks in the Ted Crowe Room at Somerset Cricket Grounds for up to four guests
Mullion Cove Hotel - Matt Grose (W 85-90)
2 Nights' B&B for two
Chatham Marine Retailers - Philip Marsh (FH 94-99)
£100 Voucher
Ram Cricket Supplies - Ram Cricket (Supporter)
Nasser Hussain Signed Cricket Bat
Old Blundellian Club
'A History of Blundell's School' by Mike Sampson
Blundell's School
Blundell's School Print
OB Day
16th June 2012
Old Blundellian Day took place on Saturday 16th June according to the traditional format. After the AGM, OBs and partners enjoyed an excellent sermon in Chapel from Rev Hilary Dawson, a Blundell's Governor. Drinks with the teaching staff in the Colin Beale Centre followed and Sue Beale then unveiled a plaque detailing Colin Beale's life which is mounted on the outside of the building.
Nearly eighty sat down to a splendid lunch in the marquee and Richard Swarbrick, President for the Day, delivered a pithy, witty and perspicacious address. It was a pleasure to see so many Swarbricks and Beales present and the Day passed off with much joie de vivre.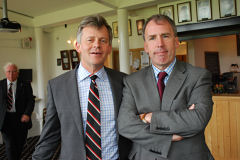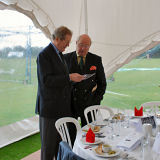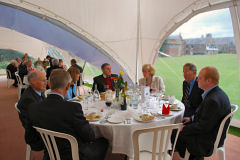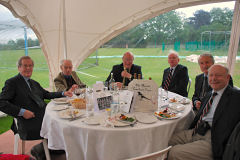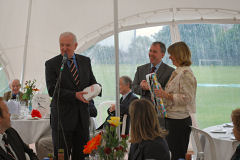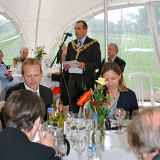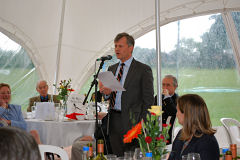 Tyntesfield

16th May 2012
Following a very successful dinner several years ago, we held another Bristol based reception at the National Trust Tyntesfield House and Gardens in May. We started our reception with a garden tour of the estate, with a private tour of the various gardens. Our most entertaining tour guide retold many complex stories about the history of the House during its many years of occupation; the history included a brief mention regarding the connections the House has with Blundell's School (see below).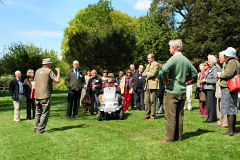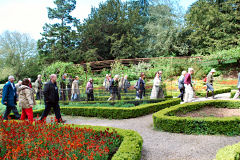 The tour ended with an amble back to the Cow Barn Restaurant for a delicious lunch, many of the ingredients sourced from the House gardens which made our meal even more delicious! Ian Davenport, Head Master, addressed us in-between courses giving us an update on the School's recent success in our Ofsted Inspection report (offering the School an 'Outstanding' report in all six inspection areas with no recommendations and that despite the current economic environment, the school continues to maintain a very healthy position with all-time capacity numbers).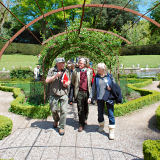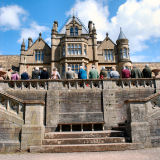 The day ended with a chance for our guests to wander at will around Tyntesfield House and a further walk around the gardens that we hadn't managed to include in the morning. We were very lucky with the sunny weather and we know many of our guests from Old Blundellians, Parents and Supporters enjoyed our day out!
Tyntesfield and Blundell's Connections
Tyntesfield was built in 1843 by William Gibbs, whose father was Antony, an Exeter merchant. A William Gibbs, born 1790, son of Antony Gibbs, merchant of Exeter, was at Blundell's 1800-02. These two Williams are almost certainly the same person.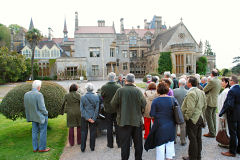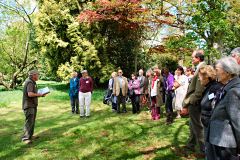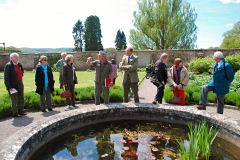 There is another Gibbs on the Blundell's register but only until 1826, but there's nothing that links them for certain with the Tyntesfield family. 'Our' William was succeeded by his son Antony – who was succeeded by his son George, who was made Baron Wraxall in 1928 – who was succeeded by his son, another George (but also called Richard) who died unmarried – and was succeeded in 2001 by his brother Sir Eustance Gibbs, now 3rd Lord Wraxall.
The estate was sold off on the death of George (Richard) in 2001, and acquired by the National Trust in 2002, following a dramatic fund-raising campaign.
Diamond Gaudy
28th April 2012
Blundell's School hosted its first reunion in many years by inviting back Old Blundellians and not so many former Masters, from pre-1953 to a Diamond Gaudy, lunch reception with tours of the Boarding houses and an exhibition of memorabilia from individuals and the school archives.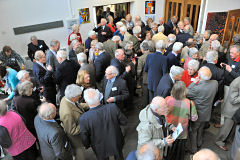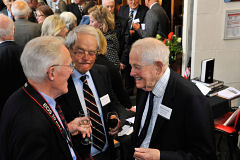 Nearly 200 Old Blundellians & families joined us and were able to explore their former houses and rooms where they spent many years and made many memories. Current pupils from each House lead the tours and were fascinated (and shocked!) by many of the stories recanted during the day.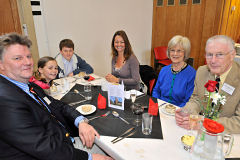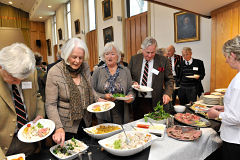 A lunch reception followed where we were treated to an amazing spread of meats & salads, many joked at how pleased they were with the lunch as food at Blundell's in 1952 from the 'Feeding Centre' wasn't considered the best example of 'fine dining'. It must have been good as we even ran out of puddings!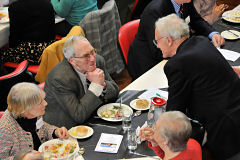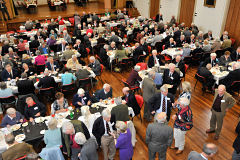 Martyn Grose (FH 47-52) who has been very involved with the School in the last 20 or so years, initially as a Governor and more recently as the President of the Old Blundellian Club reminded many guests of what life was like at Blundell's School 60 years ago, a trip down memory lane for so many. Ian Davenport had the opportunity to bring guests up to date with Blundell's as it is today basking in the success of the recent OFSTED report and detailing the all-time record high numbers, the school is indeed in very good health despite the current economy.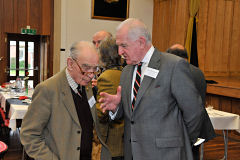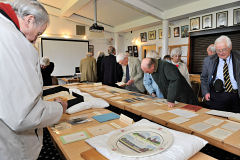 Mike Sampson, the School Archivist put together a comprehensive and fascinating exhibition of School life in 1952 & prior.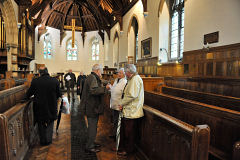 Score cards and punishments books provoked many comments. The afternoon concluded with a traditional English Tea in the Gymnasium.
Despite the appalling weather, which necessitated all planned matches being cancelled, guests enjoyed a convivial social occasion and we were delighted to be the portal to allow so many friendships to be rekindled. Thank you to all our guests for supporting the event and providing us with such a terrific day. Do keep a look out in the next edition of the diary for a full report and photo roundup.
Tour of Old Blundell's
25th Feb 2012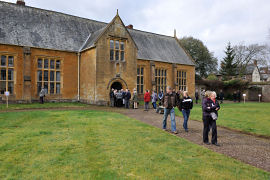 Blundell's School together with the National Trust opened the doors of Old Blundell's for a public tour. Over 500 Blundellians, parents, staff and members of the Tiverton community were welcomed to venture around the building and gardens. We were allowed access to what was originally the Head Master's house and Library, along with the Porter's Lodge. Those that joined the tour were able to walk around the various rooms and read excerpts and photos that gave insight into the long history of Old Blundell's while enjoying a tea or coffee. Many of our visitors were delighted to see that most of the original structures both internally and externally were as they were back in 1604. The rooms are now rented out as flats and once final renovations take place the National Trust will be renting them out to the community. Please visit our Facebook page for more photos, or see the article in the Tiverton Gazette.