News
2013
GH Reunion 1981-83
16th November 2013
Goodness knows why it took us thirty years to organise, but it did. The first official reunion of the Gorton House Class of '83 took place on Saturday 16th November at The Colin Beale Centre on Big Field.
A little research was required to track everyone down but with the help of the OB club and the wonders of the internet we managed to make contact with all but three of our contemporaries. We were a small group of girls by today's standards – just twenty one: fourteen boarders and seven day girls.
Eleven of us gathered for lunch, in high spirits and excited to see each other after all this time. For some of us it was the first time back at Blundell's in thirty years. We were lucky to be able to make use of the fantastic new facility at The Beale Centre and the Blundell's kitchen staff kindly laid on a super lunch. The atmosphere was relaxed and jovial, with a few laughs over old photos – and a unanimous feeling that 1980's fashions were not the best. The back drop of Big Field and the First XV putting up a fight against Millfield brought back memories, as in our day watching home games was compulsory on Saturday afternoon.
We all had the opportunity to tour GH and we are grateful to Debbie Hosking for her time. Some of it is still recognizable – glad to see the phone box is still there and Barry's study is pretty much unchanged!
As the afternoon wound down we had a surprise visitor – Charles (Nippy) Noon! On the lookout for somebody else he stumbled upon us having a parting cup of tea. Graciously pretending he remembered us and declaring 1983, 'a long time ago' it was great to see him. His skills as a teacher of girls' hockey are legendary amongst those of us who experienced them – need I say more?!
All in all a special and memorable occasion. Thank you Blundell's for having us, both then and now. Next time we might even invite some boys...
Jessica Diplock
GH 1981-83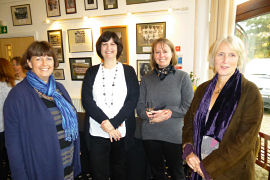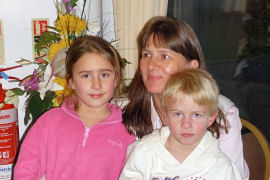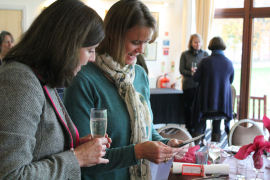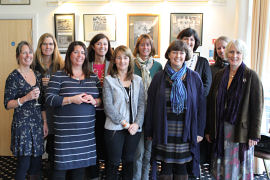 In attendance were Alexandra Brook (nee Brownlow) (GH 81-83), Sarah Bull (nee Champion) (GH 81-83), Jessica Diplock (GH 81-83), Juliette Flanagan (nee Clarke) (GH 81-83), Sarah-Robin Hunter (nee Ellis) (GH 81-83), Jessica Lampard (GH 81-83), Jessica Mannix (nee Grose) (GH 81-83), Tracy Rowe (GH 81-84), Diane Wheller (nee Henson) (GH 81-83), Rebecca Wood (GH 81-83), Miranda Hawkins (nee Larcombe) (GH 81-83).
London Dinner
8th November 2013
We were fortunate to hold our Annual London Dinner at the Oxford & Cambridge Club this year by kind permission of Governor & Old Blundellian James Bullock (P 1981-86). We enjoyed a glass of champagne in the King Edward VII Room before our meal in the Marlborough Room. The Club certainly impressed us with a delicious three course meal of smoked halibut and filet of steak followed by panna cotta.
While enjoying a glass of port we were delighted to hear from Nicola Huggett about the recent achievements of many of our pupils. Including our recent rugby partnership with Exeter Chiefs Academy and our equestrian success at the NSEA JwS National Champions! Following Nicola's optimist talk was the entertaining and humorous speech from current Governor Barnabas Hurst-Bannister. He delighted us with a few of his stories from his time as a Governor and we are so grateful to him for taking the time to speak to us.
Thank you to everyone that was able to attend and we look forward to the next London Dinner!
House of Commons Tour
11th October 2013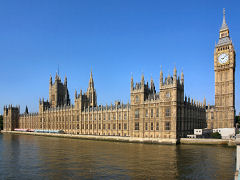 Members of the Blundell's community gathered for a personal tour of the House of Commons hosted by kind permission of Neil Parish MP for Honiton and Tiverton. The reception commenced in the 'Stranger's Dining' room which is aptly named for visitors to the House of Commons who are not 'Members,' and were welcomed by Neil and his team. We were delighted that a small cohort of our current pupils studying Politics were also able to join us.
Guests were treated to an exclusive tour inside Parliament led by Neil and his team who gave us all an impressive tour. One of the main aspects was the history behind the Palace of Westminster which included many links to Blundellians! After the tours guests were able to visit the Jewel Tower which was one of only two buildings from the medieval Palace of Westminster to survive the fire of 1834.
Many thanks to all our guests who were able to attend and a special thanks to Neil Parrish and his team for his informative and exciting tour of the House of Commons.
Charity Golf Day
2013
Our 4th Annual Charity Golf Day at Dainton Golf Course was a terrific success with teams comprised of Old Blundellians, Past & Current Parents, Staff, Sponsors and Supporters competing for the Championship title along with individual prizes.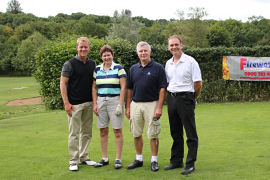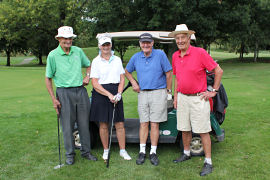 We were again very luckily with the weather and while the teams enjoyed a quick bite to eat we also hosted a mini-putting completion
which was jointly won by current parent, Nick Dyke and supporter, Peter Smith.
All the teams completed the course in time for a drinks reception in the courtyard before a well-deserved Carvery Dinner.
After pudding the teams supported the Charity Raffle for both the Devon Air Ambulance and The Peter Blundell Foundation Award Bursary provision. A variety of prizes were awarded on behalf of our sponsors Firewatch, Dainton Park Golf Course, Stapleton Yogurts, Philip Dennis Foodservice, WestChem and Jolly Vintner.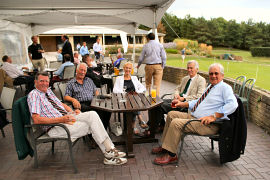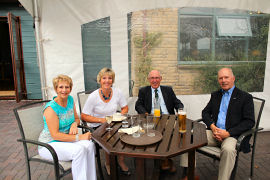 Many thanks to all those that participated in this year's golf day, we hope to see you all again next year!
Results
Best team
Hal White, Tom & John Lower (supporters)
and Andy Fields (current parent)
94 points
Best Male
Nick Hancock
41 points
Best Female
Shaneen Smith
31 points
Best Old Blundellian
Richard Aldridge (NC 1956-60)
34 points
Best Parent
Lester Kemp
39 points
Best staff (current/former)
Norman Ridgeway
34 points
OB Camping at Blundell's
August 2013
Saturday evening was familiarisation with children getting to know one another and 'the lads' making significant inroads into a pin of Otter beer. British Bulldog on Bog Field brought back memories and some competitive tennis kept the children happy.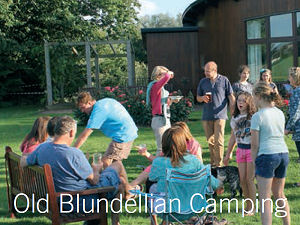 On Sunday morning several OBs slipped into Lycra and helmets and the inaugural ride of the Old Blundellian Cycling Club took place out to Huntsham with a few serious riders going on up Golf Ball Hill. The proposal for Club formation was put up by James McRae whilst enjoying a pint at the Redwoods Inn on the way back and was enthusiastically supported by all including Rob Russell who had ridden from his home in Portishead to Blundell's the day before. Readers interested in an annual ride please contact James via the Old Blundellian Club.
Sunday lunch was a barbeque followed by an amazing meal put together by Kate McIver who had driven down from her farm that day. A diligent approach, as always, allowed OBs to polish off both the Otter and the wine in the Beale Centre before retiring. The sun shone on Monday morning and, after a cooked breakfast, a swimming gala took place followed by lunch and departure. We are all looking forward to next year's event which, hopefully, Alex will again organise.
Devon Air Ambulance Visits
8th August 2013
We were pleased to welcome the Devon Air Ambulance Helicopter which landed on Big Field (away from the cricket pitch!) on 8th August 2013. This was just one of a series of drop-in visits the new Helicopter made across the county. Blundell's School is one of DAAT's official landing sites and the tour allowed aircrew the chance to familiarize themselves with the new aircraft and landing site.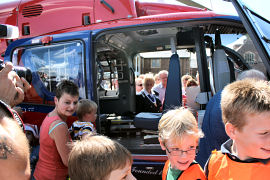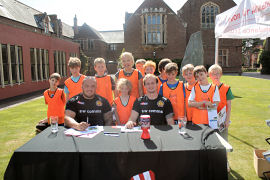 We welcomed over 200 local visitors many of whom received a personal tour of the Helicopter led by a DAAT pilot. Exeter Chief Rugby players, Craig Mitchell and Jack Arnott, were also present and signed autographs for the visitors. Blundell's School pupils donated a selection of artwork which was sold in aid of DAAT and refreshments were available to the visitors.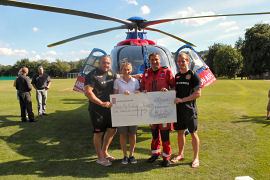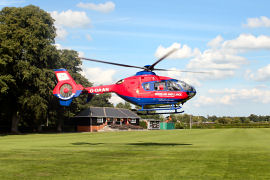 Devon Air Ambulance is one of Blundell's favourite local charities and the school has raised over £500 in the last year to support the new helicopter. This event is one example of the way in which Blundell's works with the community to support local good causes.
Devon County Show
2013
Blundell's was represented at the Devon County Show last week. We had 3 days of (mostly) sunny weather. We also enjoyed seeing the Duchess of Cornwall having a look in the Food & Drink tent which was right outside our stand. We hosted our annual Cheese & Wine Reception that evening and many Blundellians joined us to meet some the Blundell's staff including the Head, Nicola Huggett. Please join us again next year.
Greenway – National Trust Lunch and Garden Tour
14th May 2013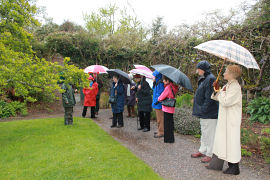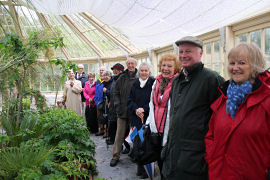 Parents, both past and present, along with OBs & Former staff members gathered at the historic Greenway House, the former summer home of Agatha Christie, for a house and garden tour & lunch reception. Despite the dreary weather conditions the groups enjoyed the gardens which included the 'Peach House', a mini-cemetery of Agatha's animals & fantastic views of the river Dart.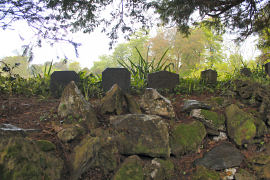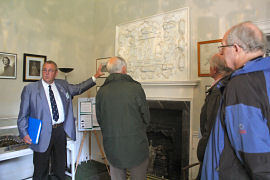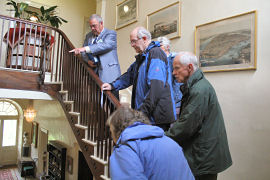 During lunch we enjoying some of the garden's fresh vegetables, Nicola took the opportunity to welcome everyone and to invite anyone from the Blundellian Community to join us in future events.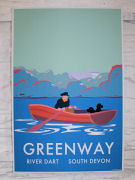 She encouraged them to stay supporters of the School now and for many years to come, extending an invitation to visit the School and relive memories of the school and perhaps join us in the dining hall.
The tour of the House was of great interest to all giving a real insight into the lives of both Agatha Christie and her family including her husband, the archaeologist Max Mallowan. The House & Gardens were a great source of inspiration for many of Agatha's novels and mention of Greenway was made in 'Five Little Pigs', 'Towards Zero', 'Dead Man's Folly' & many more.
Thank you to all those that attended and we look forward to welcoming you to future events.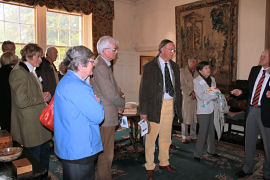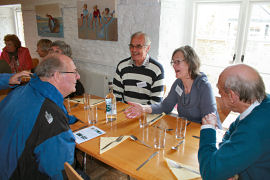 ER Crowe Memorial Fund 5th Anniversary Lunch
23rd March 2013
To mark the 5th Anniversary of Ted Crowe's death The OB Club & Peter Blundell Society hosted a lunch specifically for supporters of the ER Crowe Memorial Fund which was founded in the Spring of 2008. Many of Ted's old friends, pupils & colleagues gathered to remember Ted.

Old Friends, Nick Geach (M 1951-55) &
Ben Chilcott (W 1951-55) talk about Ted

Peter Price (W 1958-63) & Mike
Daniels (P 1945-50) met the Head

Jonathan Webber (NC 1971-76), Sylvia Stagg, John Stagg (M 1939-43)
Roy Webber (NC 1942-45) & John Gunn (M 1944-49)
Chairman of the Peter Blundell Society, Chad Murrin (FH 1969-73) spoke about Ted and how his exuberant personality & legacy has lived on at Blundell's. Nicola Huggett gave an insight into some of the pupils at Blundell's who have benefited from the ER Crowe Memorial fund. We hope many more pupils will benefit from the ERC fund in the future, if you would like to contribute or find out more, please contact the Amber Oliver for the latest information.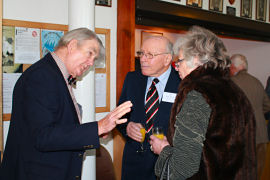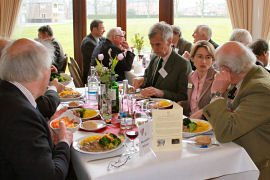 Russell Inaugural Dinner
9th March 2013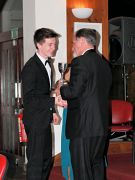 We were pleased to host the first Russell Run dinner this year and welcome our guest speaker Dr Christopher Twigge-Molecey (P 1960–65) who flew over from Toronto to attend this event. Chris was only one of a handful Blundellians to have won the Russell four times, once as a Junior, once as an Intermediate and twice as a Senior. We welcomed over 130 guests to a black tie dinner. The night commenced with drinks & 4 course meal followed by an Auction, the proceeds of which will fund projects at Blundell's with a particular emphasis on 'hardship' cases.
We are very grateful to those from the Blundellian Community who offered prizes and would particularly like to thank, Andrew Pool (W 1957-60), William May Somerville (Current Parent), Mr & Mrs Blackmore (Current Parents), Robert Kitson (Current Parent), The Old Blundellian Cricket Club, Peter Price (W 1958-63), Scott Robinson (NC 1991-94) & Phil Attwell (Current Parent) for their support and all the guests who very kindly bid on our auction lots.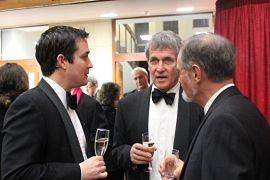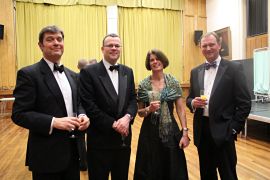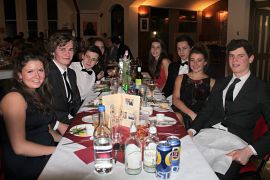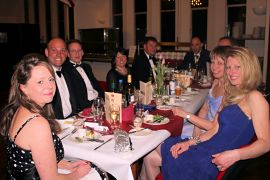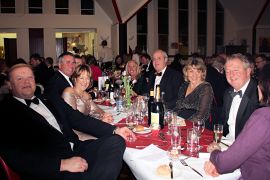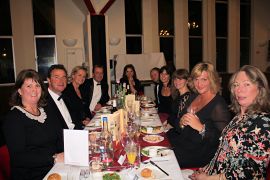 OBs' Rugby Success
Jan 2013
Matt Kvesic (FH 2004-07), flanker for Worcester Warriors, has been selected for England's Six Nations Training Squad 2013.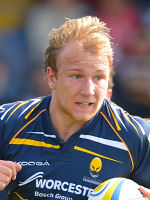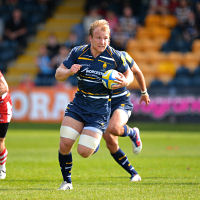 Matt Kvesic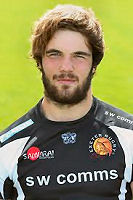 Will Carrick-Smith
Lock Will Carrick-Smith (FH 2005-10) started playing for Exeter Chiefs in 2012 and is also now dual-registered with Plymouth Albion. At 6'11" tall and weighing just over 20 stone, Will is affectionately known as "The Bus"!