News
2015
OB Choir Trip to Venice
18th to 21st Dec 2015

Friday
7am and the OB choir – a party of 19 meets in Gatwick South terminal ready for a flight to Venice. Two more were to join us later, after either working, or taking an exam. While some were only recently left others had left, but had kept in touch since 2000. Music was mostly familiar, though there were pieces that were unknown to some.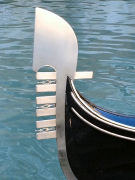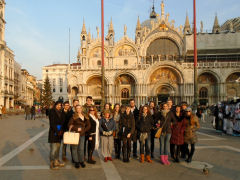 Rehearsal on Friday afternoon took place in St George's Anglican church for an hour and here we concentrated on material for St Mark's the next morning as well as pieces for the Nine Lessons and Carols at St George's the following evening. The choir was remarkably well balanced and quickly came together – even Tavener's Song for Athene, which had not been sung for several years. In the evening we all ate together in a restaurant we visited with the School Choir in 2013 – where we were remembered for the singing, and some of us remembered the Tiramisu ice cream.
Saturday
The San Marco service in St Mark's Basilica was at 11am – reasonable congregation, and hundreds visiting. Four pieces were sung – Poston, Jesus Christ the Apple Tree, Stainer, God so loved the world, Saint-Saens, Ave Verum and finally Tavener. This time we were in the body of the Basilica so were a capella. At the end one Italian shouted 'Bravo' – and it had been an excellent musical contribution in this extraordinary acoustic and wonderful building.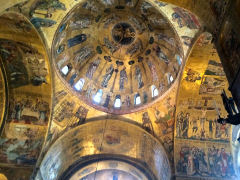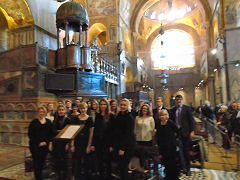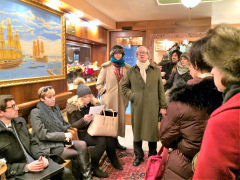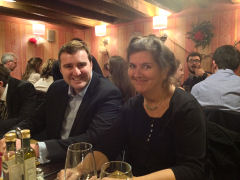 Everyone dispersed for lunch to meet up having explored shops, canals, and restaurants ready to rehearse for another hour for the Nine Lessons and Carols, Service on Sunday and concert on Sunday afternoon.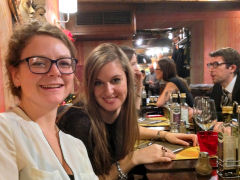 This meant walking back over the Accademia bridge from where the view is very special.
Our practice was fortunately very efficient, enticed several to come into the church to listen, and besides the carols managed movements from the Jazz Mass (shock for Emma and Jess to discover they were to be producing a lot of very high notes the next morning), Stanford's Mag in C, and generally just enjoyed being together and singing, with Alex Everett playing the organ accompaniments which was brilliant.
Carol Service went well followed by some random singing in squares on the way back – even the police listened – and a great collective meal near our wonderful hotel. A lot of fun followed by all disappearing in various directions to try various bars – what a difference from a School trip.
Sunday
Sunday morning was another sunny, pleasant and cold day as we went back to St George's – a very good service, followed by wine and mince pies, and then after lunch we met at San Zaccharia to take the vaporetto to the Armenian island of San Lazzaro, met by Chris Wayman. The programme was sorted for the afternoon concert including one of Bella's songs, and solos by Emma and Jess besides those in the carols (Alex, Emma, Jess. Bella). The gentlemen of the choir did an excellent job of the 3 parts in Carter's arrangement of A maiden most gentle, aa well as Matt singing the verse in In the Bleak.
Following the concert, we were presented with a medallion which commemorated the Armenian genocide in 1915. There had been a special exhibition during the year for which the monastery had won a prize in the Art Biennale. This was given to us by the priest who had shown us round last time we visited, and who Jodie had met on her own trip to Venice in the summer.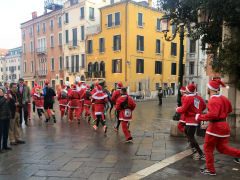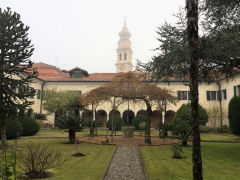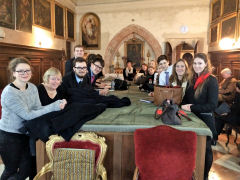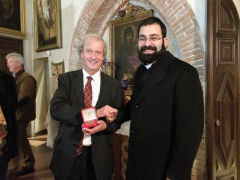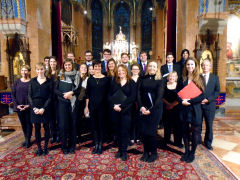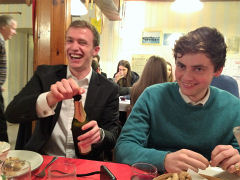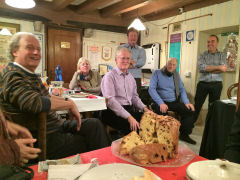 This was followed by prosecco and panetone cake in the monastery refectory before we headed back to the vaperetto. It was very foggy and as the boat emerged from the gloom the choir was singing, ranging from Away in a manger to Goodnight Sweetheart! A great evening – which continued with our being entertained by the Sette Mari rowing club (who had organised the concert) in their amazing clubhouse – with red wine much in evidence, and some entertainment. WE had an excellent evening. We dispersed from here (we knew not where) and found our way through various alleys to a more populated square and dispersed – to explore more of late night Venice and meet up at breakfast the next day.
Monday
Monday was another cold day, and sadly our last, and we left for the airport mid-morning in our two water taxis. Arriving back at Gatwick it was agreed that we should do this again – and we dispersed (a few to meet again at Blundell's on Christmas Eve) to various parts of the UK, happy in a very musically, and socially worthwhile event which had exceeded expectations in all aspects. Thoroughly enjoyed it and was great to sing in a choir again like the old days. Various comments were received from members of the choir and from Venice.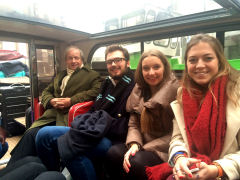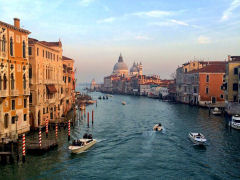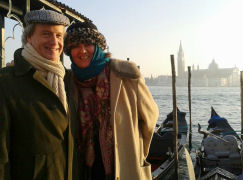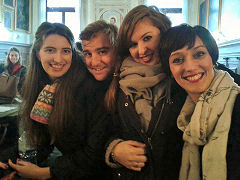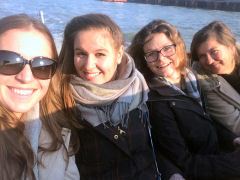 'Venice was beautiful and a real experience before Christmas. Great meeting everyone too, and really interesting how everyone instantly clicked based on their mutual Blundell's choir experience. Was awesome.'
'Everyone was most impressed with the choir and you. Maybe another year?' (Chris Wayman)
'It really was great to have you all with us and I hope fate may throw us together again at some point in the future.' (Rev Stuart Munns)
Our thanks are due to the family of Hotel Al Piave who made us very welcome, to Christine Marigonda of the Corcolo Italo Britannique who organised San Marco for us, to Rev Styart Munns who welcomed us to St George's and Hilary and David the church wardens, and to Chris Wayman and the Sette Mari for organising San Lazzaro and Sunday evening. We were grateful too for the help from Janet Wooff and Jonny Ison.
The Party
Jess Atkins, Jodie Atkins, Alexa Batting, Andrew Barlow, Bella Barlow, Heather Barlow, Will Coon, Will Costa, Sam Davenport, Alex Everett, Jacob Foan, Ed Nash, Emma Nelson, Rosanna Cole, Rosamund Harpur, Debbie Hosking, George Lyon, Matt Oddy, Katharine Sendell, Alex Steel, Leanne Weaver
Programme
Date
Time
Event
Friday 18th Dec
16:00
Rehearse St George's Church
Saturday 19th Dec
11:00
Mass in St Mark's
16:30
Rehearse St George's
18:00
Nine Lessons and Carols, St George's
Sunday 20th Dec
10:30
Service in St George's
15:30
Concert in the monastery of San Lazzaro
Old Blundellian Club Dinner
27th Nov 2015
Old Blundellian Club Dinner held at The Officers' Mess Royal Marines Commando Training Centre on Friday, 27th November 2015.
Barlow & Smith release debut album of original holiday songs
Old Blundellian Annabel (Bella) Barlow (GH 1999-2006) is releasing her debut album with lyricist A.C. Smith. Shortlisted for the Kevin Spacey Foundation as Artists of Choice, as Barlow & Smith the pair are releasing their debut album of original holiday music on 20th November 2015, just in time for this year's Christmas stockings!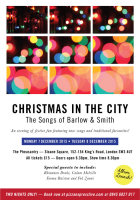 For any Old Blundellians in London, Barlow & Smith will be celebrating the launch of their debut album by hosting a Cabaret at The Pheasantry, Sloane Square for two nights only. The shows will take place on the 7th and 8th of December, doors open at 6.30pm and the show starts at8.30pm. Limited seating is available, so advance booking is recommended.
Featured guests will include Janie Dee (Monday only), Gary Wood (both nights), composer Tony Greenlaw (Tuesday only), and even a guest appearance from Andrew Barlow!
Cabaret tickets can be booked at www.pizzaexpresslive.com or on 0845 6027 017.
Pre-orders of Christmas in the City are available now on iTunes and on www.barlowandsmith.com.
And for a peek behind the scenes, you can check out a teaser video here:
http://www.barlowandsmith.com/videos
The digital 8-Track contains eight brand new songs in a variety of styles, and features a stellar line-up of vocalists including Ian Shaw, Brendan Reilly, Natalie Williams, and Polly Gibbons. Song styles range from the catchy "Wrote a Letter to Santa", a Motown throwback where a man begs Santa to bring his true love, to the moving lullaby "Crown of Stars", a nativity-inspired duet. The album ends with a bonus track from Barlow & Smith's 2015 commission for Janie Dee at the Globe Theatre, a folksong suited to year-round listening.
It would be great to see some familiar faces in the audience!
All the best,
Bella Barlow, OB (1999-06): Kickstarter Campaign to raise money for production of a music album
Dear Old Blundellians,
It was great to see so many of you on OB Day and get to perform for you all after the luncheon! It was suggested to me that I should email fellow Old Blundellians who might be interested in my recording project.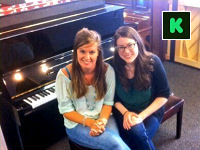 I was at Blundells from 1999-2006 (and a little while longer having grown up in the school!). I read Music at The University of Southampton and then went onto The Royal Central School of Speech and Drama. I recently performed at the Globe Theatre and wrote some of the music with my lyricist (A.C. Smith) for 2 x Olivier Award Winner Janie Dee. This last year has been an incredible journey for the two of us as our new writing duo Barlow & Smith, and we have just been shortlisted for the Kevin Spacey Award Artist of Choice.
Currently we have a Kickstarter campaign on the go and are raising funds for the recording of our new music. This will be our new EP "Christmas In The City" full of original Barlow & Smith music for the festive season - ideal for your Christmas playlist!
If you feel able to support us in this project, I would be really grateful.
https://www.kickstarter.com/projects/316004469/barlow-and-smith-christmas-in-the-city-ep?ref=discovery
Many thanks for taking the time to read this,
Balliol College Dinner
1st May 2015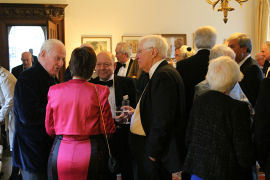 On Friday 1st May we celebrated the 400th anniversary of a definitive agreement which was put in place in 1615 for pupils of Blundell's School to attend Balliol College, at our Blundell's Community Balliol College Dinner. A special thanks to Professor Nick Dewey (School House 1944-50) for his advice and assistance in coordinating the Dinner, and to our two delightful speakers Cedric Clapp (Petergate 1960-65, Chairman of the Governors) and Jessica Mannix (Gorton House 1981-83, Current Governor) for such insightful speeches, reaffirming the strong connection between Balliol and Blundell's. Thank you so much to all those who supported this event.