News
2016
OB Choir Trip to Prague
16th to 19th Dec 2016

A group of Old Blundellian singers visited Prague for a long weekend just before Christmas. They were invited to sing for the morning service, and lead the Carol Service for the Anglican Chaplaincy at St Clement's Church, as well as for a short concert in the ancient church of St Martin in the Wall.
Arriving from Bristol, Gatwick and Edinburgh airports during the evening of 16th December we were all pleased to meet each other at breakfast the next day where old friendships were renewed and older OB's met younger ones.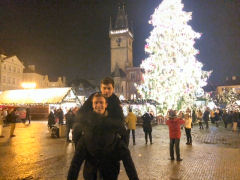 Those from Bristol had had the opportunity of an early visit to the Old Square during the evening. After a rehearsal in one of the spacious bedrooms at the Charles Hotel – which was wonderfully situated only a few yards from the Charles Bridge – we ventured into Prague Old Town for our first performance in the wonderful acoustic space of St Martin's, after which we were invited back in a future year. We dispersed at lunchtime investigating the Christmas Market, chocolate museum, astronomical clock etc before meeting up to rehearse at St Clement's, where we met the chaplain, Ricky Yates who made us very welcome. An hour's rehearsal set us up for the next morning (and most of the evening). More free time allowed us to take in more of the amazing Christmas market as night descended and the huge Christmas tree appeared even more spectacular. Having booked at Va Bene restaurant we met there (again) in the evening.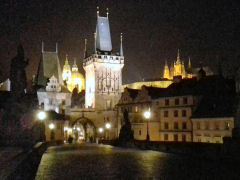 The restaurant had set up a long table for all 17 of us in the extraordinary medieval vaults – a very convivial evening, after which we went in various directions, some to the jazz bar next to the Tyn church (and a bottle of Sekt), others for mulled wine in the Square. It was very atmospheric going back to the hotel over the now quiet Charles Bridge with the view of St Vitus and Prague Castle always in sight. A late night.
Sunday saw us all bright and early to an excellent breakfast and then to St Clement's – where we had a short wait for the Czech Protestant community to leave the shared church. Our performances of Wood's O Thou the central Orb, AHB's Jazz Mass, and music by Saint Saens (Ave verum) and Stainer (God so loved the world) in the communion were all very well received, and afterwards we were treated to refreshments. By this time we had been joined by Jana Rohova and her husband from Jihlava – Jana was the English teacher who set up our long relationship with the Gymnazium in Jihlava and it was a great pleasure to be able to take them out to lunch (Czech fare in a close by restaurant). Some ended up later at the Grand Hotel cafe for hot chocolate. The carol service featured some favourites – Poston, Rutter, Darke, AHB – and afterwards mulled wine and more food, before we went back to the hotel for a late meal in their restaurant. Here we met up with Vera, another English teacher from Jihlava – wonderful to see them all once more and a great privilege for us that they should come all the way to meet up.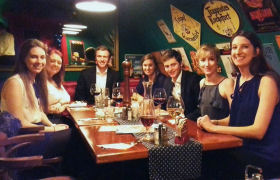 "I hope that all of you who attended one or both of our services last Sunday, enjoyed them as much as I did. The Old Blundellians Choir were wonderful and added so much to our worship."
Monday morning sadly saw us depart in various directions having had a brilliant musical and sociable time.
OBC Committee Dinner
Fri 2nd Dec 2016
The dinner was hosted by the Old Blundellian Club Chairman Richard Swarbrick (M 1977-82) and the Old Blundellian Club Committee. The dinner was held in honour of retiring Old Blundellian Club Committee President Martyn Grose and retiring Old Blundellian Club Committee Chairman Judge Paul Waterworth (NC 1958-52).
Andrew Nadolski Book Launch
Fri 4th Nov 2016
Andrew Nadolski launched his book 'Boarding School Blundell's 1986' on Friday 4th November in the Beale Centre. The book is a photographic snapshot of life as it was 30 years ago for pupils in boarding houses at Blundell's. Guests enjoyed drinks, canapes, brief speeches from Andrew, Alastair Deighton Gibson and the opportunity to look through the book. Memories were appropriately tickled and events blurred by the passage of time, recalled.
Copies of the book are available from Andrew's website, via this link:
www.nadolski.com/blundell-s-1986.html
OB Sport Weekend
Fri 18th, Sat 19th March 2016
A successful weekend of OB sport took place on the evening of Friday 18th and afternoon of Saturday 19th March. This included Football, Netball, Fives and Boy's & Girl's Hockey with a number of spectators enjoying the various matches. It was great to see so many players and spectators returning to the Beale Centre for complimentary refreshments with a chance to catch up with fellow peers. Thank you to all those who arranged the various teams and for contributing to the success of the weekend. Please see individual sport categories for reports and further photos.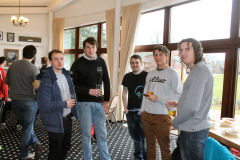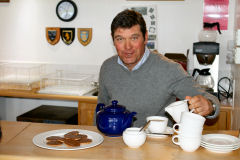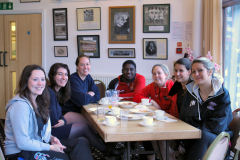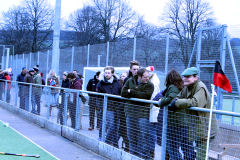 Also see news of the OB fives, football, hockey and netball events.