News
2017
OB Choir Trip to Venice, 14th to 18th Dec 2017
On Thursday 14th December nineteen former pupils left Bristol airport for Venice to be joined by two flying from Heathrow later. The water taxis were there to meet us late in the evening to take us across the lagoon in an atmospheric mist to a canal near to Al Piave Hotel. This family run hotel where we had stayed two years ago had been closed from the beginning of December but opened up for our long weekend, and we are grateful indeed for their warm hospitality, and help. They enjoyed the fact that we occasionally rehearsed in the reception area.
Having had a late night (for some) in the welcoming bar opposite, Friday morning was a relaxed affair with groups going in different directions exploring the wonders of Venice, with some going over to the island of Burano – and we were very fortunate indeed to have really good weather, albeit cold. The new Chaplain of St George's Anglican Church met us late afternoon for us to rehearse for an hour or so and then after a short sojourn we met at the Basilica of St Mark's for the Mass at 6.45pm – a decent congregation, and wonderful acoustic for our a capella singing of 4 motets including Song for Athene by John Tavener. The priest came specially to congratulate us and a visiting professor of music from the UK was very enthusiastic, and he and his wife then came to the carol service on Saturday at St George's.
The following day again entailed a quiet start, rehearsal in the afternoon for the carol service, and then the Nine Lessons and Carols at 4pm. Two of our group read lessons, and one was given in Italian by the local parish priest from the Gesuati Church (where the school choir had sung a few years ago). It was a good sing for us – 8 carols and many congregational ones too with the usual descants and a very full church. It was good to meet up again with Christine Marigonda who has done so much for us over the years, and with Ivor Coward, the British Consul who has also been very supportive over the years, who offered to help with the Embassy in Rome should we want to go there in future.
Sunday was an early start for the morning service at St George's. This was an occasion for another outing for the Barlow Jazz Mass, and for Jess Atkins and Emma Nelson to look forward to top Bb's and Ab's in the Benedictus which they did magnificently. A quick turn round – but only after a few glasses of prosecco (if only English services ended in the same way!) and then we met at the San Zaccaria vaporetto stop near to the Doge's Palace to go to the Armenian island of San Lazzaro and a concert in the church there organised by the Sette Mari organisation (and we are grateful to Chris Wayman again for his help and support).
There, the concert was at 3pm so we had some time to get used to the vagaries of the organ and Chris Hamilton was excellent in taming it for the Central Orb, our first item. We had combined with a choir of adults from Murano who gave the first part of the programme – mostly Dowland and Monteverdi. Our programme continued with carols, including a solo from Jess Atkins and a duet from Bella Barlow and fiance Matt Ronchetti – A Crown of Stars, written by her. The concert was followed by a reception in the refectory – lots of panettone and prosecco. It was amusing towards the end of this reception when the Murano choir suddenly burst into another song, so we responded with Away in a Manger – it was suggested that we won! Then we left on the vaporetto at 5.25 but as we were waiting for the boat to arrive there was the most amazing sunset over the lagoon which was quite extraordinary.
This day, as previously, ended with a group meal – this time at the restaurant of A La Rivetta.
Monday was a time for a final wander through Venice, for getting lost perhaps again, and for absorbing the mesmeric atmosphere that is Venice. The water taxis collected us at 2.30 and we headed back across the lagoon in quiet, cold, sunny weather, with the Dolomite mountains clearly visible for our flight home which left on time and landed early.
It was an intense few days, but so good to have so many back with strong voices, musical intent, and wonderful singing doing justice to so much music, and these amazing venues. Those who heard us were very appreciative – the Sette Mari organisation told us that we made a great impression, and the hotel too appreciated our rehearsing there. The following email was from the Chaplain of St George's.
It was a real joy to meet you personally and the members of the choir. It is a delight to have the opportunity to meet up with the freshness, liveliness and self-confidence of younger people. 'A taste of something good', I might say.
On behalf of St George's, can I express our thanks for adding to the Carol service and the Eucharist with rich music – something we could not provide for ourselves.
I hope the choir had a good time both singing and experiencing the extraordinariness of the city. Yes, I look forward to again meeting up with the Old Blundellians if they choose to venture to Venice again – which I hope they do even for the pre- Christmas period.
The Party: Jessica Atkins, Bella Barlow, Heather Barlow, Rosie Bruce, Alice Cadenhead, Rosanna Cole, Louisa Everett, Jessica Harvie, Emma Nelson, Rosalie Sanders, Katharine Sendell, Andrew Barlow, Tim Barlow, Ian Bruce, Will Coon, Sam Davenport, Callum Graham, Chris Hamilton, Jonathan Lane, Matthew Ronchetti, Toby Whitehead.
Blundell's Announces New Head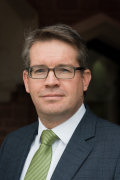 The Board of Governors of Blundell's School, have today 13th November, announced that Mr Bart Wielenga has been appointed as the new Head of this leading co-educational day and boarding school. Mr Wielenga will take up the position with effect from September 2018.
Mr Wielenga will become the thirtieth Head of Blundell's School and will succeed Mrs Nicola Huggett when she leaves to become Head at Cheltenham College. Mr Wielenga is currently Second Master at Blundell's and has made a significant contribution to the growth and reputation of Blundell's in recent years.
Commenting on this announcement, Mr Cedric Clapp, Chair of the Board of Governors said:
"The opportunity to lead our school attracted an excellent field of candidates all of whom recognised Blundell's as a first class school that is flourishing. As a result of a rigorous interview process we are delighted to have appointed Bart Wielenga as our new Head following on from Nicola Huggett. We believe that the strength of our school lies in its ethos, its traditions and the education it provides for its pupils. We know that Bart will build on the fantastic achievements made under Nicola's leadership and take the school forward to the next exciting chapter in its long history. The market for independent education remains challenging but Blundell's is well placed and well-resourced to meet those challenges."
Bart graduated from the University of Natal in South Africa in 1994 after majoring in Economics and from the Rand Afrikaans University in Johannesburg in 1996 with Post Graduate Honours majoring in Organisational Change. Prior to joining Blundell's, Bart taught at two leading schools - Michaelhouse in KwaZulu-Natal followed by nine years at Wellington College in Berkshire where he was a Housemaster and Head of Economics.
On his appointment Bart commented, "I am delighted to be given the opportunity to lead Blundell's in the next stage of its history. The school is in excellent health, with numbers at an all-time high, with boarding flourishing and with exceptional academic success at Oxbridge level. It will be a privilege to build on the strong foundations that Nicola Huggett has set down. We are fortunate to have a dynamic and ambitious common room and I feel immensely proud to work with them to continue to help young people thrive in our beautiful Devon school".