News Archive
2010
Blundell's Charity Golf Day
Thurs 21st October 2010
We were treated to wonderful weather for our Charity Golf Day held at Woodbury Park Golf and Country Club on Thursday 21st October, on the truly superb Oaks championship course. Twelve teams turned out to compete for a wealth of prizes and to support Devon Air Ambulance Trust and the Peter Blundell Foundation Award provision during the October half term.
The winning overall team included current pupil Gary Abdoll partnered by his father Gerald and Old Blundellian brothers Matt and Tom Pynn. There were two equal second teams: Peter Klinkenberg, Housemaster of Westlake, with guests Steve Ripley and Simon Curling and former housemaster of Francis House Norman Ridgeway. The other team comprised last year's winners Governor Cedric Clapp and Old Blundellians Ross Aldridge, Richard Swarbrick and Graham Howe.
Best Man of the day was parent Lester Kemp and Best Lady guest Jane Darby. Best pupil was Tom Ansell who also won the 'Nearest the Pin' on the 18th hole. Best Old Blundellian was Tom Pynn, Best Parent was Giles Boylett, and Best Guest was won by David Parry and Norman Reidgeway equally. Longest drive on the 8th was won by Peter Klinkenberg and Longest drive on the 14th by Cedric Clapp with the only other prize-winner being Mark Hunt who secured Nearest the Pin on the 5th.
There were numerous Raffle prize-winners and we are extremely grateful to Total Decor who donated the first prize of £500 of Interior Design. A huge thank you to all our sponsors which included The Jolly Vintner, Travis Perkins Ltd, Maindenhead Independent Ltd, Tiverton Golf Club and our hosts Woodbury Park Golf and Country Club and of course to all our participants who ensured we had the most enjoyable day. Please do come again next year.
Military Reception
25th September 2010
It was so wonderful to see many Old Blundellians and currently serving past and current parents in attendance. We feel it proved to be a wonderfully relaxing event, coupled with such beautiful weather, and hope to repeat a similar event for the medical profession next Autumn.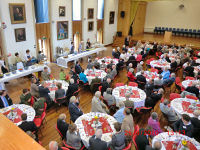 You will see a small selection of photos taken during the event which hopefully will be of interest. The CCF were inspected by Brigadier Stephen Hodder, with the Devon & Somerset ATC Music wing presenting the 'Beat Retreat'. Our Archivist Mike Sampson produced a highly informative and interesting exhibition of Blundellians and their associations with the military over many generations. Many participated in the various 'Shooting activities' both on the ranges and during the afternoon a few rekindled some memories back at the original range up at Chevithorne. (Please see the OB Club's shooting page for news of the day's shooting events.) Others undertook a tour around the school with a look at all the many developments which have taken place over the years.
We all adjourned to Big School for lunch with presentations from both Brigadier Hodder and Chairman of Governors David Fursdon. After lunch we had a real treat with Lt Col Tim Courtenay DL who undertook a commemorative tour of a number of the plaques in the chapel and brought some of the individuals to life. If anyone would like a copy of the talk, please do not hesitate to contact me.
It is of great delight to me that the Military Reception provoked such a plethora of support and interest. If you would be interested in attending another military gathering in the future, perhaps with a lunch and guest speaker, please do let me know. Once again, thank you for all the interest and support for making this event such a success.
Additional thanks go to our guest speakers Brigadier Stephen Hodder, Lt Col Tim Courtenay DL and to Michael Amory for allowing us to invade him on the Saturday afternoon.
Prep School Reunion
1st July 2010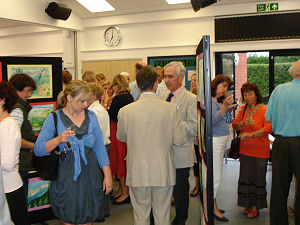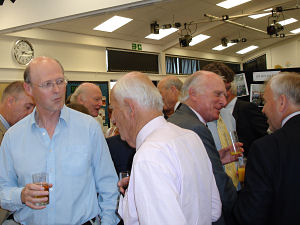 2010 brought about the ten year anniversary of St Aubyn's School (renamed Blundell's Prep School in 2006) being on the Blundell's School campus. Former pupils, staff and parents of the School right back to its first days when it was sited at St Aubyn's Villas gathered together for a musical recital from current pupils of the Prep School, followed by drinks and canapés with a wide ranging exhibition from the days of its inception in 1929. It was lovely to see so many faces from the past including one of the original members of the school, Patrick Batting. (Milestones 33-37).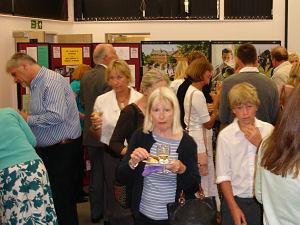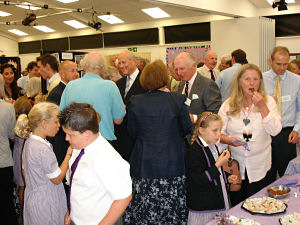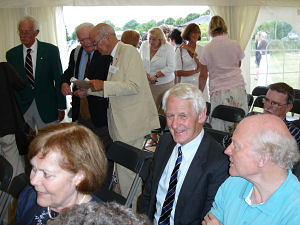 'The Light' Bar
16th June 2010
It was with the most generous support of James Goff (Milestones 75-79) we held our first casual drinks reception at the truly unique venue of 'The Light Bar' in Shoreditch, London. We had a large turnout of both OBs, current and past parents where James very kindly provided delightful canapés and all enjoyed the fabulous sunny evening on the terrace with the Blundell's flag being proudly flown in the background. Look out for a similar event at 'The Light Bar' in 2011.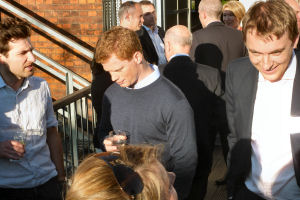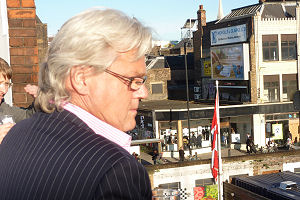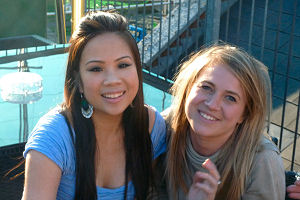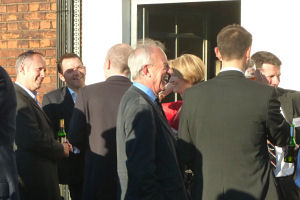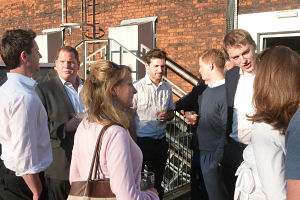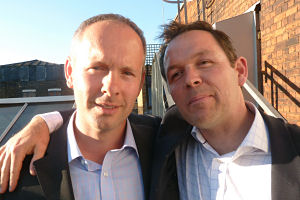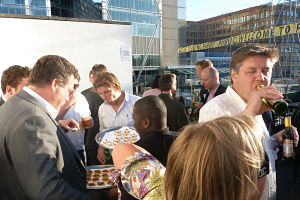 Ashmolean Museum – Blundell's Community Drinks Reception
13th May 2010
We were fortunate with the most generous support from John Beale Milestones 56-61 to secure the fabulous recently refurbished Ashmolean Museum in Oxford  recently, for our Blundell's Reception. Old Blundellians, current and past parents living within a reasonable proximity of Oxford and pupils from Blundell's who undertook further education in Oxford attended the venue on the evening of Thursday 13th May.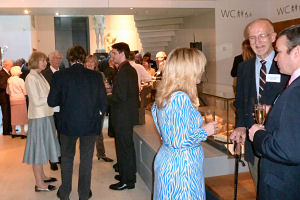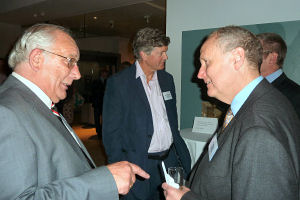 Members of the Blundell's community gathered from across all houses and years from 1937 up until leavers from 2009. Guests were treated to an exclusive address from the Director of the Museum Dr Christopher Brown and welcome words for Head Master Ian Davenport. Over 140 people enjoyed the opportunity for a private view of a number of the Galleries and a chance to re-kindle old acquaintances and find out what they have been doing in the intervening years.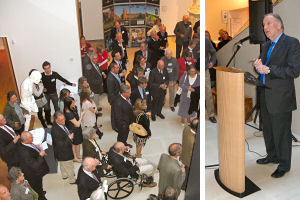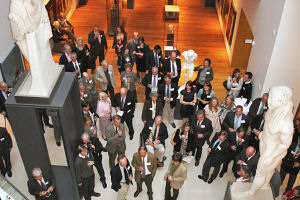 We were fortunate David Fursdon, Chairman of Governors and a number of other Governors of Blundell's were able to join us together with Dr Keith Hannabus, the Blundell's Governor from Baliol College, with whom we have had a long association.
We are especially grateful to John Beale as mentioned above and Mark Beard (SH 76-81) of Home Counties based construction company Beard who very kindly were our sponsors and made the evening possible.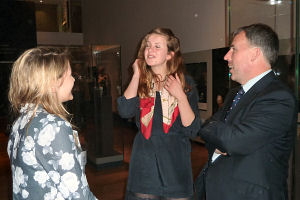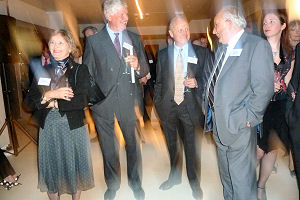 It was a chance to see a few members of the Common Room still currently working in the School and meet Amber Oliver Development Director and see Paddy Armstrong in his current role as Hon Sec of the Old Blundellian Club.