Past Events / Reunions
Annual reunions are organised by the Foundation and the OB Club at Blundell's. The Director sees small groups of OBs when travelling. The OB Club organises annual dinners. Details can be found on the OB Club branch of this website.
Spring Travel 2019 – Thailand, Hong Kong and Australia
The Head, Bart Wielenga, and his wife Lara, accompanied by the newly appointed Director of Development, Ben Boswell, were delighted to welcome so many members of the Blundell's Community that attended the three overseas drink receptions held in Bangkok, Hong Kong and Sydney this spring.
It was lovely to host these overseas receptions and meet Old Blundellians, prospective parents, current pupils and parents, along with partners and friends of the school.
It was fascinating to learn of the various endeavours that had been undertaken by those who had since left Blundell's or to get an update on the last time they had engaged with the school. It was a great opportunity to reunite old friends, share experiences and memories of Blundell's, along with the Head providing an eagerly awaited update on the school's future ambitions, with lots of positives to report.
It was also great to meet up with Kaew, Om and Aime who kindly arranged dinner on one of the evenings in Thailand. The company and delicious, traditional Thai food made for a lovely evening and a great opportunity to get a perspective on Blundell's from a current parent, current pupil and Old Blundellian.
A special thank you must go to Old Blundellian Tony Bland, for once again providing a lovely venue at the Hong Kong Club.
The 139th Russell
Saturday 9th March 2019
Thank you to all our participants for supporting the Veterans Race.
Name
Type
No
Time
Senior Girls
Rebecca Isdell-Carpenter 
Staff 
440
00:53:13
Catherine Hall
Staff 
436
00:53:31
Annika Hedrich-Wiggans
Staff 
420
00:57:37
Charlotte Mercer
Staff 
229
01:11:17
Open Russell
Bruce Wheatley
Staff 
458
00:36:09
Will Palmer 
Old Blundellian 
447
00:36:27
Tom Frappart
Staff 
463
00:37:49
John Bishop 
Old Blundellian 
428
00:38:06
George Gibson 
Guest 
435
00:38:58
Natalie Coen 
Current Parent 
432
00:39:16
David Eaton-Jones 
Former Parent 
434
00:40:21
Adrian Hooper 
Old Blundellian 
439
00:41:03
Rory Armstrong 
Curent Parent 
421
00:41:39
Kate Wheatley
Staff 
459
00:41:47
Rachel Palmer 
OB
465
00:41:55
Simon Lund 
Curent Parent 
443
00:42:49
Rob Salisbury 
Current Parent 
450
00:42:55
Peter Palmer 
Old Blundellian 
448
00:43:08
Katharine Armstrong 
OB and Current Parent 
422
00:43:15
Jason
Guest 
413
00:43:17
Thomas Nash
Parent
412
00:44:28
Jane Youngman 
Former Parent 
457
00:44:41
Adam Twose 
Old Blundellian 
454
00:45:03
Edward Palmer 
Old Blundellian 
446
00:46:59
James Duckworth
Parent
297
00:47:47
Tom Ayerst
Current Parent 
423
00:47:51
Dave Holley
Current Parent 
438
00:48:18
Harry Bloomfield
Staff 
462
00:48:43
Kevin Uren
Guest 
455
00:48:50
Jody Whyte 
Old Blundellian 
456
00:48:51
Mark Norton 
Old Blundellian 
445
00:49:12
Tom Grant
Staff 
461
00:49:24
Georgie Trivett
Staff 
294
00:49:26
Julian Barter
Old Blundellian 
425
00:49:50
Pierre Bouhanna
Current Parent 
430
00:49:55
Jonathan Delafield Cook 
Current Parent 
433
00:50:24
Guy Templeton
Current Parent 
452
00:51:11
Christopher Bartlett
Current Parent 
426
00:51:16
Daniel Marsh 
OB and Current Parent 
444
00:52:10
Helen Harvie 
Current Parent 
437
00:52:48
Bart Wielenga 
Staff 
1
00:52:51
Annabel Taylor-Ross
Staff 
299
00:53:10
Gaby Borradaile
OB and Current Parent 
429
00:53:19
Amelia Joyner 
Current Parent 
441
00:53:20
Richard Winsley
Parent
295
00:53:45
Dylan Smart 
Staff 
451
00:54:09
Matt Radley
Staff 
2
00:56:18
Alastair Cameron
Parent
298
00:56:28
Michael Tobin
Curent Parent 
453
00:56:58
Adrian Simpson
Parent
464
01:00:42
Jasmine Gillman
Staff 
460
01:00:43
Tanya White
Staff 
228
01:03:07
Louise Beach 
Current Parent 
427
01:03:07
Juliana Lim
Current Parent 
442
01:03:07
Elia Bouhanna
Guest 
431
01:05:01
Ladies Lunch
27th February 2019
We were absolutely delighted to have Katharine Armstrong, née Babbington (GH 1990-92) as the guest speaker for our annual Ladies Lunch this year.
Katharine joined the Royal Navy after completing a BSc in Biology at Edinburgh University. She was one of the first females to go to sea, and has spent the last 23 years both at the front end of operations and at the heart of the Royal Navy headquarters, driving policy change to deliver a more diverse and sustainable workforce. She fascinated the audience with her stories about the medals she has received over the years, and left everyone feeling incredibly inspired.
A huge thank you to Katharine who agreed to be our guest speaker this year, to all our guests who continue to support Blundell's throughout the year, and to our fabulous catering department who always provide a delicious lunch.
Rugby Dinner
8th December 2018
150 years of playing rugby at Blundell's is a fine and historic achievement which we celebrated with a fantastic black tie dinner on Saturday 8 December 2018 with over 400 OB's, parents, friends and team mates who hadn't been together for years.
We were also delighted that Eddie Butler could be our guest speaker for the event. Eddie is a journalist, sports commentator, and former Welsh rugby union player, who won 16 caps for the Wales team between 1980 and 1984. He played as a number-eight and was a Cambridge Blue in 1976, 1977 and 1978 and captained Wales on six occasions. Since retiring from the game, Butler has written a weekly Rugby Union column for The Observer Sport since 1991, and also writes for The Guardian, as well as being a BBC sports commentator.
There is no doubt that in 50 years we will be celebrating 200 Years of Rugby at Blundell's School, with some of our current pupils recounting their tales from the rugby field.
Class of 1988 Reunion Weekend
30th November - 1st December 2018
Over 60 Old Blundellians returned to attend their 30-year reunion organise by Tim Hassell (FH 1983-88). The weekend kicked off with a Friday evening meal in the Beale Centre. On Saturday, the OB's enjoyed the 1st XV rugby match on Big Field against local rivals, Taunton School. The remaining party members arrived to attend the evening black tie dinner with lots of stories being shared. If your reunion year is coming up in 2019 and you would like to organise a reunion, please get in touch with the Development Office by emailing devoffice@blundells.org or telephoning 01884 232324.
Year 13 Dinner
Friday 5th October 2018
Following on from the success of the first parents' dinner last year, Fiona Kitson and Vicky Fraser organised another evening for the Year 13 parents in October at The Ginger Peanut in Bampton. It is lovely for parents to get together for these evenings and planning for the next one is already underway, which will take place at Circa 1924 in Exeter (founded by two 28 year old OB's). The Year Dinners are always enormous fun and the Year Reps really encourage parents to join in their year group's activities or start a group themselves if one is not already in existence.
London Casual Drinks Reception – tribute to James Goff (M 1975-79)
Thursday 11th May 2017
The sun was shining down on us despite a dreary forecast for our lovely drinks reception at the former In and Out Club in Piccadilly in memory of our original host James Goff. By kind permission of Peter Sullings (former parent) and his OB sons Brett and Kristen who most generously hosted us our drinks reception this year paying tribute to James. Members of the Blundell's community from the young and old, current and former parents and other supporters of the School gathered together to enjoy a convivial social evening with a delightful supper of Fish and Chips provided by one of the unique catering venues showcased in the Courtyard. Do keep us up to date with your address if you live or work in and around London even though we may have your main address elsewhere so you can be kept informed of our 'off site' gatherings and events.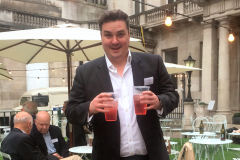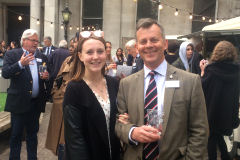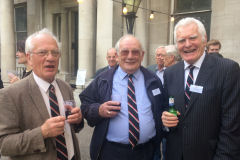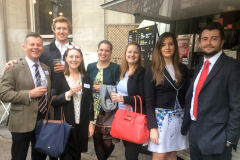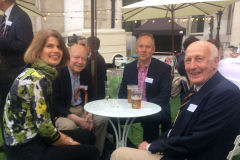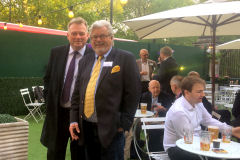 Blundell's Community Black Tie Dinner
Saturday 22nd April 2017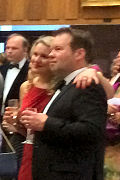 We were highly entertained by our Guest Speaker OB Thomas Plant an auctioneer and regular presenter for Antiques Road Trip and Bargain Hunt for our first Black Tie Dinner raising funds for the Annual/Regular Giving Fund and the Peter Blundell Foundation Bursary Award provision in April just after Easter. Thomas enlightened us to a few reflections of his time at Blundell's and was our excellent auctioneer for the evening. We were treated to a song from current pupil Louisa Everett at the drinks reception on arrival. Members of the Blundell's community, colleagues of Thomas's and many our parents enjoyed the delicious meal provided by our Head Chef, Masterchef finalist Craig Sampson who treated us to some wonderful courses sourced from local suppliers. He was a major feature in our Auction prizes enabling two lucky bidders to secure his services for a private dinner for 10 in the near future. Thank you to all those members of the community who joined us for our first Black Tie fundraising event.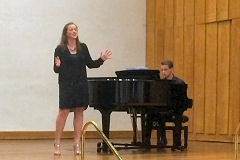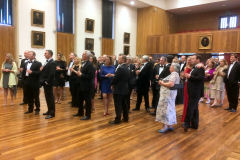 Hong Kong and Bangkok Receptions
April 2017
The Head Nicola Huggett and Development Director Amber Oliver were thrilled to welcome so many members of the Blundell's Community to our receptions in the Far East recently.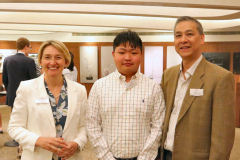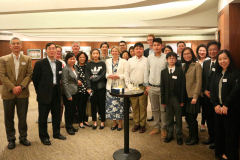 We were fortunate to have our Hong Kong reception at the Hong Kong Club kindly hosted by Old Blundellian Toby Bland (SH dates) were we met in a semi-formal drinks reception at the club uniting both Old Blundellians, former and current and prospective parents together.

We then went to Bangkok to the Intercontinental Hotel for our reception with the very kind assistance of Kaew Devakula who helped us gather together our community in Bangkok for the first time. It was lovely to see so many of our current pupils joined with some of our oldest Old Blundellians.
The 137th Russell
Saturday 11th March 2017
Thank you to all our participants for supporting the Veterans Race.
Fastest...
Name
Time
OB, Parents and Staff Results
Old Blundellian
Sam Anderson
35.31
Member of Staff
Simon Johnson
40.39
Parent
Kevin Squibb
36.36
< 25 M
Sam Anderson (OB)
35.31
< 25 F
- no entries -
-
25 – 40 M
Will Palmer (OB)
38.03
25 – 40 F
Ingrid Robinson (Staff)
43.49
40 – 50 M
Simon Johnson (staff)
40.39
40 – 50 F
Rachel Palmer (OB)
44.00
> 50 M
Pen Haddow (Parent)
38.28
> 50 F
Mary Humphries (Current Grandparent)
56.48
OB Results
< 25 M
Sam Anderson
35.31
< 25 F
- no entries -
-
25 – 40 M
Will Palmer
38.03
25 – 40 F
Georgia Vaines
48.15
40 – 50 M
Peter Palmer
47.59
40 – 50 F
Rachel Palmer
44.00
> 50 M
Steve Dellow
46.23
> 50 F
- no entries -
-
Blundell's Community London Dinner at the Travellers Club, paying tribute to James Bullock OB (P 1981-86)
Thursday 23rd February 2017
It was within the beautiful surroundings of The Travellers Club and by kind permission of Dominic Roughton OB (House and dates) who was also our Guest Speaker for the evening, we paid tribute to James Bullock who was involved in so many different aspects of Blundell's and latterly before his untimely death as a Mentor for Blundellians looking to work within the legal world and a very active member of our Governing Body. I am sure James would have found it a very fitting evening to have guests from across both his school, work and personal life gathered together to enjoy a very sociable evening in his memory. Dominic both a colleague from school and their days in Cambridge together and also occasionally in the work place reminded us of a few of James's many achievements and his joy of bringing support and encouragement to so many of those who crossed his path. Thank you Dominic and to the trustees of the James Bullock Memorial Fund most of who were able to join us for this touching evening.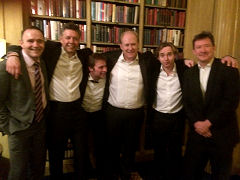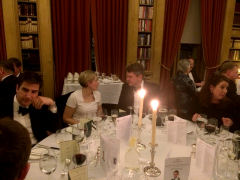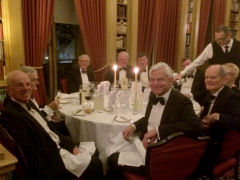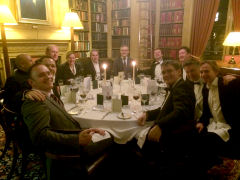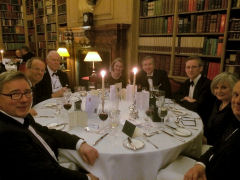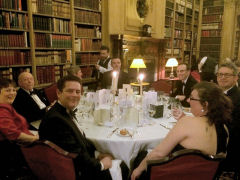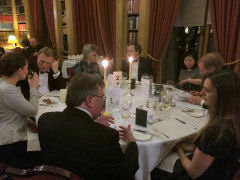 Ladies Lunch
February 2017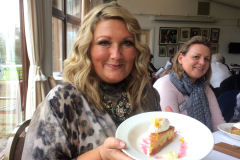 We had another first earlier this year with our inaugural Ladies Lunch with Guest Speaker author Amanda Prowse, a prolific writer who has over 20 titles to her name. She brilliantly entertained our guests, ladies from across the Blundell's community, we had a delightful lunch served by our Head Chef and Amanda most generously undertook a book signing giving each of our guests a complimentary copy of her latest book.
Jump to: 2016 | 2015 | 2014 | 2013 | 2012 | 2011 | 2010 | 2009 | 2007 | older
See also: School Events page (school website)