News Archive
2011
Hare and Hounds Race
December 2011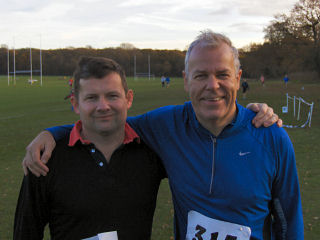 The Annual Hare and Hounds Alumni Race took place again this year at Wimbledon Common in Southwest London. Alistair Knight (NC 1970-74) & Will Holland (P 1986-91) represented Blundell's in a daring attempt for a trophy and of course bragging rights. However Alistair fell foul to a moved flag forcing him to run off course and therefore was disqualified from scoring for the team however that didn't stop him from continuing the run. He did receive an official apology from the Hare & Hounds president. Will also had a great run despite a very swollen ankle do to a hidden tree root but also completed the run despite his injuries. A special thanks goes out to both runners but also to the team Captain, Giles Stimson (NC 1960-65) for organizing our runners and taking photos. He will certainly be joining the team next year so long as he doesn't injure himself again and encourages runners from the Blundellian Community to join the team and complete for the coveted winner's trophy!
London Dinner at the Carlton Club
Fri 4th Nov 2011
Blundell's Annual London Dinner was revived again this year and took place on November 4th 2011 at the spectacular Carlton Club.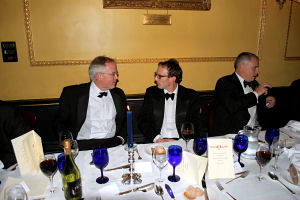 The dinner was sold out, which is testament to its popularity among the Blundell's Community both old and young with the range of years starting from 1941 to 2001. Many Parents, Staff, Governors and of course Old Blundellians joined us for arrival drinks followed by a delicious 4 course meal. A big thanks to Chad Murrin (FH 69-73) for saying the grace and for the various speeches by Current Governor James Bullock (P81-86), Ian Davenport, Head Master & Mike Sampson, School Archivist and Author. It was a great opportunity for those to meet up with old friends and a chance to network with those from the Blundell's Community. A special thanks to James Bullock for hosting this evening and allowing us to take advantage of the impressive Carlton Club.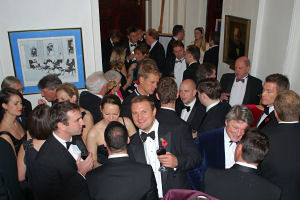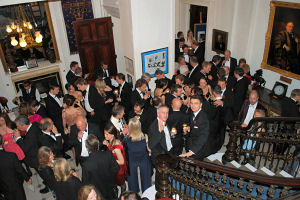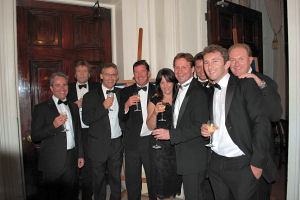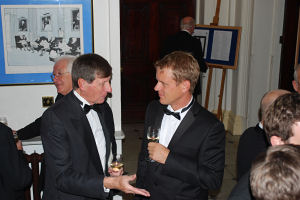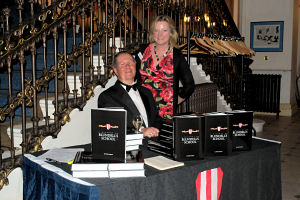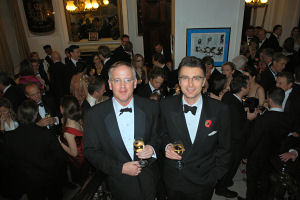 Hong Kong
October 2011
Last October, Ian Davenport and Amber Oliver ventured out to Hong Kong and China where they held a very successful reunion for Old Blundellians, Past and Current Parents and Current Pupils visiting home over the holidays. The reception in The China Club Library was held thanks to generous support from Old Blundellian Tobias Bland (SH 84-89) and his colleague Tim Rainsford.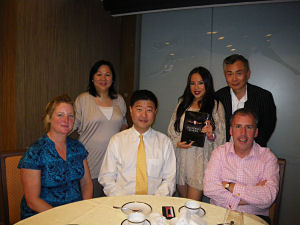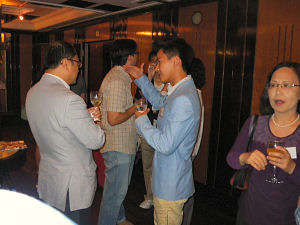 The reunion was an extension of the School's desire to bring together old friends and make new contacts from the Blundell's Community in Hong Kong and China, and we hope to extend this by visiting the USA in the late Spring or Early Summer next year. It was lovely to see so many current and former Old Blundellians, parents and pupils.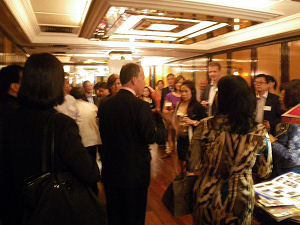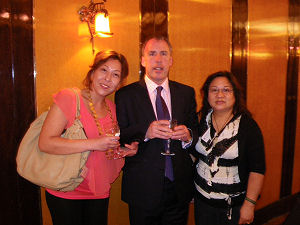 We are most grateful to those who entertained us so well in our brief visit with a delightful evening at the Hong Kong Race Club on arrival, a flying 18 hour visit to China to meet current parents who looked after us so well before a final evening meal in a central Hong Kong restaurant with Old Blundellians Dan Parr (P 90-95), Guy Nowell (P 69-74), Toby Bland (SH 84-89) and other guests before our 'dash' to the airport.' This won't be our last trip to Hong Kong and we hope to see those whom we regrettably were unable to meet due to an extensive itinerary.
Book Launch
Sat 15th Oct 2011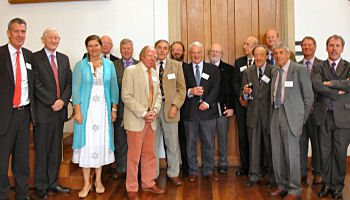 The launch of Mike Sampson's new book, A History of Blundell's, was a terrific success with over 100 people queuing up to get their books signed in Ondaatje Hall. Many stayed on for an informative lecture from the author, which gave many of us insight into the long history of the school but without spoiling too much of the book. The lecture concluded with a lunch reception in Big School, which gave past and present Staff, Parents, Old Blundellians, Governors and Supporters a chance to gather to discuss their memories of the School.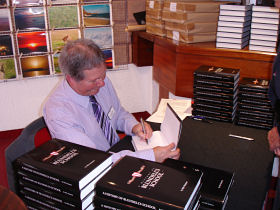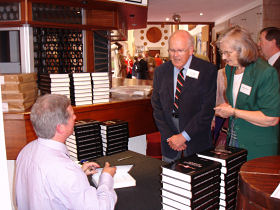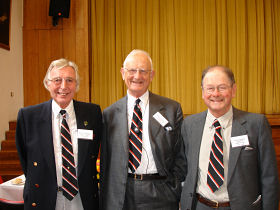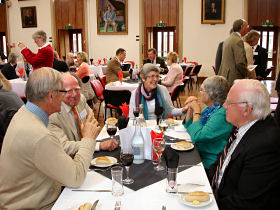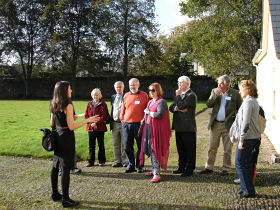 The day continued with a short tour of the exterior of Old Blundell's followed by a scavenger hunt for famous Old Blundellian R.D. Blackmore's name, which is inscribed on the front of the building. This was won by Blundellian supporter Robert Nanney-Williams. The day concluded with afternoon tea in the Beale Centre, where we were able to watch the 1st XV Rugby team play against Bryanston.
Thanks to all that were able to attend and for those that would like to purchase a copy of A History of Blundell's please email Mike at mjs@blundells.org.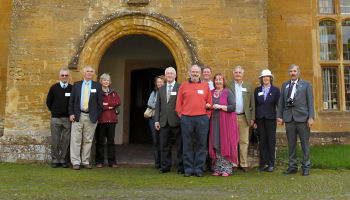 Sidney Sussex College Reunion
Fri 2nd Sept 2011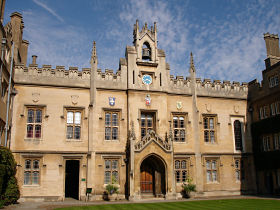 We were delighted to welcome many members of the Blundell's Community who live or work around the Cambridgeshire area together with former Cambridge graduates to celebrate its close connections to Sidney Sussex College on Friday 2nd September. Old Blundellians, Past Parents and Teachers enjoyed drinks in the Cloister Court at Sidney Sussex and were most fortunate to enjoy one of the better summer's evenings this year. A formal dinner took place in the College Hall where we were joined by the past Master of Sidney, Sandra Dawson (1999-2009). Our thanks must go to John Beale, James Bullock and Ian Seaton who were so instrumental in assisting us with organisation of the evening.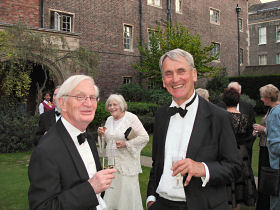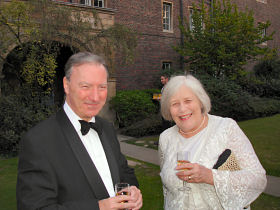 The evening was a chance to rekindle old memories of both Blundell's and Sidney Sussex and many were pleased to know that the long established relationship is still very strong with a leaver from Summer 2011 going up to Sidney Sussex this autumn. The evening was such a success that many OBs raised an interest of carrying on with either a formal or informal dinner to continue to celebrate the close connects. If you are interested in future Sidney Sussex and Cambridge University events please register your interest now and also let us know what sort of event would interest you.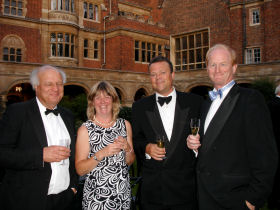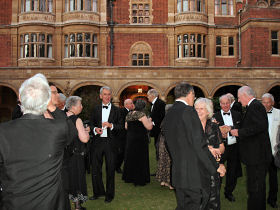 Charity Golf Day
Sun 3rd July 2011


Our Annual Golf Day at Dartmouth Golf & Country Club got off to a terrific start with 15 teams competing. The sun was out in full force making this difficult course even more challenging. All 15 teams finished in time to enjoy a relaxing drink on the Country Club's terrace and were treated to a well deserved dinner followed by an awards reception.
The overall winning team at this year's Golf day was Andy Mead (staff), Bruce Wheatley (staff), Henry Roffe-Silvester (staff) & Mike Finch (current parent) with a score of 98. Runners up were Blundell's Supporters Paul Middleton, Terry Moss, Andy Fields (current parent) & Lee Pearch.
Prizes also included: -
Nearest the pin: Simon Breed and Ian Seatherton
Longest drive: Peter Klinkenberg & Richard Swarbrick
Best Man: jointly shared by teachers Andy Mead and Bruce Wheatley
Best Lady: Rosemary Webber
Best Supporter: Lee Davey & Morris Curtis
Best Parent: Richard Thomas
Best pupil: Gary Abdoll
Best Old Blundellian: Graham Howe
Thank you to all those that participated in this year's Charity Golf Day, we appreciate your support. The day's proceeds went to the Devon Air Ambulance & the Peter Blundell Foundation Awards.
We look forward to seeing you all at next year's golf day.
Drinks Reception at The Light Bar
Thurs 9th June 2011
We are very grateful to the kind generosity of James Goff (Milestones 95-79) who hosted a Casual Drinks Reception for the Blundell's Community of Old Blundellians, current and past parents on Thursday 9th June at The Light Bar, just off Liverpool Street in London. A very pleasant evening took place on the terrace of this central London location in the unique Light Bar venue with guests attending from years 1942 to 2008 youngest and oldest if possible and a number of current parents working in the London area.
We had delicious canapés and are very grateful to James for hosting us in the most wonderful venue and for looking after us all so well. Look out for next year's date to be published in September.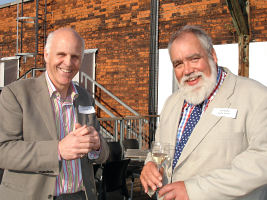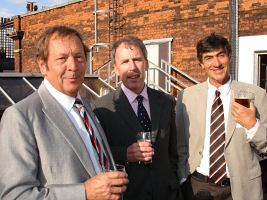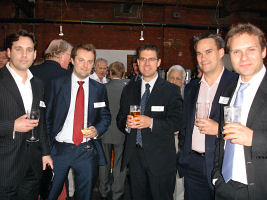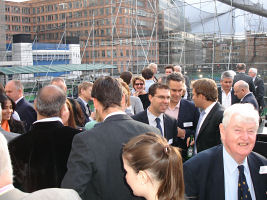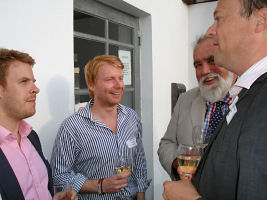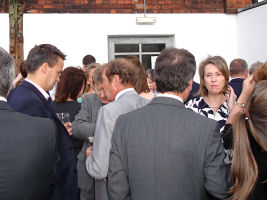 Trelissik Gardens tour
Weds 11th May 2011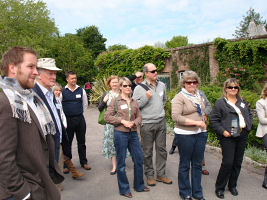 We had the most wonderful weather for our Private Garden tour at the National Trust owned property Trelissick Gardens on Wednesday 11th May. John Lanyon, the Head Gardener introduced us to the delightful property and he showed a couple of old photographs dug out from the archives from his days as Head Gardener at Knightshayes Court of Old Blundell's and how grand and truly beautiful it was.
Two of John's highly knowledgeable team took our group around the extensive and very colourful gardens. The opportunity to answer questions about how plants could grow in their gardens back at home were asked aplenty and for the more avid gardeners a chance to really appreciate a spectacular garden.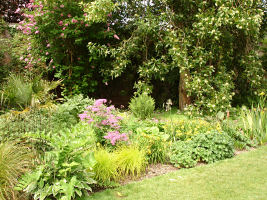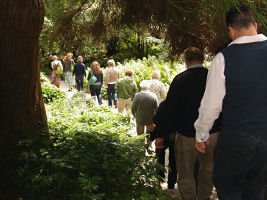 After a lovely stroll through one of the most well kept gardens in Cornwall we were treated to a brief talk about Blundell's and its current progress by Head Master, Ian Davenport. Our day ended with a delicious lunch and lots of conversation! Please log onto our Alumni Database to see more photos of the garden scenery, tour and lunch.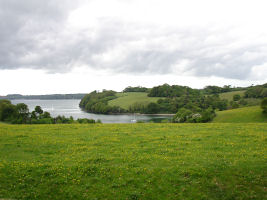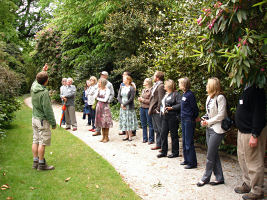 OB Russell and Milestones 75th Anniversary
Sat 12th March 2011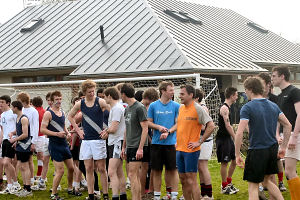 The Veterans Russell Race got off to a terrific start with over 20 Old Blundellians racing with a cumulative age of 1000, ranging from those in their early twenties up to 66! Many continued their visit back to Blundell's for the 75th Anniversary reception for Milestones House.  Blundell's Headmaster Ian Davenport presented a short history of the House, followed by the Award ceremony for the Veterans Russell race. The winners in each category were: -
Under 40: Harry Courtenay-Bishop (FH 1997-2004),
40-60: Peter Norris (Current Parent), and
Over 60: Ian Maple (M 1960-1964)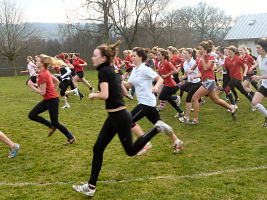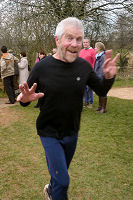 We were delighted with the huge interest shown by current and past parents and Old Blundellians, hopefully those who participated will join us again next year and spur others of you into action.
We were extremely grateful to House Mistress Debbie Hosking of Gorton House who accompanied a huge group of OBs around what was formerly Milestones.  Various memories were brought alive and many took delight in introducing members of their family to their school days.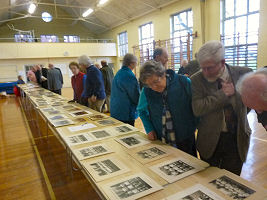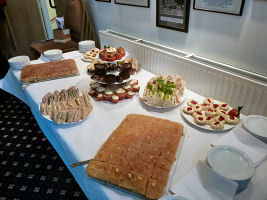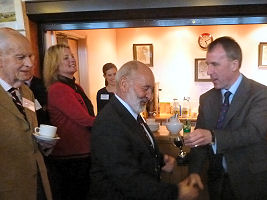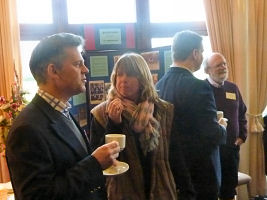 Many stayed on in the Beale Centre to enjoy the last part of the rugby before disappearing off to various other venues to continue smaller reunion groups.
It appears to be a day enjoyed by all and we hope to welcome more of you back to similar events in the future. Thanks to all those that attended and especially to Mike Sampson, our Archivist, who produced such an outstanding exhibition (prompting many comments about the punishment book) and the huge array of photos on show.