News Archive
2013
GH Reunion 1981-83
16th November 2013
Jessica Diplock (GH 81-83) decided it was time to get her peers from Gorton House 81-83 back to Blundell's School for a Reunion! The ladies dined for lunch in the Beale Centre with the 1st XV playing Millfield on Big field in the background. It was the first time that many of the OBs had seen each other since School! Many happy memories were exchanged especially with an afternoon tour of GH. The ladies would like to extend a big thanks to Debbie Hosking for taking the time to show them around GH. Old Blundellians are welcome to use the Beale Centre free of charge and are encouraged to organize their own reunion with the help of both the OB Club & Development Office.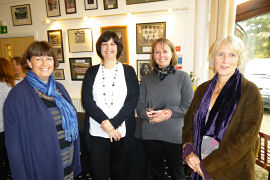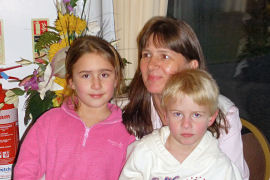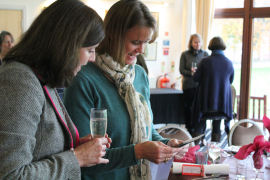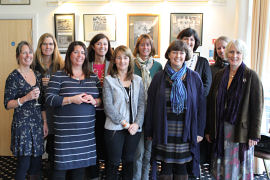 In attendance were Alexandra Brook (nee Brownlow) (GH 81-83), Sarah Bull (nee Champion) (GH 81-83), Jessica Diplock (GH 81-83), Juliette Flanagan (nee Clarke) (GH 81-83), Sarah-Robin Hunter (nee Ellis) (GH 81-83), Jessica Lampard (GH 81-83), Jessica Mannix (nee Grose) (GH 81-83), Tracy Rowe (GH 81-84), Diane Wheller (nee Henson) (GH 81-83), Rebecca Wood (GH 81-83), Miranda Hawkins (nee Larcombe) (GH 81-83).
London Dinner
8th November 2013
We were fortunate to hold our Annual London Dinner at the Oxford & Cambridge Club this year by kind permission of Governor & Old Blundellian James Bullock (P 1981-86). We enjoyed a glass of champagne in the King Edward VII Room before our meal in the Marlborough Room. The Club certainly impressed us with a delicious three course meal of smoked halibut and filet of steak followed by panna cotta.
While enjoying a glass of port we were delighted to hear from Nicola Huggett about the recent achievements of many of our pupils. Including our recent rugby partnership with Exeter Chiefs Academy and our equestrian success at the NSEA JwS National Champions! Following Nicola's optimist talk was the entertaining and humorous speech from current Governor Barnabas Hurst-Bannister. He delighted us with a few of his stories from his time as a Governor and we are so grateful to him for taking the time to speak to us.
Thank you to everyone that was able to attend and we look forward to the next London Dinner!
Property & Agriculture
19th October 2013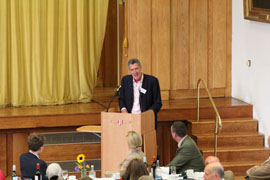 Our annual Professional's event was held again on 19th October 2013 and this year we invited OBs, Parents and former staff members from the Property & Agriculture industries. Just under 100 guests attended this reception to hear from our Guest Speaker, David Fursdon, who worked at Blundell's as a Master teaching Geography in 1979 to 1984 and went on to become one of Blundell's Governors and finally Chairman of Governors until 2011. David is also a rural Chartered Surveyor. He runs his own historic family property in Devon and carries out advisory work in rural estate management.
Pupils also gave our guests a tour of the School before gathering around to watch Blundell's 1st XV Rugby team play Edinburgh Academy who drew 22-22. Mike Sampson, the School Archivist, also set up an exhibition of memorabilia which was thoroughly enjoyed by all over tea & coffee.
Many thanks to everyone that was able to attend and carrying on from the success of the day we will be holding a Property & Agriculture Career Mentoring evening for pupils interested in these sectors on 10th March 2014. Please email us if you would like to be a mentor.
Please click here to download the Property & Agriculture Programme.
House of Commons Tour
11th October 2013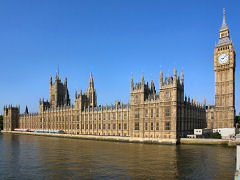 Members of the Blundell's community gathered for a personal tour of the House of Commons hosted by kind permission of Neil Parish MP for Honiton and Tiverton. The reception commenced in the 'Stranger's Dining' room which is aptly named for visitors to the House of Commons who are not 'Members,' and were welcomed by Neil and his team. We were delighted that a small cohort of our current pupils studying Politics were also able to join us.
Guests were treated to an exclusive tour inside Parliament led by Neil and his team who gave us all an impressive tour. One of the main aspects was the history behind the Palace of Westminster which included many links to Blundellians! After the tours guests were able to visit the Jewel Tower which was one of only two buildings from the medieval Palace of Westminster to survive the fire of 1834.
Many thanks to all our guests who were able to attend and a special thanks to Neil Parrish and his team for his informative and exciting tour of the House of Commons.
Charity Golf Day
2013
Our 4th Annual Charity Golf Day at Dainton Golf Course was a terrific success with teams comprised of Old Blundellians, Past & Current Parents, Staff, Sponsors and Supporters competing for the Championship title along with individual prizes.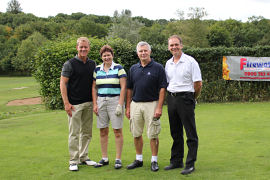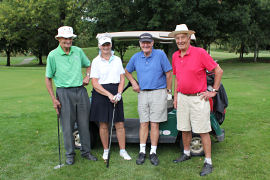 We were again very luckily with the weather and while the teams enjoyed a quick bite to eat we also hosted a mini-putting completion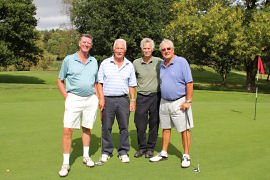 which was jointly won by current parent, Nick Dyke and supporter, Peter Smith.
All the teams completed the course in time for a drinks reception in the courtyard before a well-deserved Carvery Dinner.
After pudding the teams supported the Charity Raffle for both the Devon Air Ambulance and The Peter Blundell Foundation Award Bursary provision. A variety of prizes were awarded on behalf of our sponsors Firewatch, Dainton Park Golf Course, Stapleton Yogurts, Philip Dennis Foodservice, WestChem and Jolly Vintner.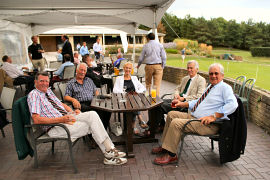 Many thanks to all those that participated in this year's golf day, we hope to see you all again next year!
Results
Best team
Hal White, Tom & John Lower (supporters)
and Andy Fields (current parent)
94 points
Best Male
Nick Hancock
41 points
Best Female
Shaneen Smith
31 points
Best Old Blundellian
Richard Aldridge (NC 1956-60)
34 points
Best Parent
Lester Kemp
39 points
Best staff (current/former)
Norman Ridgeway
34 points
Devon Air Ambulance Visits
8th August 2013
We were pleased to welcome the Devon Air Ambulance Helicopter which landed on Big Field (away from the cricket pitch!) on 8th August 2013. This was just one of a series of drop-in visits the new Helicopter made across the county. Blundell's School is one of DAAT's official landing sites and the tour allowed aircrew the chance to familiarize themselves with the new aircraft and landing site.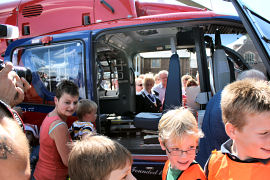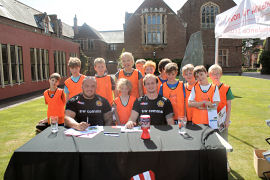 We welcomed over 200 local visitors many of whom received a personal tour of the Helicopter led by a DAAT pilot. Exeter Chief Rugby players, Craig Mitchell and Jack Arnott, were also present and signed autographs for the visitors. Blundell's School pupils donated a selection of artwork which was sold in aid of DAAT and refreshments were available to the visitors.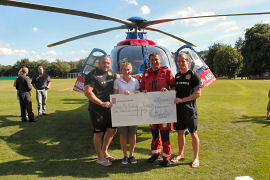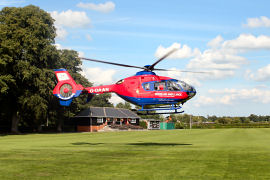 Devon Air Ambulance is one of Blundell's favourite local charities and the school has raised over £500 in the last year to support the new helicopter. This event is one example of the way in which Blundell's works with the community to support local good causes.
John Hollands (OH 1946-51) - Korean War Talk
2nd July 2013
To mark the 60th anniversary of the ending of the Korean War, John Hollands (OH 46-51) came to Blundell's School to give a talk to the current pupils and other War Veterans on his experiences in the Korean War and what inspired him to write the book.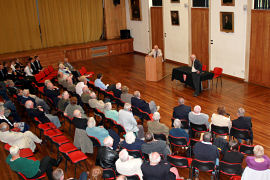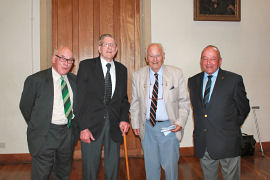 He was introduced by Former Master Charles Noon (Master 72-02) who spoke a bit about John's time at Blundell's and his highly successful career as an author. Many pupils queued after the talk to get their books signed by the author for a bit of summer reading!
John came to Blundell's in 1946 and, if one of his autobiographical novels is to be believed, received higher marks in Common Entrance than the prep school colleague from whom he had cribbed. He came as a boarder to Old House in the days before television and mobile phones and, indeed, access to any phone. Records of the OH Societies show the House to have been a dynamic unorthodoxy 'under' a housemaster who hardly emerged before luncheon, who only ate porridge and who was most alert about midnight.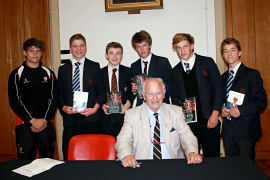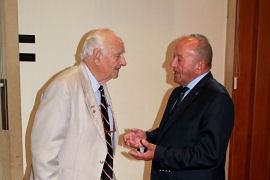 John excelled at cricket and was in the XI for four years. He was encouraged to become a writer by an English master. Leaving in 1951 he, like all his generation, did his National Service and was commissioned into the Duke of Wellington's Regiment and sent to Korea, where he became the most decorated National Serviceman.
Hollands not only won the M.C, but was also given the American 'Purple Heart' and a South Korean Medal. He also received a UN medal with a blue and white striped ribbon, referred to mockingly as 'MacArthur's Pyjamas'. He used these experiences to write a novel 'The Dead, the Dying and the Damned' which sold three million copies. However, it was banned from Blundell's School Library because the Headmaster objected to some of the Tokyo 'R and R' scenes in the book. Hollands wrote 14 other books, which include 'Oh What a Fag!', a hilarious account of his days at Blundell's.
OB Day 2013
Old Blundellian Day took place on June 15th 2013 with over 140 Old Blundellians & wives attending! It was the best turn out in years for OB Day. The theme for the day was the 1950's to 1970's and many OBs came back to see their old friends, many of whom they had not seen since School.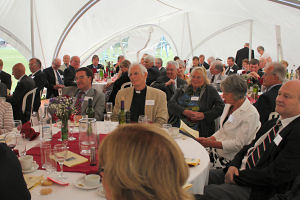 The day started with a chapel service led by David Hamer (Former Chaplain 1973-01) who delivered an inspiring sermon perfect for OB Day. Robert Beale (M 1959-64) was also one of the readers during the service reading from Ecclesiastes.
We were then treated to a drinks reception in the Beale Centre before enjoying a splendid three course meal produced by our wonderful catering team. We cannot thank our guest speaker, Robert Fox (OH 1959-63), enough for being such an entertaining guest speaker. There were roars of laughter throughout the speech and it evoked some fond memories of times here at Blundell's School for all of us.
After lunch, our School Monitors hosted tours of the boarding houses and many past OB monitors were also pleased to see their name up on the boards in the House Common Areas. Mike Sampson, School Archivist, presented an impressive exhibition of memorabilia from 1950 to 1970.
The day concluded with Tennis in the afternoon against the pupils for those that were interested along with supper in the evening and a chance to relax and catch up with old friends.
Old Blundellian Day 2014 is scheduled for June 14th 2014. Please mark your calendars.
Annual Casual London Drinks Reception
2013
Our 4th Annual Casual London drinks reception at The Light Bar nr Shoreditch was another great success with close to 100 OBs and Parents in attendance. We were thrilled to see so many Blundellians from all walks of life including OBs from 1940 to 2009! It was also terrific to see some current and past parents this year. It was a great chance for everyone to meet with Nicola Huggett, The Head.
A special thanks to Old Blundellian James Goff (M 75-79), Brett Sullings (FH 98-03) for all their help in supporting this event. Without the support from James and Brett this event would have not been possible so we thank them for their generosity.
We hope you can join us again next year.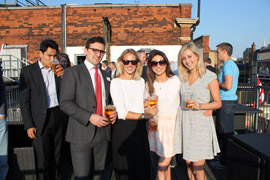 Devon County Show
2013
Blundell's was represented at the Devon County Show last week. We had 3 days of (mostly) sunny weather. We also enjoyed seeing the Duchess of Cornwall having a look in the Food & Drink tent which was right outside our stand. We hosted our annual Cheese & Wine Reception that evening and many Blundellians joined us to meet some the Blundell's staff including the Head, Nicola Huggett. Please join us again next year.
Greenway – National Trust Lunch and Garden Tour
14th May 2013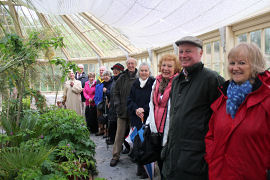 Parents, both past and present, along with OBs & Former staff members gathered at the historic Greenway House, the former summer home of Agatha Christie, for a house and garden tour and lunch reception. Despite the dreary weather conditions the groups enjoyed the gardens which included the 'Peach House', a mini-cemetery of Agatha's animals and fantastic views of the river Dart.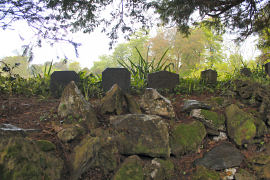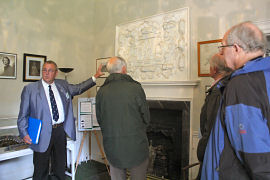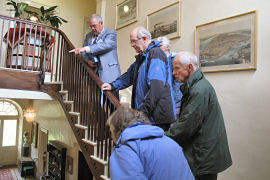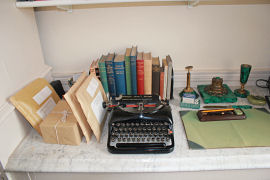 During lunch we enjoying some of the garden's fresh vegetables, Nicola took the opportunity to welcome everyone and to invite anyone from the Blundellian Community to join us in future events.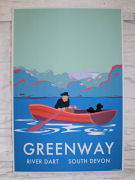 She encouraged them to stay supporters of the School now and for many years to come, extending an invitation to visit the School and relive memories of the school and perhaps join us in the dining hall.
The tour of the House was of great interest to all giving a real insight into the lives of both Agatha Christie and her family including her husband, the archaeologist Max Mallowan. The House and Gardens were a great source of inspiration for many of Agatha's novels and mention of Greenway was made in 'Five Little Pigs', 'Towards Zero', 'Dead Man's Folly' and many more.
Thank you to all those that attended and we look forward to welcoming you to future events.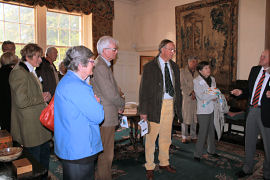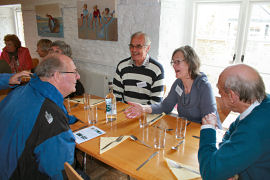 ER Crowe Memorial Fund 5th Anniversary Lunch
23rd March 2013
To mark the 5th Anniversary of Ted Crowe's death The OB Club and Peter Blundell Society hosted a lunch specifically for supporters of the ER Crowe Memorial Fund which was founded in the Spring of 2008. Many of Ted's old friends, pupils and colleagues gathered to remember Ted.

Old Friends, Nick Geach (M 1951-55) &
Ben Chilcott (W 1951-55) talk about Ted

Peter Price (W 1958-63) & Mike
Daniels (P 1945-50) met the Head

Jonathan Webber (NC 1971-76), Sylvia Stagg, John Stagg (M 1939-43)
Roy Webber (NC 1942-45) & John Gunn (M 1944-49)
Chairman of the Peter Blundell Society, Chad Murrin (FH 1969-73) spoke about Ted and how his exuberant personality and legacy has lived on at Blundell's. Nicola Huggett gave an insight into some of the pupils at Blundell's who have benefited from the ER Crowe Memorial fund. We hope many more pupils will benefit from the ERC fund in the future, if you would like to contribute or find out more, please contact the Amber Oliver for the latest information.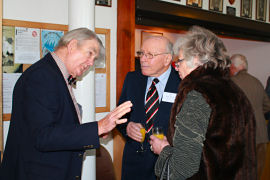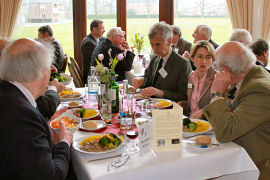 Medical Career Evening
11th March 2013
Over 30 pupils interested in pursuing a career in Healthcare gathered to hear from 10 different Medical Related industries.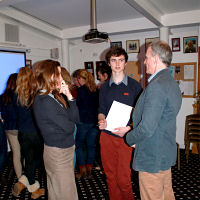 The Mentors gave an overall picture of their careers, weighing up the pros and cons and touching on the qualities needed to pursue a particular path. Our pupils now have a much clearer idea of what it takes to become a medical professional but I think our Mentor James Chaffe (FH 01-06) said it best; 'Hard work, determination & team work is needed to pursue any career in Healthcare and don't forget to pay attention in Chemistry with Mrs Batting."
Call for Career Mentoring - Due to the popularity of this event we are hoping to offer similar career evenings in an array of different industries. If you can offer advice to our current or recent leavers please register your interest with the Development Office. Our next Careers evening will focus on Property & Agriculture to coincide with our Property and Agriculture Reception Lunch on 19th October.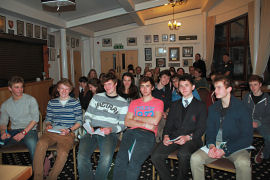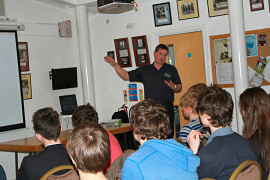 Russell Inaugural Dinner
9th March 2013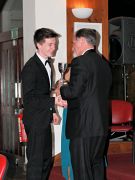 We were pleased to host the first Russell Run dinner this year and welcome our guest speaker Dr Christopher Twigge-Molecey (P 1960–65) who flew over from Toronto to attend this event. Chris was only one of a handful Blundellians to have won the Russell four times, once as a Junior, once as an Intermediate and twice as a Senior. We welcomed over 130 guests to a black tie dinner. The night commenced with drinks & 4 course meal followed by an Auction, the proceeds of which will fund projects at Blundell's with a particular emphasis on 'hardship' cases.
We are very grateful to those from the Blundellian Community who offered prizes and would particularly like to thank, Andrew Pool (W 1957-60), William May Somerville (Current Parent), Mr and Mrs Blackmore (Current Parents), Robert Kitson (Current Parent), The Old Blundellian Cricket Club, Peter Price (W 1958-63), Scott Robinson (NC 1991-94) and Phil Attwell (Current Parent) for their support and all the guests who very kingly bid on our auction lots.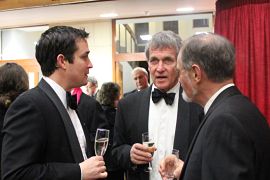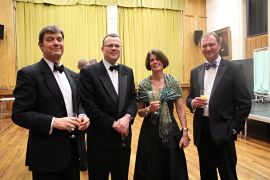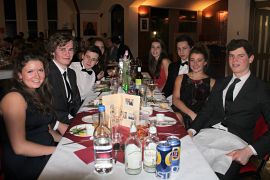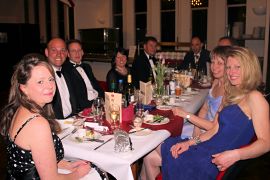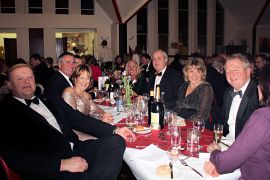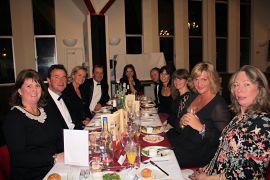 The 133rd Russell
Saturday 9th March 2013
[ See a report of the 2013 Russell Dinner on the News page ]

This year's 133rd Russell Run saw over 35 Veteran competitors, the biggest turn out to date. With OBs, Current Parents and Supporters all competing for the trophies (Under 40, 40-60, Over 60 and Ladies Cup). After a small rain shower the sun did come out and it began to resemble a Spring Day! Old Blundellian, Christopher Twigge-Molecey (P 1960-65) who won the Russell four times was our official race starter.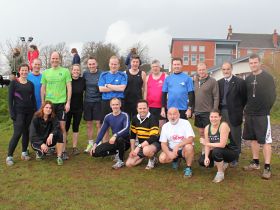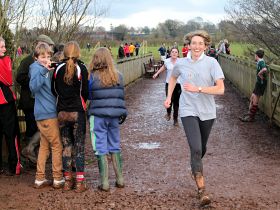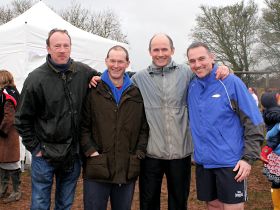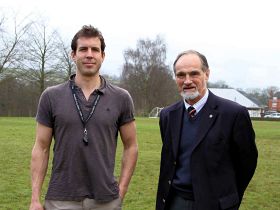 The excessive mud and hilly terrain made the run very tough this year but we are pleased to announce the following winners:
Veterans Russell Winners
2013
OBs, Parent (Current & Past) & Supporters
| | |
| --- | --- |
| Group | Winner |
| Under 40 | Robert Backus (OH 86-91) |
| 40-60 | John Glaisher (Current Parent) |
| Over 60 | Ian Maple (M 60-64) |
| Ladies Winner | Georgina Geikie (Supporter) |
Russell Winners
2013
| | |
| --- | --- |
| Group | Winner |
| First in Open Russell (Senior Boys Y11-13) | Ollie Clarke (Francis House) |
| Second to the Russell (Senior Boys Y11-13) | Jack Friend (Old House) |
| First Senior Girl (Y11-13) | Charlotte Routledge (Westlake/NC) |
| Second Senior Girl (Y11-13) | Lucy Reynolds (Westlake/NC) |
| First Junior Boy (Years 9 & 10) | Arthur Friend (Old House) |
| First Junior Girl (Years 9 & 10) | Zara Cameron (Gorton House) |
| School House Boys Winner | Sam Taylor (School House Yr 8) |
| School House Girls Winner | Serena Mundy (School House Yr 7) |