News Archive
2014
London Dinner
6th November 2014
We were very fortunate to hold our Annual London Dinner at the Eyre Brothers restaurant in Shoreditch this year by kind permission of Old Blundellian James Goff (M 1975-79). We enjoyed a Welcome Drinks Reception courtesy of James, followed by a delicious three course meal which included a selection of Tapas dishes, Acorn-fed Iberico pig, Patatas Pobres, in addition to Tarta de Santiago.
While enjoying a glass of port we were delighted to hear from James Bullock (P 1981-86 and Current Governor) about the recent achievements of many of our pupils and the health of the School in general. Notably, that Blundell's has Devon representation at every sport at every level, including the captain of the Devon U15 girls' cricket team, a very popular and growing sport at school amongst the girls. Moreover, that a group of our pupils are current National English Speaking Union public speaking champions. We also heard about the fantastic refurbishments, which took place over the summer in Gorton House and North Close.
We thank James for his informative, entertaining and humorous speech and are grateful to him for taking the time to speak to us.

Thank you to everyone that was able to attend and we look forward to the next London Dinner.
1970s & 1980s Gaudy Reception
6th September 2014
Blundell's School hosted its 1970s & 1980s Gaudy Reception on Saturday 6th September. The day started off with a Guest Morning for prospective Old Blundellian Families. The Families were greeted by The Head, Nicola Huggett who spoke about the many important changes that have taken place at Blundell's since the 70s, albeit whilst ensuring the founding ethos of the School has remained untouched.
The Lunch Reception commenced with a drinks reception in Big School with over 80 Old Blundellians & Former Masters, including their partners and children. We were treated to an wonderful buffet lunch by our new Chef, many of you delighted to see that 'baked beans' were not on the menu as they may well have been back in the 70s & 80s!
Nick Swarbrick (Master 64-97, Housemaster of Westlake 68-80, Second Master 76-97 & Governor 00-06) was a delightful Guest Speaker and recanted stories of his time at Blundell's over the past 42 years. It was clear from his speech that although many things have changed since his time as Master, Blundell's has continued to remain one of the strongest Schools in the South West. Mike Sampson the School Archivist also laid out an impressive exhibition from the 70s & 80s allowing Old Blundellians to show their families photographs from their time at School.
We were delighted to have Former Master Charles Noon provide an exclusive tour of Blundell's. He provided comedic insights into the antics of former pupils, emphasising the importance of gunpowder and penknives into the daily routine!
The day concluded with an Afternoon Tea in the Beale Centre; offering the opportunity for Old Blundellians to further recall their time spent at the School, before saying their goodbyes to one another. We do hope that many of you have made promises to remain in touch.
Thank you to all of those that were able to attend and please click here to view a selection of photos from the day or visit our Facebook page for the full selection.
Celebrity Cricket Match in aid of RNCF
15th June 2014
Blundell's School was delighted to host an inaugural Celebrity Cricket Match in aid of the Royal National Children's Foundation. The RNCF helps to fund boarding school education for vulnerable children and young people throughout the UK.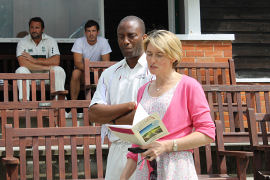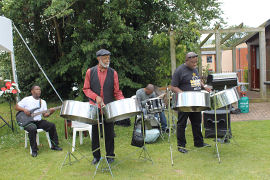 The RNCF entered a team including Henry Olonga, former Zimbabwean test cricketer who made his international debut in 1995, becoming the youngest player to represent Zimbabwe and Steffan Jones, formally representing Derbyshire, Somerset, Northamptonshire, Kent and Dorset Cricket Clubs. Blundell's School team consisted of Rob Turner (Captain), Former cricketer at Somerset CCC (1991 - 2005) & Teacher of Mathematics/Head of Cricket at Blundell's since 2006, Nick Folland, Former cricketer with Devon CCC & Somerset CCC & Former Headmaster of Blundell's Prep School and now Headmaster at St John's on the Hill. Along with Andy Caddick, Former England & Somerset CCC cricketer and a selection of Staff & Old Blundellian players.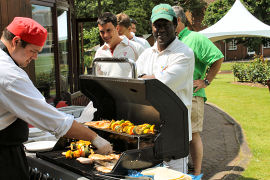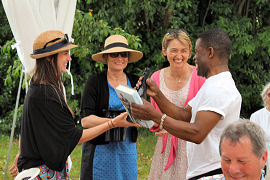 Game Summary: Blundell's 199 for the loss of 3 wickets from 30 overs. Dominic Bess 58, Joe Smith 102 not out. Charity XI 143 all out. Steffan Jones scoring 75. Andy Caddick took 3 wickets for 5 runs and Jack Menheneott took 3 wickets for 12 runs. Andy Sims took the wicket of Henry Olonga, taking a brilliant caught & bowled. Blundell's won by 56 runs.
You can see a few more photos of the event in this flyer.
OB Day 2014 Report
Saturday 14th June 2014
Old Blundellian Day 2014 took place on June 14th 2014 to commemorate the centenary of the Great War. Over 135 Old Blundellians, Partners, Former Staff Members and a selection of pupils enjoyed a full day including a Chapel Service incorporating a presentation to the School of a Roll of Honour to remember those Blundellians who fell in the War. A brass band played music of the period of the Great War during the drinks reception. German and English students read Great War poetry in the marquee before lunch and Professor Jeremy Black spoke about the cause and effects of the Great War after lunch. In the Afternoon OBs planted a tree to commemorate those who gave their lives in the Great War.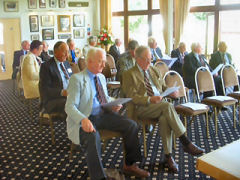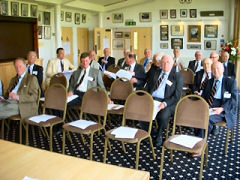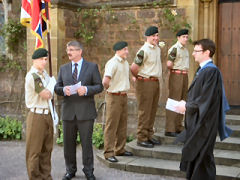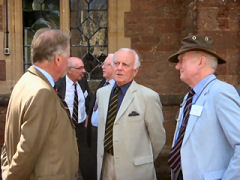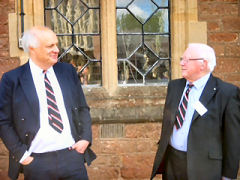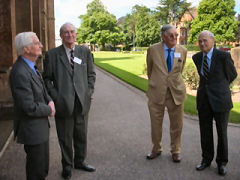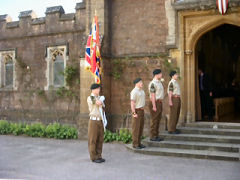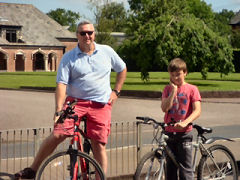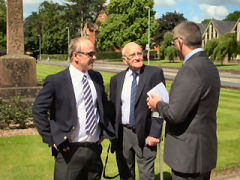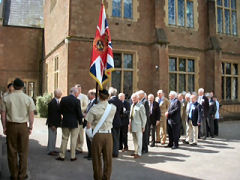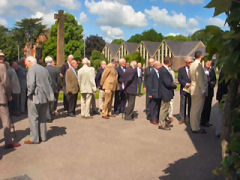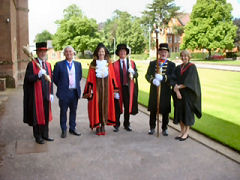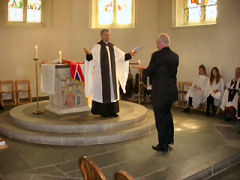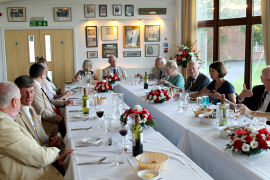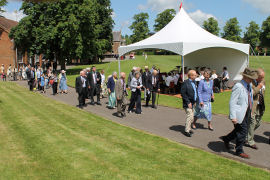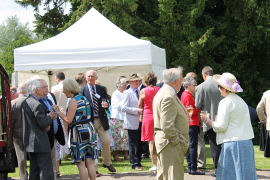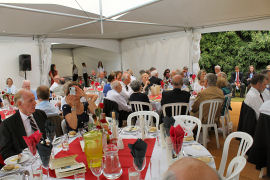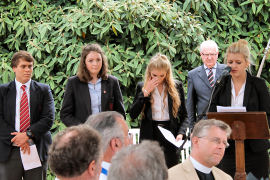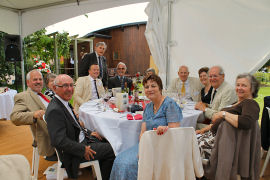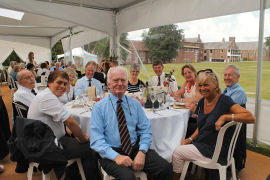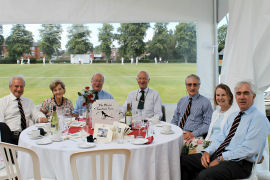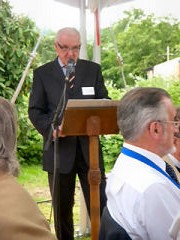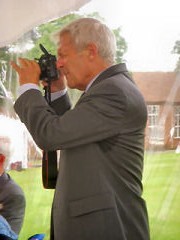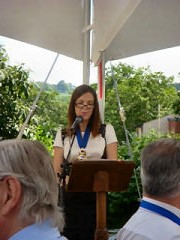 You can see a few more photos of the event in this flyer.
You can also see a short report and some photos from the OB Day Shooting event on the OB Club's Shooting page.
Sports Dinner
22nd March 2014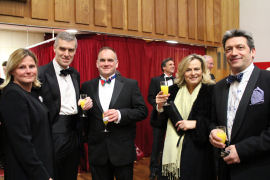 Our Sports Dinner was held to celebrate the sporting achievement of our young men and women at Blundell's. Old Blundellians, Current & Past Parents along with Staff and Pupils joined this well attended event to hear from our Guest Speaker Rob Kitson. Rob is the Rugby Correspondent for the Guardian and he spoke about some of the highlights of his career including the 2003 Rugby World Cup to the 2012 London Olympics.
After the dinner an auction was held in aid of Sporting Bursaries and projects at Blundell's, we were thrilled to have raised in excess of £3,000! A big thank you to members of the Blundellian Community that generously donated the prizes for the event.
134th Russell Run
9th March 2014
Veterans Russell Winners 2014
Category
Winner
Under 40
Simon Tang (OH 05-12)
40-50
Charles Maunder (M 83-88)
Over 50
Martin Price (Current Parent)
Ladies Winner
Katharine Rackham (GH 90-92)
This year's 134th Russell Run saw over 40 Veteran competitors! We were delighted with the great turnout and with the glorious sun beating down on us it was a very pleasant day. This year the Russell Run was organised by Graham Baily, Biology Master. Each runner was fitted with an official runner's bib and the winners from the race are below. After the race Runners and their families were treated to a well-deserved afternoon tea.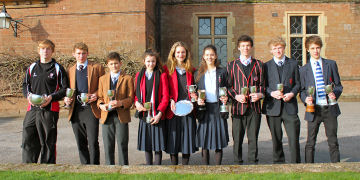 BBC Any Questions?
21st February 2014
Around 400 people enjoyed the live broadcast of the BBC Radio 4 programme Any Questions? from Blundell's on Friday (21st February 2014).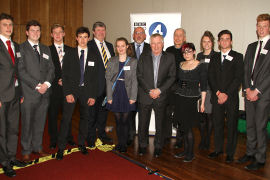 The panel of the Secretary of State for Scotland Alistair Carmichael, Conservative backbench MP Nadhim Zahawi, New Statesman columnist Laurie Penny and Labour backbench MP Frank Field, was chaired by Jonathan Dimbleby. The BBC was impressed by the range of questions submitted during the evening in advance of the broadcast and one of the ten people selected to put their question to the panel was former Master Charles Noon who received a round of applause from many of the audience when he was called forward (unfortunately, time ran out before he could put his question 'Is the country caught between a cruel housing shortage or the bursting of a housing bubble?' to the panel). Once on air, the panel debated several topics of the day including Kiev, Scottish independence and whether it was a good idea to put a calorie count on bottles of wine!
Ten sixth formers, several of whom are studying politics, helped at the event and were able to talk to the panel and Jonathan Dimbleby, and gain an insight into public life as well as into broadcasting.
Germany Dinner
17th January 2014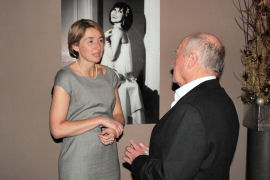 Blundell's has been fortunate to educate a number of international pupils including those from Germany and for this reason we decided it was time to host another Germany Dinner in Dusseldorf. Over 30 Old Blundellians, Current & Past Parents attended the reception which was kindly organized by Christian Busch (SH 1988-89). Our guests were welcomed by Mrs Huggett and she gave an exciting overview of the events and projects taking place this year at Blundell's. Following Mrs Huggett's welcome we were treated to a delicious dinner and many of our guests took the time to reminisce about old memories of their time at School and of course meet new friends from the Community.