Where Are They Now?
See also: OB Authors | OBs in the Military
Decade started at Blundell's: 1930 | 1940 | 1950 | 1960 | 1970 | 1980 | 1990 | 2000 | 2010
1930
Anthony Aubrey Kenward Gifford, OAM
NC 1933-38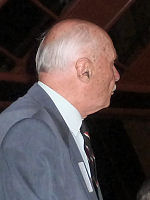 OB Anthony Gifford (Tony), NC 1933-38, celebrated his 90th birthday on the 19th January 2011. He is living in Palm Beach, Sydney, Australia, with his wife Bunny who is 92. Tony played in the First V's Team at Blundell's. At cricket he played for Kent Second XI being an excellent spin bowler, where he met many England stars.
As reported in OB News he was awarded the Order of Australia Medal in the Queen's Birthday Honours on 30th June 2010, for services to sport and the community.
Tony served as an officer with The Gharwal Rifles in World War 2. Unfortunately he was very badly injured in a military traffic accident whilst serving in Cyprus. Due to the severity of his injuries he was invalided out of The Army. In 1948 he emigrated to Australia where he took up a teaching appointment in Launceston Church Grammar School Tasmania followed by another teaching appointment in South Australia Saint Peter's College Adelaide where one of his students was Donald Bradman's son.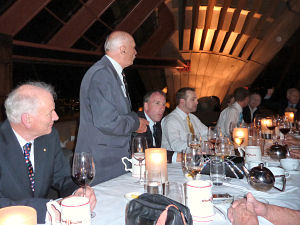 Finally he was appointed at Knox Grammar School in Wahroonga New South Wales, where he stayed for 32 years. While with Knox Grammar he started Australian youth cricket becoming the Founder & Secretary of the Australian School Cricket Council from 1966 to 1981. He was awarded the Certificate of Distinguished Services for services to Australian Cricket, by Jack Clark the Chairman of "Cricket Australia" in 2010. Tony coached and managed Under 19 Cricket visiting every Test playing country with Under 19 teams.
In the field of sport Tony was Treasurer of Schools Rugby and was awarded Life Membership of the Australian Rugby Football Schools Union.
For 10 years Tony was the Secretary of the New South Wales Palm Beach Branch of the Liberal Party of Australia and received the Distinguished Long Service Award for services to the Liberal Party in December 2010.
In celebration of his 90th birthday we salute a great Blundellian!
Professor John A Davis
Petergate 1937-42
I entered Blundell's as an exhibitioner two years before the outbreak of the Second World War. One of my earliest memories is my father's prediction that it was inevitable once we had allowed the German Army to reoccupy the Rhineland against the terms of the Versailles Treaty. In awarding me an exhibition Gorton wrote to my prep school head master to say it was a bit of a gamble – I having spent half the time allotted for the Latin paper trying to remember the word for ambush which just wouldn't come to mind until forty years later I woke my wife in the night to tell her that I had recalled it in a dream – insidia.
My housemaster was Wilfred French who later married the daughter of our vicar. My father chose Petergate on the grounds that one always got better fed under a bachelor housemaster. Contemporaries there were John Jones, later a Fellow of Merton and Oxford's Professor of Poetry, Peter Schidlof, the violin player in the Amadeaus Quartet, Quentin Keynes, whose great uncle was one of the greatest OBs, Professor A V Hill FRS, Peter Bluett, who was killed soon after D-Day, 'Soapy' Soames, who I now realise was everything a boy should be and I wasn't, Henry Tom, the son of a Cornish landowner, who joined the Coldstream Guards and took part in the grim landing at Anzio, and Charles Brown, who became a close friend after I stood up to him when he tried to take it out of our entry of new boys (nearly all of them now deceased).
Discipline in my day was quite severe; a friend of mine in Westlake had the invidious task as a fag of carrying the head boy's canes to the school monitors' office every morning for the beatings that were inflicted on anyone breaking the rules – such as being caught smoking or missing chapel. The head master's sermons were a bit above our heads – relayed from Karl Barth – but he was a great man in his way and thoroughly deserved his bishopric when he moved on. I remember his rendering of Browning Porphyria's Lover that ends with 'yet God has not said a word!' and his rage after visiting the local workhouse where he said couples who had lived a useful and exemplary life were separated in old age and found themselves in the company of the riff raff of society. For him, calling a member of the 'working' class an oik was a beatable offence. It was he who got for me a so called Rugger Scholarship at St Mary's Hospital which at that time fielded the English three quarter line but whose students also excelled intellectually – two of my contemporaries becoming Fellows of the Royal Society.
As a clinical student I spent the weeks after D-Day tending wounded soldiers who were not much older than I was and came to marvel at their courage in adversity, but just before I was ready for duty as an MO the war came to an abrupt end with the dropping of the first atom bombs. My exemplar as a student was and OB – Freddy Brimblecome, later Professor of Paediatrics in the post graduate medical school at Exeter and it was he whose example led me to take up the same specialty – thin in its infancy in Britain.
After education ('training' is, as my mentor the distinguished child psychiatrist, Dr Donal Winnicott, put it, is for performing animals, privates in the foot guards and circus acrobats) at Great Ormond Street, Paris, Hungary, Harvard Medical School, the Nuffield Institute in Oxford and the Post Graduate School at Hammersmith I was invited to take the Chair of Child Health in Manchester before moving on to the foundation Chair of Paediatrics here in Cambridge, from which I retired a third of a century ago to cultivate my garden.
Whilst I was working in Manchester I encountered the distinguished obstetrician Harold Walker, also an OB, whose brother became CIGS and daughter a well-known classical singer. Another OB whom I encountered was a Petergate contemporary who, when driving me from Santiago to Valparaiso, where he was consultant paediatrician, surprised me by suddenly asking 'don't you remember me, 'Dago' Jones?'
What I got from Blundell's were friends for life, including Wilfred French, who ran our unique survey club, a love of water colour painting – inculcated by our art master Lyons Wilson, and of literature fostered by his successor as our housemaster, William Thoseby, with an admiration for the professionalism of those of the staff who held the fort when their younger colleagues joined up – and, like all those who were lucky enough to encounter him, an immense regard for Bishop Gorton's brand of Christianity even if I can no longer count myself as a true believer. Musicians were well catered for by the classicist Mr Hal, who boasted that members of the choir always won 'the Russell' cross country race thanks to their control of breathing.
Blundell's is obviously a different and in important ways a better school now than in my day, but he and his appointed staff showed the way which the school has returned to after an unfortunate interlude. What a pity that the dissipation of its founder's massive endowment in a Trollopian law suit disqualified it from joining the elite Clarendon eight as one of the original 'public schools', but it has clearly now climbed back to where it belongs.
1940
Anthony Provis
OH 1940-45
First Memory of Blundell's
The first memory of School is the sheer panic I felt going down the Pavilion steps to keep wicket for a scratch Blundellian XI with Derek Chapman (1936-1940) Captain of Cricket at First Slip. The opposition was Cullompton Cricket Club, the pitch was on Big Field, and the date an evening in May/June 1940 and I was a 13 year old, a scholarship candidate down for three days from a small prep school near Bradford upon Avon.
I do not remember anything about the game, but I cannot have performed too badly as, well past my usual bed-time, I was invited by OH's Monitors to join their supper of scrambled egg.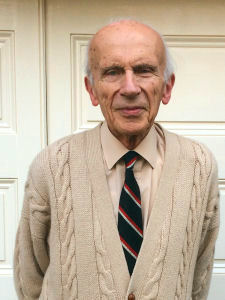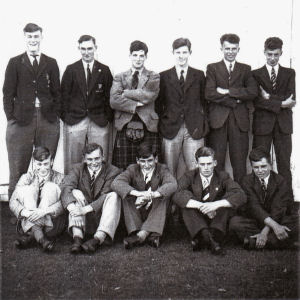 Six scholarships were on offer, all named after Blundell's' Worthies of the Past. With the basic school fees of £150 per annum, the winner of the one Major Scholarship of £100 pa saved his father two terms' fees, and the five boys awarded £50 pa each saved one term's fees. I was fortunate to have one of the latter in Classics, £20 more than my elder brother with his £30 Exhibition in Mathematics.
First day at Blundell's
I arrived for my first day on 17 September 1940 by car, the only time as the journey from home in Dorset and back used up two months ration of petrol coupons. Trunk and tuck box followed PLA (Passenger Luggage in Advance) entrusted to the Southern Railway Company, Great Western Railway Company and the Somerset and Dorset Joint Stock Railway ('the Slow and Dirty'). The tuck box contained a small tin of mandarin oranges in syrup to be eaten three weeks later on my 14th birthday. How different to my elder brother's pre-war hoard of biscuits, cakes, and other goodies that helped, with personal belongings, to fill his tuck box.
Anthony provided us with a generous account of his years at Blundell's, more of which you can read here.
Major Mike Hartland
NC 1943-47
Major Michael Hartland was born in India, educated at Blundell's School and graduated from the Royal Military Academy, Sandhurst in 1950 and was commissioned into the Wiltshire Regiment. He saw service in the Far East, Middle East, Mauritius and Guyana before retiring to the island of Grenada.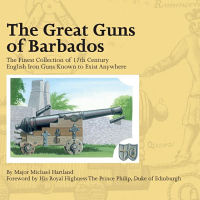 In 1980 he and his family moved to Barbados where he was offered a Commission in the newly formed Defence Force. He retired in 1999. Since then he has arranged the Tours of the Garrison Historic Area and formed the National Armouries now internationally recognised as the finest collection of 17th century English iron cannon to be found anywhere. In 1996 he was awarded the Meritorious Service Medal for his service with the Defence Force and in 2005 he received the Barbados Service Star for his contribution to Heritage Tourism. He is the author of A Concise & Illustrated Military History of Barbados 1627 - 2007, published in 2007 by Miller Publishing.
Major Mike Hartland presented one of his books to HRH Prince Edward during a visit to Barbados. HRH Prince Philip wrote the foreword for one of Major Hartland's books, The Great Guns of Barbados, one of two books very kindly donated to the Blundell's library.
John Rae
SH 1944-49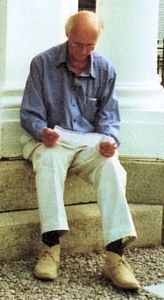 John has gone onto have a varied career in the Arts world since leaving Blundell's who studied with Lyons-Wilson and sculpture with Willi Soukop. He is also co-author of the book 'William Lyons-Wilson'.
He was a student at UCL, has worked with Maxwell Fry on West African and Indian projects. One of his biggest claims to fame was winning the redevelopment of the central area of Dumbarton. He was the Principal lecturer at Hornsey College of Art, a Tutor at the Architectural Association and later at Bartlett School of Architecture. Travelled to various facilities throughout the world and published 'The Sketch Book of the World'. He has had numerous exhibitions including The Royal Academy, The Royal West of England Academy and The Mall Gallery in Australia and many more. One of his greatest exhibitions was of 120 paintings of the Early English parish churches of West Sussex at Petworth House as part of the centenary celebrations of The National Trust.
Roger Plowden
?? 1945-50
It is 68 years since I left Blundell's to join the Army. My time at Blundell's was during the Second World War. Despite the restrictions imposed, the School was a go-ahead institution, which gave us boys the quality of an all-round first-class education. Sport was important but academics were looked after very competently by those Staff who were not called up and by retired Masters who came to fill the gaps. We were taught discipline and the qualities of leadership which stood me in good stead during my career. Today the School has changed out of all recognition in that it has blossomed with new buildings, has a wider syllabus and more extra-mural activities. I envy any boy or girl who is lucky enough to be educated at Blundell's today.
Michael Imbert
FH 1946-48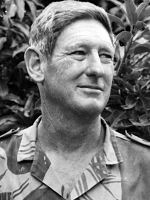 Michael says his career at Blundell's was unremarkable but taught him much that later stood him in good stead. Good at running, swimming and boxing, he was no star. Having owned a rifle from the age of nine, he was happy to join the shooting team to work in the butts. Later he shot for his Battalion and taught the art to a great many young soldiers. Much later he was in the winning team in the Army's squash championship.
After ten years of Colonial Service he transferred to the Kenya Game Department for an active outdoor life. He explored wild parts of Africa and saw many wonderful things while doing a great deal of hunting, mostly for protection of local peoples' crops and stock. At times capture and relocation proved possible. Among the many he shot was a bad tempered elephant in Turkana carrying the stumps of broken tusks – 105 lbs of serious toothache. Crocodiles grow to great size and run appallingly fast and Michael had a Game Scout stationed at Lake Rudolf shooting several hundred crocodiles a year. Michael shot two big Tana River crocs after a tribesman complained of their preying on his goats; the wife joined in the rejoicing, silent about goats, remarking only 'That croc ate my daughter'.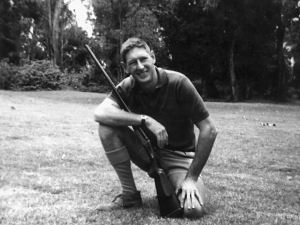 His successful submissions to Parliament created the Mt. Elgon and the Cherangani Hills National Parks for both flora and fauna. Most days brought him new challenges. On one occasion he organised 600 volunteers, forest workers and Police to search for a priest lost near the summit of the 14'800 ft Mt Elgon, finding him in an air search with the late Capt Woodley, MC, Warden of the mountain parks, hero of so many other rescues.
In Elgon he attempted the rescue of two old bull buffalo bulls trapped in a deep water furrow with a hubbub of local labour come hoping for free meat. They were set to damming the flow to float the buffalo loose. Smart rope work saw the first one out on the far bank, all but two of the tug-o-war team leaping to safety. The buffalo lost no time in showing the unhappy pair the error of their ways and rounding them up. All three made rapid circuits of the same tree while friends and relatives hooted with laughter. The buffalo was about to win the contest and it was time for Ultima Ratio Regis (by Holland & Holland). The shooting brought failure, but to the majority brought lunch. And so to pull out the second buffalo, the rope team leaping to safety. The old bull began to move away into the forest, turning to look back for a long moment and then was gone. Was there one day a splendid reunion as with Androcles and the Lion? In truth there was not. After a second spell of soldiering, Michael eventually retired as Regional Conservator in Zululand.
Jeremy Eyre
Westlake 1947-52
From Barra to Amsterdam
Article written by Jeremy Eyre (W 1947-52). Click the photos for larger versions.
I had wanted to take a voyage on a Tall Ship since 1992, when we entertained Boris, Tony, Iordan and Iordan from the beautiful Bulgarian ship "kaliakra" – or even since 1984, when Raymond and Peter came from the enormous Polish "Dar Mlodziezy".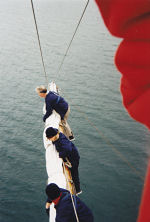 The Sail Training Association had a stand at Vittoria Dock in 1992, and I became a member soon afterwards. An opportunity to sail in one of the schooners didn't occur, however, until June 1995, when the ideal trip presented itself – to the Western Isles. Several of us arrived at Greenock one Saturday lunchtime wondering what lay in store for us aboard the "Malcolm Miller"; it proved to be a memorable week in almost too calm sailing conditions (just before the hot spell reached England).
Our Watch Officer, and Leader, gave thoughtful leadership throughout the week and a good insight into how to sail a 300-ton schooner. The traditional way of making you feel at home is to send you "over the mast" on the first afternoon. While this is not compulsory, most people do it, and it helps to bond you into your group, or watch of 13, and to give confidence in handling the square-sails later in the week.
We were very fortunate in the places we visited: Campbeltown, Port Askaig (a tiny village on Islay), Castlebay (Barra) and Tobermory, before returning to Oban. It was unusual to make so many calls, but there was so little wind, early in the week, that we only did one night-passage, it being uneconomical to "motor" every night. Altogether, a wonderful trip.
I decided that I wanted to make a second voyage in different weather conditions, and so, as soon as the 1996 sailing programme came out,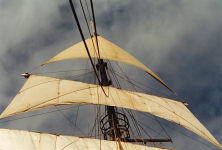 I applied to go on the "shakedown" trip from Teesside to Weymouth last February. This is the voyage that delivers the ship (again "Malcolm Miller", "Sir Winston Churchill" being involved in voyages around the Canary Islands) from refit to the first operational port of the season. Our Captain for both voyages, Bob Stephenson, told me in January (at the reunion at Shell-Mex House, London) that the ship would in fact be sailing from Sunderland.
Friends kindly dropped me off, midday Sunday, on an old coaling jetty-but within sight of Roker Park! Little did we know that we would still be there on Wednesday evening, there having been a violent storm the previous week which had torn off one of the lock-gates and blocked our exit to the R. Wear!
The extra two days in harbour in fact enabled us to get a more thorough training than previously in tacking ship, bracing the yards etc. Some of us even managed to visit the new marina at Hartlepool, as well as avidly watching efforts to remove the offending lock-gate-a giant carne had to be brought in from near London!
At last we were away on a brilliantly clear night; later, at about 0700, I found myself, unexpectedly, on the upper yard, releasing the ties on the square topsail, ready for it to be set. I was under the able guidance of Michael ("Muppet") Hodgson of Sunderland, who had been working on the refit and knew his way about the rigging. Having been an "upperyardman" in name, during the National Service, I was now one in reality!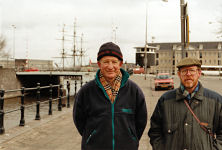 We were extremely fortunate, on this trip, that the permanent crew of five (the Engineer had also been on my other trip) made great efforts to achieve the original voyage-plan, despite the delay. We had a night in Amsterdam – a quiet drink in the Rembrandtplein, rather than the Seedijk) and Cherbourg (with the turn of the month, "La Biere de Mars" was now on sale). Our voyage ended with a very pleasant evening at the Royal Dorset Yacht Club, Weymouth.
John Mcleod Hatch
Milestones 1947-52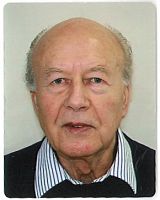 I recently had the great fortune to lunch with an incredibly successful Old Blundellian John Henry Mcleod Hatch who attended Blundell's (M 1947-52). He was born in 1934.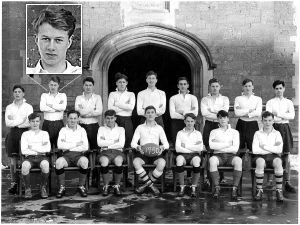 Following his time at Blundell's, he met his lifelong friend Michael Mates. He attributes Blundell's with the following, "I enjoyed my time at Blundell's, although I don't think I was conscious of that at the time. It is also only in retrospect that one realises how we all benefited from the ethos of those old fashioned values, respect for authority, hard work and fair play." Both his time here and at Britannia Royal Naval College Dartmouth stood him in great stead for his career, firstly in the Royal Navy where he specialised in submarines, and then as an accountant at Coopers & Lybrand International, ending up as Director of International Administration, and finally hanging up his laptop at age 71.
Michael Champernowne Bartlett
OH 1949-53
My father Harold Sloan Bartlett (1888-1976) was at Blundell's (JH and OH "Battarbee's") in, I believe, 1901-1906. He played stand-off half for the school 1st XV, and later proceeded to Gonville and Caius College, Cambridge, where he played for the University XV, and also for Devon.

After Cambridge he did not continue his medical studies, but returned to his birthplace in Cowra, NSW, Australia to farm the family property. During the Great War he returned to England to volunteer for special duties with the Royal Artillery. He was awarded the Military Cross. When I prepared the Kindle edition of Bush Doctor I went back to my grandfather's manuscript, and slightly amended our text (p. 216) to the original "and Hal went to good old Blundell's School at Tiverton". I similarly added a few more words from the original, where my grandfather attributes his instantaneous reaction, which won him the MC, to his rugby training! In about 1925 the family returned to live in Devon, where my grandfather lived in retirement, and my father farmed at Tipton St. John.
I was at Blundell's (OH, Housemaster Mr. P. McElwee) from 1949-53. I unfortunately inherited none of my father's ball-playing skills. My only claim to rugby fame is to have played one game on the wing for the Junior Colts in a team which included the later famous Richard Sharp. We lost shamefully to a local prep school, doubtless partly hindered by my complete lack of rugby instinct! I did later become captain of Swimming, was in the Cross Country team, and won the half-mile race on Sports Day. Intended for a career in Medicine (my mother was also a doctor), I was fortunate to be taught by the great (and greatly-feared!) E.W. "Slug" Chanter, and the eccentric but ever-inspirational "Joe" Panther. Without them I doubt if I should have made it. I went on to qualify (Cambridge and St. Mary's) in 1959. I was in the last call-up for National Service and spent my time as a Regimental Medical Officer in Germany, being kept on for an extra six months because of the Berlin Wall crisis. After further training in Internal Medicine in London I worked in the USA, Australia and Germany, where I was employed in German hospitals and later, "back where I started", as a Civilian Medical Officer for the British garrison in Osnabrück until final retirement, aged 73.
1950
Gordon Maddock
Milestones 1950-54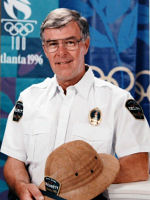 Gordon has been busy in the Art world since he left Blundell's and now is the most generous sponsor of a Blundell's Annual Art Award. He published the book 'I Was Sir, Your Fuzzy Obedient Servant', that includes a section on his time at Blundell's over 50 years ago which also includes his highly entertaining stories of policing overseas.
Every year Estudio Campana encourages a student from Blundell's School to win the Estudio Campana Art Award. At present, the award is made on behalf of Estudio Campana by the head of the department selecting the student that shows future promise in any field of art.
The Award is made to a student of the Upper Sixth, of the visual arts only: that is, students working in Fine Arts, Textiles, Film and Photography. Made annually by the school, the winner is not necessarily the student who is technically the most brilliant but a student whom the school feels has made the most progress in effort and imagination during the year.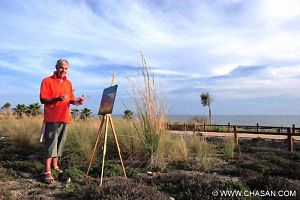 His trilogy covers the life and work of Gordon whose housemaster in his final leaving report stated 'This student will serve the community well' how fitting he went onto serve in the police force in the Met, Surrey and Devon and Cornwall before transferring overseas and participating in the Spanish, USA and South African police forces before retiring to Spain where he now runs the successful Estudio Campana located near Almeria in Southern Spain. Dedicated mainly to art in all forms, traditional painting methods, book writing and musical composition. Gordon is a member of the Society of All Artists, an author, having written and published three books and a musician who writes songs. He is also a member of the International Guild of Songwriters and Composers enjoying travel and meeting people of all races, colours and creeds.
Michael Roch
NC 1951-54
How it was 55 years ago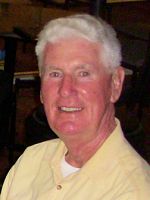 I was most interested in reading the "Boarding at Blundell's", how it is today, what a difference 55 years has made!
From the article it really looks like a very pleasant hotel! When one arrived at Blundell's from your prep school, very nervous and shaking at the knees, you were taken' under the wing' of some senior boys to be 'educated'! You had to memorise all their house ties with the various 'sub ties', athletics, rugby, etc., and other various activities, after having these 'drummed' in to your memory you were given a test it had to be 100% pass, if not you had to do it again.
In the prep room for junior boys, there were about 25, from memory; we sat around in a 'U' shaped with these senior boys at 'top table'. As junior boys we were allowed two floorboards to walk on to reach our designated table. Prep time, which from memory were two to two and half hours and during that time we were not allowed to look beyond the edge of the table we were sitting, if we were caught doing so we were given an 'extra fagging', and if you incurred seven of these you were given a monitors beating, permission for which it had to be obtained from the housemaster.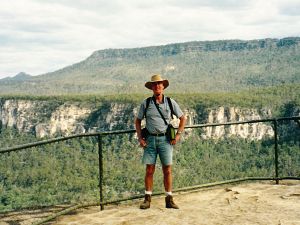 On a roster system junior boys had to sweep out the prep room, which was then checked by a senior boy, if more than a handful of dust was found then that also incurred extra fagging, which had to be worked off. Also on a roster system, junior boys had to completely clean the changing room, including the two baths, which were used by all boys, about 50 of us. Again the usual penalties applied.
As I said above, these two baths were used by 40-50 boys after athletics and rugby or cross country, etc. which is one reason I became very good at running so that I could be one of the first boys in the baths, the last boys almost had to chip away the mud to lower themselves in, I ended up as captain of cross-country for the house! You can see the reason!
There were usually about 15 to 20 boys to a dormitory with two water jugs in the middle on tables, it was compulsory to have all windows open, even during winter, and we then had to chip away surface ice on the jugs to be able to wash. Talking after lights, if a monitor heard you from outside the door, it was a beating only with a gym shoe, this time, the housemaster's permission was not necessary.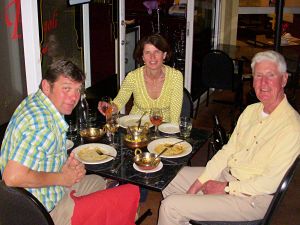 Janet Wooff (née Frankpitt, GH 1980-82), OB Club Secretary, and Mark Wooff (M 1975-82) with Michael. Janet and Mark were hosted by several wonderful OB's on their trip to Australia and NZ in 2012.We had to take turns in the early morning bell ringing, which were at 7.20, 7.30 and 7.40 am, and heaven help you if you were late, they had to be exactly on time, as we had to be in the dining hall, commonly known then as the feeding centre by 8.00 am.
When you finally graduated to a study, and they were shared by 3 or 4 boys, life was a little easier. I find now that 'Boarding at Blundell's' is a different world from the one I experienced in my time at North Close from the years 1951 to 1954. One thing I am very grateful for is that it taught me discipline and self-discipline, which helped me to survive in Australia in the late 1950's, where a lot of young people did not survive and returned to the UK. I live now in a wonderful country and have been here for the past 52 years and I say again. I thank Blundell's for those early years, to help me survive here, because where I arrived, there were only about 9 million people, whereas we have 22 million now in this vast island continent.
I came back for a farewell visit to the UK four years ago and felt quite a stranger when I called at Blundell's and had to wear a little tag with my name on it and was met by a young man who introduced himself as the assistant headmaster, how time passes. I must be getting old!
I wish Blundell's well for the start it gave me, but it is a very different world from the one that I knew 55 years ago.
Update
November 2021
It was late in 1949, I was still at the St Dunstans, Burnham on Sea, when my parents informed me that I was going to "Blundell's" school the next term, where my grandfather had gone. I had never heard of "Blundell's" before so I was quite excited but nervous about it all. Well the great day arrived and my parents duly deposited me at North Close 'dog run', as it was called then.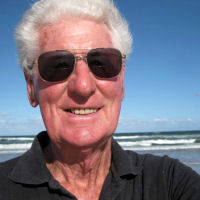 I was teamed up with an older boy whose duty it was to indoctrinate me with a vast amount of knowledge, the main Item being to know all the school ties, including the individual house, athletic, sports ties, failure to do so would lead to all sorts of unmentionable penalties, I think they were called 'extra faggings', which entailed cleaning out the prep room or the changing room with the two baths.
The dormitories from memory had about a dozen beds, they would have made very good coffins as they have been used so much. It was a rule that all windows had to be kept open summer and winter. There was a bowl with a jug on a table In the middle of the dormitory, This was meant for drinking but in the winter it used to freeze over with all the windows open. The 'prep room' was where we did our homework in the evenings, the desks were all around the circumference and you were allocated a small section to use. 'Prep' in the evening you had to keep your head down all the time, looking up was not permitted, there were 4 senior boys at the 'top table' and they kept an eye on everybody. Also as a junior you were only allowed certain floor boards to walk on, any infringement of the above led to an 'extra fagging' , and an accumulation of 7 led to a 'monitors' beating with a gym shoe; permission for this occurrence to be obtained from the house master.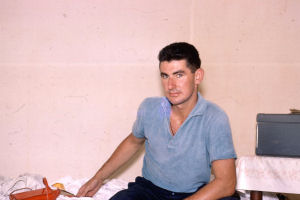 Other duties for junior boys were to ring the bell in the morning exactly at 0720-0730-0740, failure to do this on time later to another extra 'fagging', so you lay awake half the night to make sure that you rang the bell on time. Then there was a mad rush for the ablutions down stairs to wash ready for breakfast in the main dining room at 0800 hrs., called the 'feeding centre'. Again it was the juniors duty to serve the food collected from the kitchen. You had to eat quickly otherwise you missed out, and if you didn't like it, too bad you went hungry!
Sports and athletics were in the afternoon and I soon found that it was an advantage to being back in the changing room first, and luckily I was a good runner, the reason being that with two baths for 40 odd boys if you were too late it really was like a mud bath for the last boys, so eventually I became house captain of cross-country and had a clean bath!
Eventually I finished my schooling and completed an apprenticeship at the British Motor Corporation (BMC) In Birmingham. As I've always had a wanderlust I went down to Morocco, Tangier to join the foreign Legion, I thought it would be glamorous, but they were not taking any new conscripts then. So I spent some time in Tangier, then moved on to Madrid and eventually ended up back in the UK. My father said to me "why don't you go to Australia my boy" I will pay a 10 Stg. for the fare; as it was the furthest place I could think of I thought it was a good idea, especially as I would have a 5 week cruise thrown in!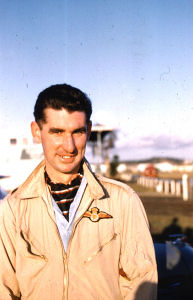 Australia in 1959 was vastly different from the country it is now, there were only 7 million people as against 25 million now. There was no political correctness and all that sort of rubbish then and I was just a "Pommie B*****d', quite a shock to the system (POME- Prisoner of mother England!) Over my life I have lived in most of the major capitals on the East Coast of Australia, New Zealand, the Middle East, Turkey etc. etc. I now live in I think the best part of Australia, 100 m from the sea and have my own apartment with three swimming pools at my disposal and always a good single malt and medicinal wine in the cupboard!
I am a Justice of the Peace for Queensland and live on the 'Sunshine Coast', 70 miles north of Brisbane, a lovely area. People in the UK don't realise how big this country is, England would fit into my state of QLD 7 times!!I cannot think of how many moves I have made in my life, hopefully my next move will be in a box.
I spent most of my life here as a commercial pilot and as a flight instructor, which I enjoyed and managed to survive despite the efforts of some students to end my existence! It has been a good life with its ups and downs, but one thing I am very grateful for, to Blundell's for the very strict discipline we had in those days in the 50s. I cannot remember how many times I had a 'walloping', I doubt if the modern young student now understands what Blundell's was like then, it taught discipline and self-discipline and helped me survive on my own at the age of 22 the other side of the world.
Robert Hood-Wright
NC 1952-56
Thoughts on Blundell's
On leaving
Having been at preparatory school from the age of 7, Blundell's did not come as a great shock, though some of the 'traditions of N.C.' were burdensome – always having to start every utterance with the word 'please' and the initiation test on school facts. I suspect N.C. was behind other houses in these. I don't recall any undue stress academically speaking and was pleased and grateful to have got the 9 'O' levels (10 if you include French Oral separately!) and 2 'A' levels, including the Latin 'O' level needed to get onto the Cambridge Natural Science degree course. I can still recall most of the Masters responsible.
I had enjoyed the sports opportunities offered, including cricket, rugger, squash, tennis, athletics. I was less appreciative of the requirements on wet afternoons to have to go on runs to the top of Tidcombe Lane or Post Hill or the canal beyond. For the Wednesday afternoon activity I had golf tuition at Tiverton G.C. for 10/- per term, courtesy of the Golf Foundation and later got down to 14 handicap.
In summary, I think that I had enjoyed my time at Blundell's overall and was grateful that it had provided me with academic and sporting skills that would prove to be 'good openers' in later life.
And later
National Service (aged 17 years 9 months) was not a great shock to the system as it must have been to so many entrants who had never been away from home before. Rather as at school, it boiled down to doing as you were told, but at the double, with added language and threats of being on a 252 charge sheet. And anyway, at 27/6d per week, you were not being paid to think! After the CCF afternoons one had some idea of what to expect. My cricket and rugger proved useful as I played for the Light Infantry Brigade at the former in the summer and Shrewsbury at the latter in the winter.
I represented Selwyn College and was awarded College colours for cricket, rugger and athletics and kept up the golf. I continued with village cricket until my early 50s in Herefordshire.
Career-wise, in all honesty, the Cambridge connection made the greater impression though I have always been proud to mention Blundell's in the next breath. Indeed the two go together since I probably wouldn't have got into Cambridge without Blundell's, disregarding any influence my father's time at both establishments might have had. The disciplined scientific approach to situations learnt at Blundell's and Cambridge stood me in good stead at Metal Box for 30 years, mainly on the R & D side and I shall always be grateful for the part played by Blundell's in that.
After-thoughts
My one regret, with the benefit of hindsight, is that I avoided Music at Blundell's with Jazz Hall. My father, whom he had taught, had warned me that it would take up too much free time! I began singing in Herefordshire in a small choir in my mid 40s and now in Cornwall am involved in 4+ choirs. Some earlier formal musical training would have enabled me to read music competently and know which note I am meant to be singing in which key!!
After compulsory attendance at prayers/services at schools, I did not frequent Selwyn Chapel or church in Herefordshire for some years until the Vicar phoned out of the blue one day seeking a churchwarden. Thinking it a pity if a village of 600 souls could not provide the full complement of two churchwardens, I succumbed, but after 15 years I felt I should give someone else a chance at it. This was coincident with 20 years of Parish Council, P.C.C. and local amdram.
Ben Wrey
Westlake 1953-58
"With family connections to Blundell's going back to the earliest days of the school, it was no surprise that my brother and I duly went there too.
Memories of my time at the school remain clear and I have no doubt that some of the essential elements of one's later life were influenced by Blundell's. A combination of good teaching, the encouragement of personal accountability and responsibility, and a generally 'firm but fair' view of discipline stood one in good stead in life.
Gaining a place at Cambridge University reflected well on the school's teaching and my time at Cambridge was invaluable in the pursuit of my business career in the financial sector.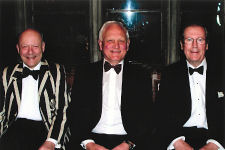 I also had the good fortune to achieve international success in my sport of Target Rifle Shooting where, like others, I owed so much to the outstanding coaching skill of Stan Davis, who ran the shooting with Peter Brooke Smith.
Importantly, I recall these as happy days and I believe that the qualities that I appreciate as I look back are still present in the school. The support of Old Blundellians can help to ensure that continues in the years ahead."
Chris Arundell
NC 1954-57
Chris joined a British shipping company in its cadet officers trainee management program spending a year at sea sailing to West Africa and North America followed by a two year assignment in the head office in Liverpool (playing on the company's soccer XI and winning the tennis singles title). In 1960 he was transferred to the company's branch office in San Francisco during which time he enjoyed participating in soccer, rugby, tennis and cross-country for the San Francisco Olympic Club.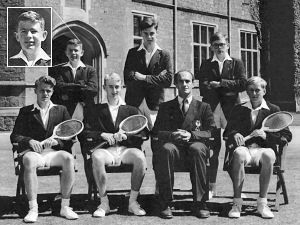 Evening classes at Golden Gate University resulted in qualifications/licenses in commercial insurance, risk management and associate in maritime law as his career moved from shipping to commercial insurance with an emphasis on marine insurance (working with Lloyd's and the London markets) and risk management. In 1979 Chris moved to Seattle, Washington to manage the marine department of an international insurance brokerage firm with emphasis on the Alaska commercial fishing industry. In 1983, Holland America Line moved its headquarters from New York to Seattle (increasing its presence in the burgeoning Alaska summer cruise industry) and invited Chris to head up its Risk Management division where he is still employed adding Seabourn Cruise Line (2011) to his Holland America Line risk management responsibilities.
Chris is married (Ginny) and lives in Bellevue, Washington. Their son, Rennie Arundell lives in Seattle. Chris continues to enjoy tennis, golf along with some light jogging, swimming and gardening!
John Ludgate
Milestones 1954-59
After initial training at the BRNC Dartmouth, John received his first letter for the Lords Commissioners of the Admiralty on 4th April 1962 appointing him to Acting Sub Lieutenant RN to HMS Blackwood of the Derry Squadron. Those were the days of peace in Londonderry following the ceasefire of the original IRA, my first encounter with 'draft' Guinness (the real thing) and the 'colleens' of Ireland, at the famed Maiden City Bar.
There followed a dry spell in the Gulf in the landcraft HMS Rebout, probably the last of the 'grey funnel line' with unstabilised radar, a nightmare for the me as the Navigator.
A vivid memory of that Commission was to act as 'prisoner's friend' at a Bahraini Court. The charge, while drunk behaved in a disorderly manner at the residence of Abdulla, from Jufair Village, contrary to S145 (2) of the Persian Gulf Penal code 1955. My advice for the defendant was to claim that 'he was lost and looking for a taxi', but to minimise his declared alcohol consumed. The defendant admitted 12 whiskies. As the defendant was led away to the cells, he whispered to me – Sir, Sir, I did it – I didn't tell them they were doubles!
A change in venue from the Gulf to Simonstown in 1964 in HMS Jaguar, sadly, the fun and frolics of South Africa and the South American station was disrupted by the locally unpopular 'Beira Patrol'. In 1966, qualified as an attack diver, demolitions and mine clearance at HMS Vernon, Portsmouth, following a spell in the 'Blackfoot' Minesweeping Squadron at HMS Tamar (Hong Kong) and Terror (Singapore).
My final appointment was to the Joint Services Bomb Disposal School with the Royal Engineers, at Chatham, prior to taking early retirement from the Royal Navy in 1970. In 1971 I volunteered to join HMS President, London Division of the RNR where I continued the camaraderie of the naval environment and commanded the Divisional Minesweepers usually on NATO exercises with my final appointment 'in command' in HMS President between 92 and 95.
Simultaneously in the city, after qualifying as a chartered accountant in mid '70s'. I joined Barclays Merchant bank, specializing in the 'venture capital' division, supporting the directors of a portfolio Small and Medium size enterprises to flourish for the benefit of all interested parties afforded me to take an early retirement in 1996.
My 16 years of retirement have been active and fun, which has included travel to Manaus in the Amazon, visiting Pitcairn, Tahiti and New Zealand by sea, exploring South Africa from Cape Town to Pretoria in the 'Blue Train' being amongst the most notable.
Within the UK many of my interests have been centred on the City and East End. Uniquely, in London as the Nation's capital, the Lord Lieutenant is required to be in attendance on senior members of the Royal Family and on National occasions. As a result Deputy Lieutenants are appointed to represent him in each of the 32 Boroughs of Greater London, and in 1995, I was appointed as Representative Deputy Lieutenant of Tower Hamlets. A Riparian borough, on the City and the HM Tower of London's eastern border, historically the home to the Nation's worldwide sea-trade and landing point for immigrants. The limits imposed by the historic docks and navigable waterways for modern large ships, led to the demise of sea-trade which have been replaced by a modern financial services complex situated on the original Canary Wharf.
The Lieutenancy's duties in such a complex and Varied community, and working with the Borough's First Citizen, ranges from receiving members of the Royal Family, and politicians representing the varied homelands of the Borough's inhabitants, to high flying business men and charity workers for the homeless.
The highlight in celebrating Her Majesty' Jubilee' has been the nominating and presenting 10 'Achievers' from amongst the Community to Her majesty and accompanying the 'Royal Flotilla in the Jubilee River Pageant, followed by a busy summer of 2012 as an Olympics Games Maker.
Michael Angus Riley
FH 1955-60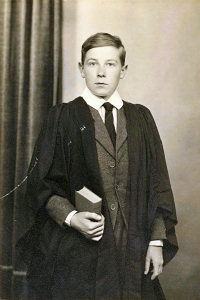 A few weeks after we started the Sunday Graphic sent a team down to get what story they could out of this new venture. It was to be this paper's last issue, although I cannot be certain whether I was an unwitting part of this. We warranted a double page spread; and I had a starring role: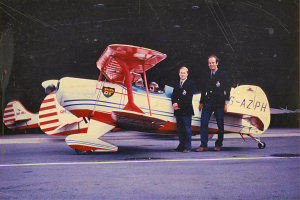 Jet-age swots - boys who must always be RIGHT

Little Michael Riley stands only 5ft 3½ in his stockinged feet. He has blue eyes, fair, curly hair and a peaches and cream complexion. The sort of pink, angelic face that must have looked exactly right when he sang in Christ Church Cathedral choir, Oxford.

Four months ago he was playing the piano, organ and violin as a cloistered public schoolboy at Blundell's School, Tiverton, Devon. Today he's engaged on one of the most gruelling physical and mental training courses in the world - training to be a jet-age airline pilot.

Soon he'll be throwing 140 tons of steel, worth £2,000,000, around the sky!

And in a few years a frighteningly heavy burden will be thrust upon his slight shoulders - the responsibility for 150 passengers speeding twice a day on 2,000 mph London-New York trips.

FOR THIS HE WILL BE PAID ABOUT £90 A WEEK.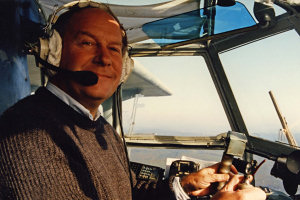 'Peaches and cream, peaches and cream!' parroted my more rugged and avuncular colleagues on the fateful publication day - but they soon tired of it. My family, on the other hand, were quite unfazed by the journalistic style. "Ooh look - we must save a copy;" I imagine that after scouring the wartime papers for more serious aviation news this seemed harmless nonsense. Quite so. Would I get some fan mail from the public? Yes, just the one postcard, from as near as the village. It mentioned my musical accomplishments and suggested I might like to join their chamber music activities - next Sunday lunch perhaps? Why not? I knocked on the door of the Victorian terraced house and it was opened by a gorgeous eighteen year old blonde; lipstick, serious nails, Brigitte Bardot skirt; the lot. This was the daughter-in-law of the house who, notwithstanding the ongoing charm offensives of many of my colleagues over the next two years, turned out to be a good friend to a shy and unprepossessing teenager.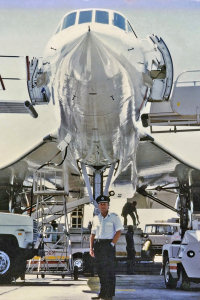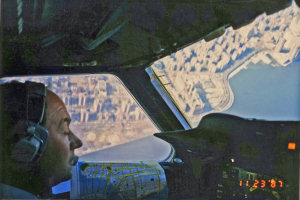 Colin Miesch
SH 1956-60
My conclusion when I came around once more was that there is a huge amount more happening at Blundell's these days compared to the far more gentle pace of my time, which I now realise was over 50 years ago. In those days, I was lucky to take part twice in the most exotic trip organised under the school's banner which was the exchange visit with the German school in Neubeuern am Inn in Bavaria under the leadership of Pat McElwee, housemaster of O.H. and head of the modern languages department. The most we ever were was three pupils and we mirrored what we offered the German students who visited Blundell's at the end of the summer term. One month staying with the family and then we would meet up in Munich with "Mac" and travel in together to the picturesque village of Neubeuern, dominated by a huge castle which had been converted into a school but whose Countess owner lived in a fine mansion next door.
We were up every morning at 7 for a warm shower - only cold water available in the 1950s in Blundell's- and a first breakfast of milk, tea and bread and jam. Whilst the German pupils when to their first class at 8 o'clock, we would find our way down to the village where we would drink coffee topped with a huge dollop of whipped cream. At about 9:30, Mac would be seen walking down from the castle. We would order his coffee with a double dollop of cream, greet him and then make our way back to the school for the second breakfast, served at 10 o'clock. We would sit in on a couple of lessons, then it was lunch and the afternoon free.
Coming from a strictly male Blundell's, this was our first experience of a co-educational school and the proximity of pretty 16-18 year old girls was slightly unsettling although not unpleasant. In the evenings, we would join members of the equivalent of the Lower Sixth in an escape from the castle and a walk to another village where the local Gasthaus has a private room at the back where we could drink jugs of Bavarian beer before making our way back to the school for the 10 p.m. curfew. I recall diving into ditches to avoid being spotted by the occasional motorist, all of which added to the excitement; in those days at Blundell's, being caught drinking beer in a pub or elsewhere or even smoking during term-time meant immediate suspension if not expulsion!
The whole experience was definitely beneficial as we learned that not all Germans were bad - we even met the two sons of Count von Stauffenberg who had been executed for his part in placing the bomb in the unsuccessful July Plot assassination attempt on Hitler - and we naturally benefited from putting into practice the language which we had learned in the classroom from Mac. We returned to England just in time for the start of the Autumn Term and were regarded with some awe by our fellow Blundellians. I suppose that today nothing less than a trip to South Africa or to New Zealand will even cause a faint ripple of interest; tempori mutantur! Our excuse was that there were currency restrictions (max £25 worth of foreign currency per person per annum) and a year's fees at Blundell's were a heady £270, music lessons £5/term, the standard term's pocket money was 10 shillings (50p) and our Christmas dinner consisted of minced meat with a dash of mild curry and currants, served with rice. Compared to today's conditions, this must sound positively Dickensian but we used to look forward to this until 1959, when the school kitchen made the giant leap from minced meat to turkey (or was it swan recovered from the Tivvy canal?).
I wonder how many of my vintage would have preferred to come to the present-day Blundell's?
Peter Price
Westlake 1958-63
Rick Ackroyd
Francis House 1958-63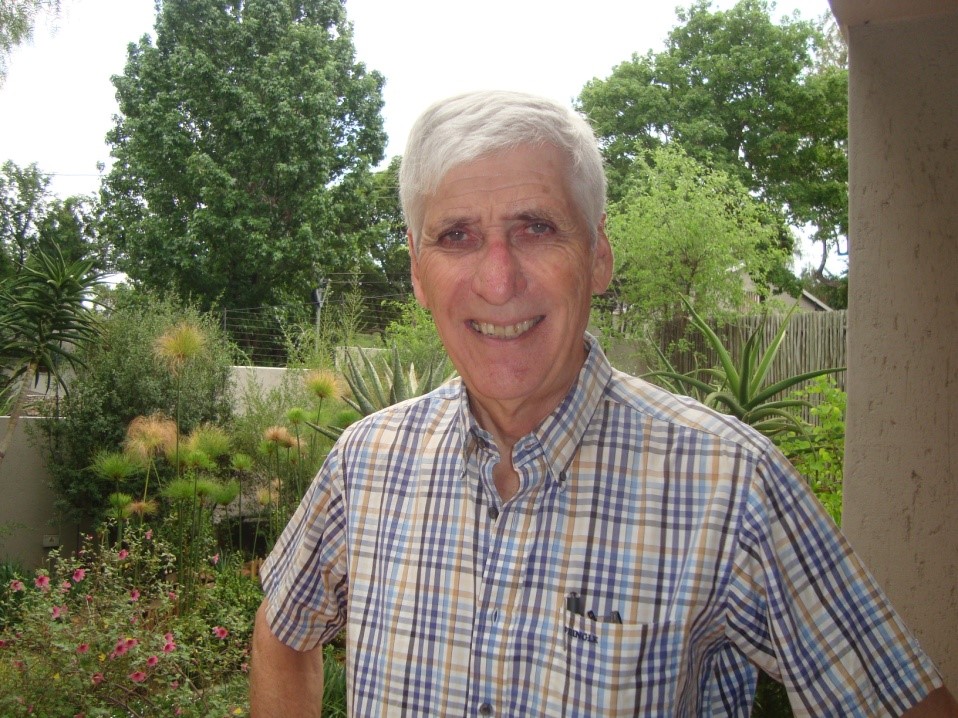 I was born at the end of world war two at Weston super Mare in Somerset, England. My mother and elder sister had been staying in Cheddar with her parents whilst my father had been building airstrips along the east coast of England  for the RAF.
The first three years of my life were spent in York after which the family moved to Swindon where I started primary school. When I was ten my parents decided to send me to boarding preparatory school in Cirencester called Oakley Hall. From there at the age of 13, I went to Blundell's School as a boarder. During this time my parents again relocated to Plymouth where my father was appointed City Engineer. At school I was heavily into sport representing the school at Cricket, Rugby and Athletics. I also played squash and fives in my spare time.
I obtained a university pass at A levels and after a gap year went to St Andrew's University in Scotland to study Civil Engineering. At St Andrew's I represented the University at Soccer and learnt to play golf and to ski in my spare time. I graduated with a BSc Hons in Civil Engineering.
My first job as a graduate Engineer was as part of the supervising team on the Brixton Extension of the Victoria line of the London Underground where I gained experience of tunneling under the Thames and through unstable ground either side of the river. I also was involved with river wall protection work in the city of London and design work on bridges and tunnels in the head office.
After 4 years working in London I volunteered for a post my company was offering in Tanzania. Unfortunately it was cancelled at the last minute so in July 1971 I was sent to RSA to assist in opening a new office in Johannesburg. Johannesburg was full of ex-pats and I moved into a communal house and soon met a lot of young people and life was very sociable. During that time I met my wife Caryll and we got married in April 1973 and bought our first house in Parkhurst. Shortly after getting married I was transferred to Port Elizabeth to work on a job for the railways. We returned to Johannesburg after two years at which time I changed companies several times and again got transferred to Hillcrest for two years followed by Secunda for two and a half years and then Sasolburg for another two years. I worked as Resident Engineer for the Cato ridge Abbattoir, for the new coal mines infrastructure for Sasol 3 and for a power station extension for Sasol in Sasolburg.
During the time we were away from Johannesburg our two sons were born, Charles in 1977 in Durban and John in 1980 in Evander.  John was born with a hole in his heart and underwent open heart surgery at 10 months which was a very trying time for us, but he survived and flourished and represented Transvaal as a junior in both squash and sailing.
It was when we were in Sasolburg that I was first introduced to Rotary and joined the Sasolburg club in 1982 as the then president was a very persuasive near neighbour. On return to JHB in 1984 I transferred to the Randburg Rotary Club and have been with them ever since, having been President twice.
During our travels I played league squash in Durban, Secunda and Sasolburg and joined Old Parks squash on return to JHB and continued playing with them for several years until I was forced to stop because of Glaucoma affecting my eyesight.
Before returning we sold our house in Parkhurst and bought in Craighall Park where we have been ever since.  Our boys went to Craighall Primary which was just up the road, and later to St Johns College. In 2011 we subdivided our proprety, designed and built our retirement home on the remainder and sold off the original house.
My job had been site based for some time so getting used an office job was quite difficult, but I soon got involved with a number of interesting projects the first of which was Project Manager for an explosives factory for Sasol which involved amongst other things spending some time at Nitro Nobel's factory in Sweden. After that I was part of the consultants team for the first phase of the Lesotho Highlands Water Scheme involving  Katse Dam and all  the associated tunnels and infrastructure. I have been involved on and off since then with various components of the Lesotho Highlands Project. Some other major projects I have been involved with are:-
Syferfontein Opencast Colliery infrastructure and overland conveyor system( then the longest in the world)
Maguga Dam in Swaziland
Mohale Tunnel in Lesotho
Bakwena toll road N4 from Pretoria to Botswana
Thune Dam in Botswana
Roll out of  120 new service Stations nationwide for Sasol
Mbombela Soccer stadium in Nelspruit for the World Cup
Rehabilitation of 7 dams in Limpopo for Department of Water Affairs
VRESAP water pipeline from Vaal Dam to Secunda
MokoloCrockodile water pipeline to Medupi Power Station.
I joined my present company in 1979. It was then called Keeve Steyn Inc. In 2001 we merged with Goba Moahloli to become Goba Moahloli Keeve Steyn in order to improve our BEE scorecard particularly for government contracts. That was such a mouthful that we abbreviated the name to Goba (PTY) Ltd. I was a Director of the company from 1998 until I had to retire when I turned 60 in 2005. Since then I have been employed as a consultant on a part time basis. In 2013 we became part of the international engineering  consultancy  Hatch.
I have been involved in Hiking for a fair portion of my life and ran a hiking club in my company for 20 years. During that time I led numerous weekend away hikes and long backpacking hikes to the Drakensberg and most of the other RSA backingpacking trails such as Otter, Fish river Canyon, Fanie Botha, Amatola, Transkei Coast, Prospectors, Magoebaskloof, etc., all long hikes.  I am currently involved with Johannesburg Hiking Club and have taken over the running of their Wednesday hiking  group. Caryll also hikes with me and we have recently hiked overseas in Albania, Greece, Italy, Chile and Iran(not Caryll).
I am a keen sailor and have a yacht on the Vaal Dam which is used about twice a month when possible mostly for cruising as racing is getting a bit too competitive for me at my age. I also play golf about twice a month or whenever the opportunity arises.
My youngest son John married Bianca in 2015 and worked in Johannesburg in his own carpentry business. In 2019 they moved to New Zealand and are now living and working in Christchurch on South Island. My eldest Charles is still single and is currently living in Plettenberg Bay and has an office in Knysna. He is qualified in financial asset management and runs the local branch of a national investment company.
My wife Caryll started a successful security business called "Paramed Security" with a partner in 1985 and sold out in 1996. Since then she has been involved with numerous charities. I have one sister Annabel who has never married and lives in Plymouth in England.
I have been involved in many facets of Rotary, most notably being President twice, an Assistant  Governor and Special Aide to the DG, in the managing of 3 global grants for work carried out at Refilwe Community Project near Lanseria to the value of about R3.5million and also the organizing of two Rotary District Conferences.
Mike Welford
Milestones 1959-63
Two ex-Naval Officers (one Old Blundellian), one Leading Stoker, a Sergeant parachute rigger and three Civvies (with an average age of 63) returned today from Malapascua, a small island off Cebu Province in the Philippines.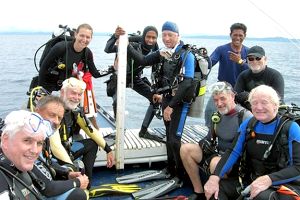 The seven Grumpy Old Divers (GOD), masquerading as de frocked priests wreaked havoc on the island and surrounds for nearly eleven days with their bawdy songs, heavy drinking and womanising (the later in their dreams...)
We are advised that far from being frightened by the outlandish behaviour, the locals were greatly amused and even asked them to return the next year as they had contributed so much to the island's economy in terms of finance and footwear. Luckily there were few casualties to the priests and the environment as the local Thresher Sharks, in particular, had been warned of the impending visit and despite getting up at zero five tinkle ringbolt every day to view these monsters, the Shark were able to remain invisible until the penultimate day of their visit.
The Dive masters' and Mistresses' supervising the dives were greatly frustrated, in the early stages of the dives, as when various amazing and colourful aquatic species were pointed out to some of the defrocked priests, the latter showed little or no interest! Eventually it was ascertained that very few of the monks could see anything less than an inch long and if much below 10 to 15 feet, they could not discern colours? After this initial misunderstanding priests and Dive Masters got along quite well...
Whilst these cats were away, the mice did play and those spouses in the Canberra Region took off for the highlands around Mount Kosciusko taking in the scenery and the shopping to their hearts content.
From our correspondent in Malapascua, a recently retired journalist from the New of the World – any hacking into mobile phones for this report is emphatically denied and if proven was caused by a slip of the finger when dialling.
Whilst most de frocked divers were happy to dive to 100 feet, the organiser of the trip actually crossed the 100 meters line as part of his 60th birthday celebrations! (Old divers never die, just smell that way!)
1960
Rod Madocks
NC 1966-71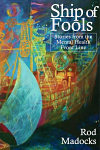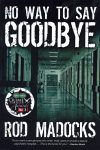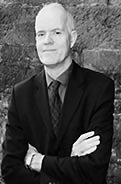 Rod came top in Mr Denner's wonderful English classes at Blundell's and bottom of nearly everything else during his turbulent school career. He is now a full time writer after a varied life experience which have included working as a university academic and as a professional gardener and in later years as a specialist in maximum security psychiatric units. Rod published his psychological crime novel No Way to Say Goodbye in 2009, which was short listed for a Crime Writing Association Dagger and featured in the ITV3 Crime Thriller Awards. He has recently published Ship of Fools (in March 2013), a collection of short stories on the theme of dangerous health professionals. He also writes non-fiction on crime topics. His website is http://rodmadocks.com/.
Anthony Jenks, MBE
OH 1969-71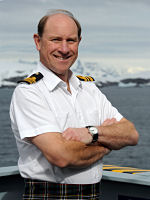 After 37 enjoyable years in the Royal Navy as a specialist hydrographic surveying officer, Tony retired in Apr 2011. His sea service in a total of 16 ships saw him surveying in every ocean, playing key roles in the minesweeping efforts in the 1982 Falklands conflict and the 1991 Gulf War, and working in Antarctic waters on five occasions. His last five years were spent as Charge Surveyor in the ocean survey ship HMS Scott, for which he was awarded an MBE in the 2011 New Year Honours.
Home is in Tavistock, where his wife Caroline is acclimatising to having a husband around the house (!) whilst his two daughters have already flown the next. Tony is now working for Plymouth University, writing e-lectures for hydrographic courses by distance learning, whilst also trying to find time for his interests that include astronomy, choral singing, Dartmoor walking and sailing.
1970
Paul Nugent
OH 1972-76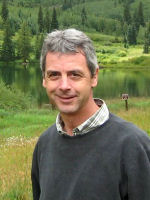 I left Blundell's with not much to my academic credit or sporting prowess despite having been entered into the "B" stream and having won both the rugby and cricket cups at my prep school of St Aubyn's, then at its original location of Howden Court on the other side of Tiverton.
But I did have some very good and indeed life-long friends and so one year later, in 1977, I was coaxed into attending what is now Bournemouth University to study Hotel Management by Nick Kellock (FH 1972 – 1976), despite my having very little interest in hotels. It perhaps should be pointed out that Nick has since gone on to be extremely successful in the hotel industry here in the United States. As luck should have it, my study mate in Old House, Chris Vickers (OH 1972 – 1977), chose to study Chiropractic and the only school then teaching this subject in the whole of Europe happened to also be in Bournemouth, so once again we teamed up as house mates. It should no less equally be pointed out that Chris is a very successful chiropractor, now living in New Zealand where he also owns a farm and breeds Herefordshire cattle.
Following three years in Bournemouth, part of which was spent living and working in Paris and London – pretty much down and out in both places, George Orwell style – I graduated from Bournemouth with my disinterest in hotels formally confirmed. However, I had developed a genuine interest in wine and in 1981 I joined a London firm of supermarkets and delicatessens, specializing in wine. Within a couple of years I became the assistant to the wine buyer and began studying towards becoming a Master of Wine. But something more important entered my life and what I felt I had long been seeking, which was a spiritual understanding of what this journey is primarily all about. As such, besides regularly attending firstly Westminster Abbey and later Saint Martin's in the Fields where I became an active volunteer, I also began studying eastern philosophy at a school in London which culminated in my joining a metaphysical organization called The Aetherius Society, founded in London in 1955 by the late Dr. George King, a western Master of Yoga. Meanwhile, I had purchased a house in Wandsworth with Mike Robins (FH 1972 – 1977), now a partner in one of the City's leading firm of lawyers, which was co-shared by Chris Vickers who was working as a chiropractor on Harley Street following a stint in South Africa.
The small independent wine company I had joined in 1981 became the Daily Telegraph's "Wine Merchant of the Year" in 1987, the first year the contest was held, but by this stage I had become increasingly interested in a more spiritual meaning of life such that in 1989 I turned down a directorship in the business to join The Aetherius Society at its American Headquarters in Los Angeles.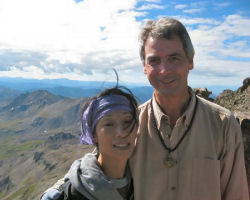 I have been a director of this non-profit organization since 2001, advocating that advanced life exists on other dimensions of both this planet and other planets within our solar system, and that a radical awakening to this greater spiritual reality is needed more than anything to move humanity forward in our evolution as a species.
For the last five years, I have organized an interfaith World Peace Pilgrimage to a local mountain in southern California bringing leaders from many different faiths together in prayers for world peace. It has grown into one of the largest interfaith ceremonies of its kind in the world. I have been married to my Japanese wife, Yuriko, since 2002 and we live in Los Angeles.
A talk I gave about my spiritual philosophy can be seen at the ex-TEDx West Hollywood event in April, 2013: http://vimeo.com/64878374. I can also be contacted via Facebook or at paul@aetherius.org.
All of the above mentioned Blundellians remain very good friends to this day.
Nick Dunn
OH 1973-76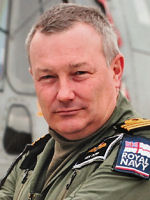 Alan Dunn (OH 1978-81) recently informed us that his older brother Nick (OH 1973-76) has been awarded an OBE in recognition of his service in the Royal Navy as Safety Management Advisor for aviation. This was his final role of a 31-year career serving as an airman in the Royal Navy.
You can read more about Nick's award, including his citation, on the Royal Navy website.
Julian W Blackwell
NC 1975-77
In 1997 I moved to Indianapolis, USA to take on the role of Original Equipment Account Manager travelling all over the US, Canada and Mexico for the North American Truck accounts for Firestone Industrial Products Company whom I have been with since 1988. We are a division of Bridgestone Corporation the largest rubber company in the world.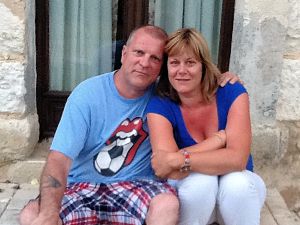 Whilst there I was joined by my (English) girlfriend, Carolyn and we were married on a beach in Hawaii in December 1998. We now have 2 children Franklyn 13 and Georgina 12 born just before we returned to the UK in time for the Millennium.
Heading up the European Sales office in London until moving to Arnhem in Holland in August 2008 where I am the European Sales and Marketing Director covering all sales into Europe, Russian, the Middle East and Africa into the Transport (or Automotive) industry and into the Industrial machinery sector. Recreationally we ski, and enjoy Kayaking in the Ardennes, something we never got around to whilst living in the UK.
Both children attend the local international school studying the International Baccalaureate and we all struggle with Dutch, although the children picking it up considerably better than us.
Hugh Morris
Westlake 1976-82
The wheel turned full circle for Hugh when he returned to Blundell's on 3rd July 2009 to give away the prizes and offer advice to pupils and parents. Despite reminders that another Old Blundellian, Myles Wickstead, had delivered an amusing and erudite address at Speech Day 2008, Hugh was unruffled.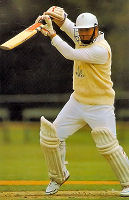 After orchestrating the movements of a variety of England cricket captains and coaches over the last year and enduring many press conferences, speaking to a benign audience at Blundell's Speech Day must have seemed easy.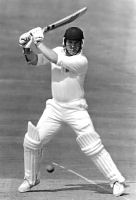 Hugh had a very distinguished sporting career at Blundell's, representing the 1st XI for three years and making his first class debut for Glamorgan while still at school. He was also a formidable 1st XV performer and a good squash player. Despite a huge sporting commitment, Hugh found the time to pass A levels and collect a degree at Cardiff. The captaincy of Glamorgan and England cricket caps followed. Hugh now holds the title of Managing Director of English Cricket and we wish him well during a difficult period as well as thanking him for sparing the time to give away the prizes during an Ashes year.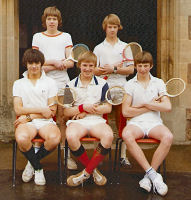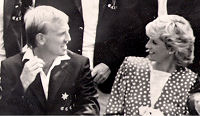 Alan Dunn
OH 1978-81
This letter from Alan Dunn was written on 6th June 2011.
Dear Old Blundellian Club,
I thought I would write after reading about the theme for this year's OB Day, and after reading the December 10, 2010, Friends of Blundell's in America newsletter, which I enjoyed very much.
After Blundell's I went to the South Devon Technical College in Torquay and on to Leicester University where I graduated with a degree in History. I moved to the US in the late 1980s after visiting on a student exchange program.
I am still in contact with Richard Hughes (Petergate 1978-83) who is a Devon and Cornwall police officer. In June 2002, Richard took me out for the day in his traffic car and we visited Blundell's – on the way there he had a puncture so we were temporarily delayed while he jacked up the car and we replaced the flat tire!
I visited Ted Crowe a couple of times at his home in Sampford Peverell in the 1990s, had tea with him and chatted about students from Old House. Ted was a wonderful man and I was very sad to hear of his death. When I think of Blundell's, Ted Crowe's kindness as a housemaster in OH is often in my thoughts.
Cheers!
Alan
Piers Tainish
Westlake 1979-83
I recently visited the UK and stumbled across the Blundell's Stand at the Mid Devon Show. I went with an old friend from Blundell's days, as I happened to be in Devon for a few days. We decided to visit the school for old times' sake having not visited the school for at least 25 years.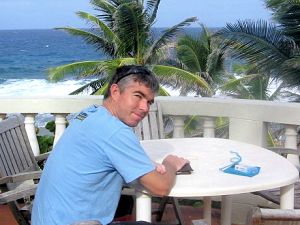 The first shock was that Westlake was not where it should have been! Apart from that all the other shocks were very pleasant, and got the feeling that a lot of very positive things had happened at Blundell's since we left, both my friend and I wished it was like this back in our day, it must be a great place to be a student now.
One of the things that I found difficult as a student was that as I was an international student with my parents living in Thailand, often many months went by with very little contact. However, for students now, there is Skype and certainly from what I could make out, the whole system of pastoral care at Blundell's looks excellent. There have been some very good decisions made and it is obviously a school well placed to excel in the future.
As for myself, after leaving school I went to the School of Oriental and African studies and from then into publishing and after some travelling in Africa, finally decided on entering the educational field. I trained as a Geography teacher at Sheffield University and then worked at the British School for Gran Canaria for 5 years. After that I ended up in Dubai for 10 years and got married to Armelle – the French teacher at the school, we now both work in The Codrington School in Barbados. This in an International Baccalaureate world school and I am the Head of the Secondary School.
James Frost
Petergate 1979-84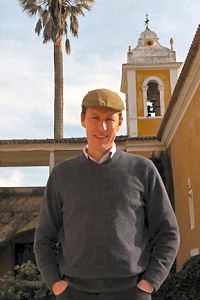 James and his wife Ann run a vineyard at their home, Quinta de Sant'Ana, in Portugal. Previously owned by her parents, Gustav and Paula von Fürstenberg, the Quinta lies approximately 35 km north of Lisbon, and 12 km inland from the Atlantic. The sea exerts a considerable influence upon the local climate, making it a relatively cool region.
Sant'Ana are one of a few producers who are bucking an old trend of wine production in the region - that is, they are concentrating their efforts on quality rather than quantity.
If you would like to read further about James and Ann's venture, please visit the WineAnorak website.
1980
Marco Menzhausen
SH 1980-83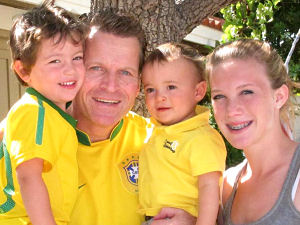 After Blundell's I went to culinary school in Germany where I was trained at the 1 Michelin Star French cuisine restaurant in the Hotel Zum Loewen, located in Oberstaufen, Germany. In 1996 I moved to the Americas to attend a Hotel and Restaurant Management undergraduate program at the United States International University in San Diego, California. Over the past 20 years my hotel career has allowed me to serve in executive positions for a number of American hotel companies including; Hyatt Hotels and Resorts, Doubletree Hotels,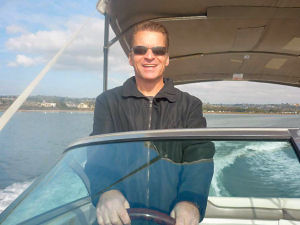 Adam's Mark Hotels and Resorts, Destination Hotels and Resorts and the La Jolla Beach and Tennis Club. I also spent a few years in Cancun Mexico working at the Camino Real Resort and directed the family hotel business in Tenerife, Canary Islands, Spain. Currently I am the resort manager at the Paradise Point Resort and Spa in San Diego.
I am married to Adrianna and have 3 children, Sabine 14, Marco 3 and Max who is 1 year old. When I am not working I enjoy outdoor activities, such as soccer, surfing and scuba diving all while enjoying the wonderful San Diego weather.
Ben Collins
FH 1988-93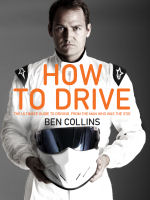 Ben Collins, also better known as the former Stig from the BBC's internationally acclaimed Top Gear TV Show, coached hundreds of celebrities from Tom Cruise to Lionel Ritchie around the race-track, organised high voltage car chases and tested hundreds of priceless cars to the brink. Ben holds many credits: As a Championship Winning Le Mans Racecar Driver, Bestselling Author, TV Presenter, World Record Breaker and Hollywood Stunt Driver. His book 'How to Drive' is available to purchase.
1990
Dan Parr
Petergate 1990-95

OB Dan Parr won the men's section of the 2010 Gobi March event. Dan won the first four of the six stages of the challenge, before an unforeseen mishap robbed him of the fifth. Despite this setback he remained around 20 minutes ahead of his nearest rival, a lead that proved unassailable by the rest of the field.
Ian Blessley
Westlake 1993-98
The Heart of Borneo Project 2010

My name is Ian Blessley (Westlake 1993-98). I am the Base Camp Manager, Medical Officer and one of the scientists on The Heart of Borneo Project (HoBP) 2010 – a large multidisciplinary expedition heading deep into the unexplored mountains of Borneo's rainforest interior for 12 weeks this Winter.
We are supported by a number of highly respected partners, including the Natural History Museum, British Council, Prince's Rainforests Project, WWF, and the Royal Geographical Society which has identified us as the expedition to watch this year by awarding us the prestigious Neville Shulman Challenge Award.

About the project
HoBP 2010 will be the first annual expedition and is designed to combine exploration, research, professional development and education by sending a vibrant and international team of explorers, scientists, engineers and filmmakers into one of the final frontiers of the natural world.
This is a multimedia expedition and has been designed with maximum publicity in mind to create awareness and promote our education project. We are working with the Natural History Museum in London, ARKive, the British Council in Indonesia, and WWF to create and promote an interactive educational platform that will grow each year, and will use satellite technology to upload short and entertaining videos with a conservation theme weekly from the jungle. Our team is young and engaging: something which will encourage children and young adults to become involved with the project.
Our research area is one of the last bastions of undisturbed habitat in Borneo's unique but highly threatened rainforests. It has never before been explored, but it is likely that species such as the clouded leopard, proboscis monkey, and the sun bear inhabit the region. Indeed, if there is anywhere in Kalimantan where the almost extinct Sumatran rhinoceros is still to be found, it is here. Our research will be used by the WWF and the Wildlife Conservation Society to help protect this fragile ecosystem from logging and mining activity which is encroaching on the area.
If you would like further information please contact me via email at i.blessley@heartofborneo.org.
Lt Robert Lennox
OH 1999-2006
"My journey with the Army Rugby team began on a dull January afternoon in Maidenhead, playing in a trial game against British Army Germany, at which time I didn't dare dream it would conclude on a glorious May afternoon in Twickenham.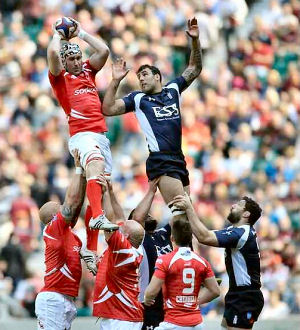 Having been preliminarily selected for the senior squad I received an email with a training schedule and fixture list and reported on a Sunday afternoon for the first meet, nervous, as a newcomer and the bottom of the pile in a vastly experienced group of players.
We trained as a squad Monday and Tuesday before playing on the Wednesday evening, the training was tough trying to squeeze a lot into a short amount of time. This continued week in week out, the fixtures getting steadily tougher and the squad changing and indeed shrinking each time. Having started with Oxford University we played Northampton Saints 'A' league side at Franklin's Gardens before the Inter Services squad that would be going to Portugal for a 10 day training camp was announced.
Having made this cut, I was starting to think about the possibility of playing in the Army vs Navy game a month later, but with 7 back row players making the trip and 4 of them having international honours it still seemed like a long shot.
Portugal was hot and very hard work, training three times a day, but it gelled the squad and we were fit and feeling good at the end of the week. We finished by playing the Russian Premiership champions, beating them for the first time and we headed home in the state we needed to be for the Inter Services.
On the 16 April I was selected for my first Cap against the RAF, it was a huge honour and a game in which I scored my first try for the Army (and collected my second yellow card) so a memorable day for many reasons! With only 10 days to go until the big game we had a last run out against Bath at the Rec which having been there to watch many times was another great experience.
A nervous few days followed before we all came together for our last week of training before Twickenham. Selection day was probably the most nerve wracking day of my life, knowing out of the 28 man squad only 22 could make the match day squad and obviously 15 getting to start. I was selected at number 6, unbelievable feeling, knowing I was just a few days from running out at Twickenham.
Friday 2nd we moved into the Marriott at the stadium, went into the changing rooms, had a photo under the posts and before I knew it I was heading to bed praying I would be able to sleep!
Saturday 3rd May dawned bright and warm, a fairly relaxed morning followed, just like any other game day people kept saying... Except we were at Twickenham and they had sold all 80,000 tickets.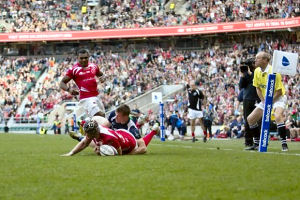 Our shirts were presented to us just before leaving the hotel by Tim Rodber, the last serving soldier to have played for England (though he has now been joined by my team mate that day Samesa Rokoduguni). At 1300 we left the hotel and walked around the stadium to the changing rooms, there were hundreds of people milling around shouting support already. Walking into the changing room and seeing the shirt with my name on hanging there was when the nerves really ramped up. We went out to warm up and the stadium was still fairly empty but there was a buzz around the place as it was starting to fill.
1445 we lined up in the tunnel, looking out at a full stand opposite us and a deafening noise above us. I walked out on to the pitch and realised a childhood dream. The nerves were intense, seeing so many people, singing the national anthem and before I knew it I was lined up ready to go.
The venue, crowd, and the fact the game is a culmination of a seasons hard work for both teams, our cup final, makes it the most intense game I've ever played in. I did not appreciate just how loud it would be or how the adrenaline would affect me, but when the game is live you forget what is around you and just try to do everything you've trained to do.
The Navy started very well and took an early lead due to our indiscipline, compounded by our losing a player to the sin bin. After a scrappy first half we were 12-7 down and were glad to get in for the break, a chance to regroup. Coming out for the second half I was sure we could turn it around. We broke through the Navy's defence about 10 mins into the half and when the ball came wide on the left I was lucky enough to be on the end of it and score my second Inter Services try. Personally a highlight and for the team a tipping point from which the Navy never recovered. We extended our lead before the navy grabbed a consolation try at the death. With the score at 30 points to 19 the final whistle blew.
Winning was the icing on the cake but the whole experience from January was unbelievable, representing the Army on the biggest stage was very humbling and an incredible honour I will never forget."
2000
2010