OB Club
News
OB Choir Trip to Venice, December 2019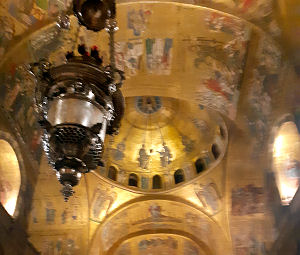 The Blundellian Choir arrived in Venice in the evening on 19th December to a city shrouded in mist and St Mark's Square mostly seemed empty. However a few ad hoc a capella carols nicely balanced with SATB parts soon acquired a large following which followed us to the Doge's palace and next to the Grand Canal.
A gentle start in the excellent Al Piave hotel including unaccompanied practising the next day was followed by a walk about before heading off to St George's Anglican Church to practise for the evening's concert, as well as items for the following days.
The concert had been advertised and a good audience enjoyed the professional event with a number of locals calling in when the music was heard from outside.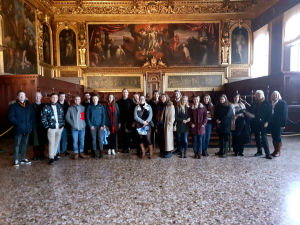 Afterwards we headed off to eat in a restaurant near San Marco after which much prosecco was drunk in the hostelry opposite the hotel.
Saturday morning involved a visit to the Doge's Palace – fascinating in its history, art and particularly its architecture with the really impressive and massive rooms – nothing so small here. A walk across the Bridge of Sighs took us into the dungeons but we emerged happily en masse at lunchtime where, independently different groups refound the wonderful restaurant A La Rivetta.
After more walking/shopping we practised for the Mass in St Mark's Basilica where we were welcomed most warmly, with the priest even translating his sermon too, and coming to chat later.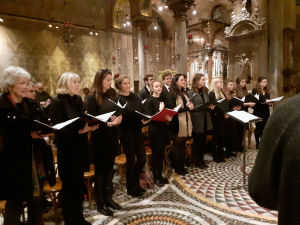 What an experience to be able to enjoy the amazing acoustics and be able to see the extraordinary mosaics – so much gold, and with the lights on it was a wonderful spectacle.
The evening service was followed by lovely food in a local restaurant and we sang to much appreciation and onto their Facebook page.
Sunday morning was a service back in St George's. The walk there normally takes 20 minutes but today, having said goodbye to Marianna Katerelou who had joined us from Athens, took us 40 as we waded through 10 inches of water in St Mark's Square, and then over boards and more flooded areas. Despite the plastic boots we had acquired there were those who arrived with wet feet - though the Chaplain provided cushions for them with their bare feet. It was a really good service and again we were made very welcome.
While the water had receded there were still large pools as we did a flash mob carol in a square next to the Accademia Bridge, before a short concert in the instrument museum.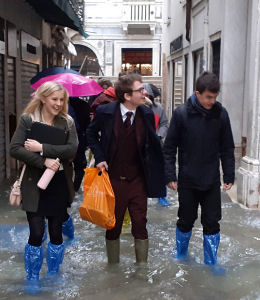 We made it back to St Mark's Square where the water had mostly gone and then to lunch.
Our final afternoon was spent shopping, viewing the Rialto, mulled wine, chocolate, and a glorious sunset before we all went to A La Rivetta (third time for some) and enjoyed the prosecco by the jug, the amusing antics of the waiters, entertaining the restaurant with some singing which resulted in a blessing from a visiting American priest, but also a glass of limoncello for everyone in our party. So much fun.
There were final visits to local bars, and philosophical discussion, and limericks before retiring.
Our final day had an earlier than anticipated start as aqua alta again meant that water taxis were not able to get very close and we had to walk – and wade again – to where they were to meet us, and anything later with the water rising rapidly would not have been possible.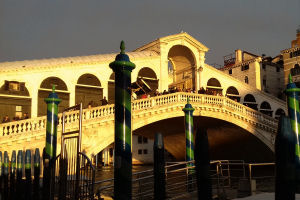 As we sit in the airport on a sunny day there is time to reflect on how amazing Venice is, how hospitable everyone has been with the hotel team organising so much for us, even taking us to the taxis - and what wonderful music is produced by Blundellians – a great joy.
The Party: Jess Atkins, Andrew Barlow, Bella Barlow, Heather Barlow, Tim Barlow, Becky Brinkley, Rosie Bruce, Ian Bruce, Linda Marshall Cole, Rosie Cole, William Coon, Natalie Cotton, Alex Everett, Louisa Everett, Chris Hamilton, Jess Harvie, Marianna Katelerou, Sparkle Menzies, Redmond Sanders, Kieran Smith, Beth Squires, Ed Taylor, Toby Whitehead
Blundell's Community Touch Rugby Tournament and Family Day
15th September 2019
This was the inaugural Blundell's Touch Rugby tournament organised by Tom Cowle (W 1991-96) and the Friends of Blundell's Prep, with the support of the OB Club. The tournament took place on a lovely September Sunday, with eight teams taking part, consisting of parents, teachers, OB's and guest teams from Wellington and Kings Hall. The Plate Final was won by FH Old Boys, while the overall winner saw the Blundell's Staff beat the Blundell's Braves in a tightly contested game. The event raised over a £1,000 for The Friends of Blundell's Prep. The event was such a resounding success that it is hoped it will be an annual fixture in the School calendar. Next year's tournament is taking place on Sunday 13th September 2020. Tom or Janet (Organisers) would be delighted to hear from OB's interested in putting a team together.
Contact: Tom Cowle (Westlake 1991-96) thomasomcowle@gmail.com or Janet Wooff, OB Club Secretary.
OB Choir Trip to Athens, December 2018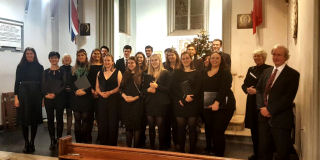 The fourth OB Choir trip took place in December 2018 and flights from Bristol, Luton and Edinburgh brought a group of 23 together in Athens at the Hermes Hotel where we were looked after very well in well appointed rooms, and a hotel with a roof top terrace which proved very popular late in the evening where sociable bottles of wine were enjoyed, and on one night where a dramatic thunderstorm was watched.
It was very pleasant during the day to enjoy warm temperatures and sunny days. The first evening saw groups visit different restaurants and one proved popular for the live music and Greek dancing, with considerable participation into the early hours.
On Saturday several visited the Acropolis, and late afternoon we were able to practise in St Paul's Church, the Anglican Chaplaincy ready for the evening concert, and service the next day. It was an excellent acoustic where later some good recordings were achieved. The service on Sunday morning had a welcoming congregation and Curate who had heard of us from the Chaplain in Prague. We sang several pieces during the service (Wood, Stainer, Saint Saens) and ended with a carol. Coffee was served outside in the very pleasant garden before we went to the Parliament building in Syntagma Square where we sang several carols on the steps to a large and appreciative audience.
Lunch was found in different places before the afternoon activities included shopping for some, the Acropolis for those who hadn't visited before, anda walk up theLykavittoshill which had a small church dedicated to St George, and funicular for the journey back down, and a very pleasant restaurant where we imbibed and watched the sunset over the Acropolis. Here too we observed members of the militarylower the Greek flag as the sun went down. The evening saw the whole party in a wonderfully welcoming restaurant (some had visited at lunchtime) –with an open fire –in the area under the Acropolis. A reallyexcellent evening. Afterwards some went to find the Greek dancing again, others to the roof top terrace.
Monday was a relaxed start before going to an extraordinary hospital built by Jackie Onassis where they had the remarkable idea of using music regularly in the hospital –for those who were there for appointments, and for those who were recovering and wanted to go and hear the music. There was a large atrium, grand piano, and seven floors had access to the music and view of performers as well as the seating on the ground floor. We were entertained afterwards to excellent food –some of which has been replicated since we returned to the UK. It was an illuminating and moving experience.
Our flights in both directions were straightforward –indeed early arrival in both directions, and School minibuses were there to meet us.
The Party
Jessica Atkins, Andrew Barlow, Heather Barlow, Tim Barlow, Rebekah Brinkley, Rosemary Bruce, Ian Bruce, Alice Cadenhead, Linda Marshall Cole, William Coon, Alex Everett, Louisa Everett, Callum Graham, Jessica Harvie, Annabel Ronchetti (Barlow), Matthew Ronchetti, Redmond Sanders, Rosalie Sanders, Imogen Sanders Dutton, Katharine Sendell, Alexandra Steel, Caroline Steel, Toby Whitehead.
News Archive: 2009 | 2010 | 2011 | 2012 | 2013 | 2014 | 2015 | 2016 | 2017 | 2018 | 2019