Obituary
Ben Ainsworth
On this page: Ben's obituary from family | A few words from Ben Wray, a school companion
This obituary was provided by Ben's family.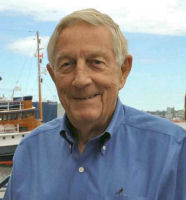 Ben Ainsworth, 76, of North Vancouver, died peacefully on April 25th, 2017, after a very short stay in hospital. He will be missed by friends and family.
Ben was born to the late Paul and Anne Ainsworth, in Tiverton, Devon, England, on October 19th, 1940. He attended Blundell's School [P 1954-59] and the University of Oxford in England, earning an honours degree in geology at the University of Oxford in 1962. He started his career as an exploration geologist with early experience in Ireland, Nigeria and Ghana. On immigrating to Canada, he joined Placer Development Limited ("Placer") in Vancouver within a week of arriving in the city in 1965. He worked with the company for 21 years, moving with his family to France, Toronto and Chile and returning to North Vancouver. During this time, he was best known for exploration work in British Columbia and the Yukon, leading to the 1972 discovery of the world-class Howard's Pass lead-zinc deposit.
In 1986, Ben formed the consulting firm of Ainsworth-Jenkins Holdings Inc. ("Ainsworth-Jenkins") with a friend and partner, David Jenkins. Key projects included gold and silver exploration in Nevada and Mexico, and reactivating the Huckleberry porphyry copper/gold project from 1992 to 1994, which started production in 1997. Ainsworth-Jenkins also lead concept development and exploration in 1995 that resulted in the discovery of the first reported marine alluvial diamonds in Sierra Leone.
Milestones in Ben's career include both mineral discoveries and his work for provincial and federal governments in mineral project assessments. As a liaison between industry and government agencies, he promoted growth in mineral exploration and development in Canada. Recognition came in 2013, when Ben and his son Garrett Ainsworth, then working with Alpha Minerals Inc., received the Colin Spence Award for excellence in global mineral exploration. They received the award in recognition of efforts leading to the discovery of high-grade uranium at the Patterson Lake South project in Saskatchewan. Ben was a committed, passionate geologist, tirelessly active in his field, and he will be missed by many friends in the mining community.
Marked by the curiosity of a polymath, Ben was fascinated by the sciences and history. Well-read in these areas, he also brought this passion to his work and shared it with his friends.
Ben married the late Donna Ainsworth in 1968 in Vancouver, and lived in Deep Cove before travelling across Canada and abroad, returning to North Vancouver to live in Blueridge and most recently in Norgate. He is survived by his sister, Sally Chaulk, his 3 grand-children and his 3 children, Yara Ainsworth of Zurich, Switzerland, Clea Roberts of Whitehorse, Yukon, and Garrett Ainsworth of North Vancouver.
Instead of flowers, the family requests that donations be made to the Canadian Liver Foundation British Columbia: www.liver.ca/clf-chapters/locations/british-columbia/
A Celebration of Life Service for Ben Ainsworth will be held on June 2nd, 2017, from 2 to 5 pm:
First Memorial Funeral Service, 1505 Lillooet Road, North Vancouver, British Columbia; T 604 980 3451.
The following words were provided by Ben Wray, a contemporary of Ben's at Blundell's.
Ben Wray on hearing the sad news of Ben Ainsworth's death. I had not seen him since our times at Blundell's but remember him well.
One memory that comes back was the day when a group of us from the biology set were taken off to some remote, boggy bit of moor to the East of Tivvy where Maurice Ashby said we would be able experience the thrill of seeing a specimen of some very rare plant. It was a lovely sunny day and we pedalled off with enthusiasm as it meant the whole morning written off. We met up with Ashby and he led us the spot where this gem was to be found. We duly peered at it and then Ben, who had been looking the wrong way, took a step back and stood on it. Ashby was not pleased. In fact, he looked as if his world had fallen in! End of expedition.
We then had to cycle back to school but thought, as we had time in hand and Ashby had hurried on, we might stop at the odd pub to refresh ourselves on the way back. This was fine and, feeling well recovered from our efforts, not to mention the emotional impact on us of the crushing of the bog wonder, we got back just in time to get ready to change and go to Big Field for the dry run of the CCF General Inspection.
As you may recall, Ben was the man in the CCF Band who beat the bass drum, from whom we were meant to get the timing/pace etc but it rapidly became clear that Ben was in a little private world of his own, with a happy smile on his face and little sense of the timing required. That was until Stan Davis intervened, marching across and standing in front of him with a 'request' that 'Ains...WORTHHHHHH!!!!!' got himself sorted out. Things went a bit better after that...