Obituary
Rev'd Canon James Philip Brown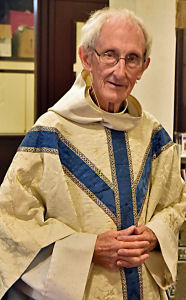 James Philip Brown, known as Philip, died peacefully on 9 March 2018 at the age of 87 after a short battle with cancer. He leaves his wife Gill, after 59 years of marriage, and also four sons and ten grandchildren.
Born in Yelverton, Devon, in 1930, Philip attended Blundell's School from 1943 to 1948. He was a deeply religious man - after studying Classics at Oxford University, he went on to Westcott House Theological College, Cambridge, and was ordained a priest in St Alban's Cathedral in 1957. One of the highlights of his life was to celebrate sixty years as a priest in September 2017, just six months before his death.
His Ministry involved a curacy in Hemel Hempstead, followed by incumbancies at Hellesdon in Norwich and Kirkley in Lowestoft, and in the Northleach Group of Parishes in Gloucestershire. During the latter he was appointed Rural Dean, and also made an Honorary Canon of Gloucester Cathedral. His Ministry was characterised by a strong focus on pastoral care, and a belief that the Christian faith should be centred on love, inclusion and forgiveness.
After retiring in 1995, he and Gill moved to Teignmouth, back in Devon and close to his beloved Dartmoor. Philip continued to be active in his retirement. For several years he acted as a voluntary prison chaplain at HMP Channings Wood, near Newton Abbot. He was also passionate about the issue of social justice and very active with organisations such as Amnesty International, Christian Aid and the World Development Movement.
As well as his life in the church, Philip was a loving and committed family man. He will be deeply missed by Gill, his sons, the wider family, and by the many people who were enriched by meeting him during his life.