Obituary
Tom Clough
RIP, 5th June 2011
Tom was born in Francis House at Blundell's in March 1929 when his father was the Assistant Chaplain. Although his father died when Tom was only one year old, Tom's links with the Blundell's School Chapel started with his christening and continued through his life and was always something very close to his heart.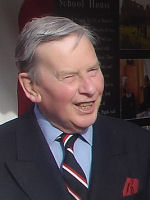 After his father died, his mother stayed on in Francis House as Housekeeper and Tom had fond memories of seven years spent growing up there before the family moved away. However, they soon found their way back to the Tiverton area where they lived for a time in Calverleigh. In the dark days of war in 1942 Tom was back at Blundell's and this time as a pupil and living in Old House.
Tom enjoyed his rugby at school and adored the game throughout his life whether playing or spectating. He was on the wing for the 1st XV in 1946 under the captaincy of Clem Thomas and also played in the Sevens team.
Having to delay taking up a place at Selwyn College, Cambridge, Tom luckily bumped into one of his teachers from Blundell's who invited him to have a go at teaching French at St Georges Choir School for a year. Perhaps it was there that the idea of running his own Prep School first emerged. It was anyway a happy time.
After university in France and at Selwyn, Tom taught at Merchiston Castle School in Scotland and he quickly became immersed in a social life there. It was at one of the weekend parties after a Calcutta Cup match that Tom was introduced to a young art student called Jacqueline Clegg. Picnics on Sundays, the May Ball at Cambridge, ski trips all followed and lead to Tom proposing to Jacqui in 1958.
That same year Tom applied for a Modern Languages teaching post at Blundell's. Tom's application was accepted and he returned to Blundell's and was greeted by 13 teachers still there who had taught him as a pupil! He took part in all aspects of Blundell's life. He coached junior rugby, ran the tennis, was involved in the Cadet Force and ran the printing club.
Despite beginning a career at Blundell's, Tom was very clear in his own mind that his ultimate aim was to be a Prep School Headmaster. That clarity of vision and determination to see something through to a conclusion was to be a hallmark of his lifestyle.
In pursuing his career at Blundell's and building towards that Prep School headship, Tom knew that his next step needed to be an appointment as a housemaster and in 1963 he became housemaster of Petergate House. With Jacqui and a 2 year old Juliet he took up his post at Petergate.
In 1963, Paddy was born and in 1966 Jocelyn was born. The three children were now following in their father's footsteps in so many ways. Petergate was always a sociable hub because Tom and Jacqui loved entertaining. Whether it was housing a visiting preacher, treating the senior boys to some home cooking or hosting a party after the annual cross-country race, there was always laughter, smiles and jokes.
Together with the School Chapel and from his earliest days in the choir, music at Blundell's played a big part in Tom's life. One of his fondest memories was singing in the B Minor Mass in the Chapel and also in Exeter Cathedral.
In 1971, Tom achieved his ambition of becoming a Prep School Headmaster when he was appointed to that post at Lambrook School.
It was not long before Tom was an active part of a thriving Old Blundellian Club. Together with his great friend Ted Crowe, they ensured that the Club blossomed and was able to move to the strong position it holds today. As Chairman, Tom always tried to find new ways for the Club to engage with Old Blundellians and involve the younger generations. He was also a Governor of the School for some years and in that role never let his heart rule his head.
He was also appointed as Chairman of the Chapel Trustees. It was here that he made another great impact when a long lost piece of Blundell's history, the Gill Altar, was found in Coventry and came up for auction. Tom's dogged determination came into play again and he managed a successful and discreet appeal for funds and secured the return of the Altar to its home at Blundell's where it now features prominently in the life of the school.
The Blundell's community will miss the ever-youthful Tom but the memories we have will last long.
Cedric Clapp
June 2011