Obituary
James Goff
A. J. (James) Goff (M 1975-79) was born on 19th September 1961 and died 29th September 2016. The following obituary was written by David Stanton, OB (W 1974-79).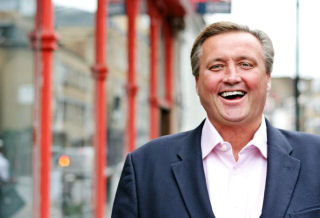 James Goff was a larger than life figure in the Shoreditch property world. In a career that spanned several decades, principally in Shoreditch but reaching as far as Ibiza, he captured the hearts of many with his seemingly effortless charm, wit, and exuberance. He was a generous man who lived life to the full; at times larger than life and often loud and full of exuberance, yet fundamentally sensitive, intuitive and kind. James has many wonderful children of whom he was extremely proud, and he loved them, and all those who were very close to him. At heart he was a country boy, often describing his perfect day in terms of a rural idyll: relaxing in a quiet Devon orchard, not distracted by urban clamour, with not a care in the world.
Born in Devon, James attended Bramdean Prep School in Exeter and then went on to Blundell's School (1974-1979) where he officially excelled at Rugger and Judo and rather surprisingly exhibited a flair for studying Divinity A level with David Hamer and Charles Noon. Unofficially he held a certain and rather bizarre penchant for cockfighting. He was no ordinary boy. From there he went on to Bristol Polytechnic to read Surveying and entered very enthusiastically into the extra-curricular activities of undergraduate life.
However the bright lights of the London property world quickly lured him away from the West country. James initially worked with Edward Erdman in their investment department in London, but soon developed a broad knowledge of the property world and established very useful contacts with people from all aspects of the industry. He founded Stirling Ackroyd in 1985, specialising in both commercial and residential markets, becoming an undeniable pioneer of the Shoreditch property game. His company has since spread its wings across the breadth of London, and now with over 100 employees, includes iconic Shoreditch venues such as The Light Bar and Paper Dress.
Soon after arriving in Shoreditch in the early 1980's his father came to visit him. Having provided his son with a fine boarding school education at Blundell's, Goff senior did very little to disguise his disapproval of his son's chosen location. In no uncertain words he exclaimed "What on earth are you doing here? What has happened? What have I done wrong to find you in this dump?" James stood his ground, and just as well he did, for his vision in spotting Shoreditch as an up and coming area was little short of spectacular. As James said himself, "The low values and the building attracted me there in the first place. I thought hang on, this is right next to the city, one day this is going to happen. It probably took longer than I thought, but you know, there it is... it's got its own identity, it is a place, a real place."
And so James' primary residence remained in Shoreditch for many decades, and over the years he became an extremely familiar and well regarded character. He came to know the area and people intimately, witnessing first hand the dramatic changes that took place there over the last thirty years. He was known by so many people. Indeed in recent years his fame spread even wider through featuring on television as the resident expert of "Hot Property". He divided his time between Shoreditch and his vast Georgian Old Rectory in rural Worcestershire.
Ever since leaving school, James has been a very proud Old Blundellian and for many years generously sponsored gatherings of OB's at his various wine bars and restaurants here in London. He is much missed and his memory will live on for years to come.
Above all James was a brave man. In the face of serious illness he continued to enjoy life to the full, never feeling sorry for himself, and always the life and soul of the party. Towards the end he was strangely invigorated by having no presumption of longevity. He was able to live for the moment; something many others talk about, but few can manage.
He made a certain peace with leaving this world, a peace experienced only after pondering what he might do, where he might be, what might become of him after death. James particularly enjoyed his house in Ibiza where the warmth of the sun reached every nook of his body. He was surrounded with much that he loved, and many happy memories of family fun in the garden and swimming pool kept him going.
At the very end, dying was woven into the reality of living. In his own way, James said his goodbyes and prepared himself to meet his maker.
David Stanton
(Westlake 1974-79)