Obituary
Nick Hunkin
This article was originally published by the Western Daily Press on Saturday, 10th March 2012.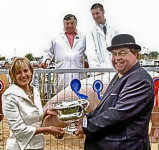 One of the most colourful figures in West Country farming, specialist pig breeder Nick Hunkin, has died following a short illness.
He acquired a considerable reputation as both a breeder and exhibitor, championing his favourite, the Tamworth, with the kind of devotion and passion which is rarely seen, even among rare breeds enthusiasts.
But he was not a full-time farmer. Nick, who farmed in South Somerset, classed himself as a hobby farmer – with a hobby which, he was never slow to admit, was an expensive one. He was the first member of his family not to go into full-time farming.
He was brought up on a 130-acre mixed holding at Newton Ferrers, in South Devon, but when the time came he decided 130 acres was not going to support him and his two sisters, so after a three-way split opted for a career in commerce.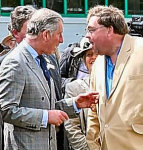 He started with a firm of auctioneers before switching to legal publishing, but once the internet made legal research accessible at the click of a button, he moved into employment law.
Nick's "farm" was six acres of land in Dinnington, near Ilminster, where he ran both pigs and sheep for 25 years. He became chairman of the Tamworth Society and in recent years his expertise made him a natural choice as commentator at major shows, including the now-defunct Royal.
It was a role into which he slipped naturally, and with deceptive ease. But in fact Nick took the whole thing very seriously and spent hours doing his homework before delivering a fluent, informative and entertaining voice-over for proceedings in the ring in a style which, like much else about him, was unique.
Nick's ambition, he once revealed, was to live on the kind of small, mixed holding on which he grew up – though he acknowledged that making such an enterprise pay in the current farming climate would probably be far too much of a challenge.
Nick, who died in Yeovil hospital on Thursday, is survived by his wife, Liz.