Obituary
Aubrey Jackman
This article was originally published by the Bath Chronicle on Thursday 30th September 2010.
Stalwart among city hoteliers dies at 89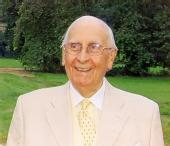 A well-known Bath businessman whose family ran a number of hotels in the city has died at the age of 89.
Aubrey Jackman and his parents owned the Lansdown Grove Hotel, the Pulteney Hotel and the Fernley Hotel, now known as the Abbey Hotel.
He was born in Bath and was just 18 and studying farming at the Royal Agricultural College in Cirencester when war broke out in 1939.
Immediately he tried to join the Army, but was turned away because of his agricultural expertise and instead sent to work on a Somerset farm.
In 1940 he joined the Local Defence Volunteers, which would later become the Home Guard, before being told he would be allowed to fight with the Somerset Light Infantry in February 1941.
He was immediately made an officer and rose to the rank of major, being posted around the world, with stints in Egypt, Palestine, Lebanon, Greece, Italy and Austria.
He became heavily involved in organising entertainment for the troops and was demobilised in 1947, ending his Army career without ever having to fire a shot in anger.
In the past he had spoken about having a "guardian angel" who had kept watch over him during his time in the forces.
On his return to England he took over the family hotel business, taking on the role of president of the Bath Hoteliers' and Restaurateurs' Association for 40 years, while still keeping in touch with his military roots.
From the mid-1950s to mid-1960s he was the producer and director of the Bath Tattoo and was also in charge of the Wembley Military Pageant in honour of the Queen's jubilee year in 1977.
Through these roles he was appointed chairman of the International Association of Tattoo Organisers and Producers, working on shows around the world.
Major Jackman lived in Lansdown and was actively involved with city life.
He was a onetime chairman of Bath Conservative Association, playing a key part in bringing Chris Patten to the city to stand as MP, and a keen supporter of the Bath Spa Band.
He was also a supporter of the Army Benevolent Fund, the Royal Artillery Association and the Soldiers, Sailors, Airmen and Families Association.
His dedication to the armed forces was also shown in his involvement with the Armistice Day parades in Bath.
Major Jackman had just finished writing his life story this year and had recently handed out 150 copies of the autobiography to family and friends.
He died on Saturday, September 18 and leaves his widow Tessa, daughter Sophie and three grandchildren, Eleanor, Thomas and Alfred Aubrey.
His funeral will be held at Bath Abbey on Monday at 11am and his family have invited anyone who knew him to attend.
Anyone interested in donating money to charity in his memory is asked to contact Clarkson's Independent Funeral Directors on 01225 426822.