Obituary
Ian Newton Jones (NC 1966-70)
The following obituary was provided by Rob Jones (NC 1963-68), Ian's brother.
After leaving Blundell's in 1970, Ian read law at Leeds, and subsequently completed his Law Society finals at Chester College of Law. After working in a general solicitor's practice for a time, he returned to the College of Law as a lecturer between 1979 and 2000, eventually being promoted to Principal Lecturer specialising in family law.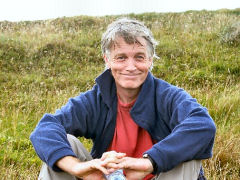 He then joined the Solicitors' Regulation Authority, carrying out interventions against wayward solicitors. Finally, he held a senior position, being responsible for the handling all disputed interventions, including associated judicial reviews at the High Court. Ian left the SRA in 2017 owing to ill-health.
Those are the bare facts of Ian's career. He loved his work, and his expertise was highly regarded by his work colleagues at the SRA. He believed passionately in upholding professional standards, in doing the right thing, and doing it competently. He delighted in the finer points of the law and in legal argument. Not given to sentimentality, he would examine issues in a cool and dispassionate way. You would take him on in an argument at your peril. He could advocate any point of view.
Ian could be a witty, engaging man, but he was also very private. He did his own thing. He kept his head down at Blundell's. Being clever, he did well, with little effort. One school report said, rather quaintly, that "this boy hides his light under a bushel".
But there was another dimension to him too. Behind the sensible, calm exterior was an impulsive, sometimes even reckless man. Not so long ago, we used to camp together in a wilderness area of Mozambique.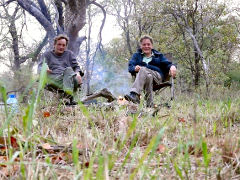 It was in the middle of the bush, over an hour's drive from the nearest settlement. We built shelters and fires and fences. We tolerated stultifying heat, ferocious winds, massive electrical storms, scorpion infestations, and the constant menace of wild animals including poisonous snakes. One evening, I remember, a giant, almost biblical cloud of flying insects engulfed us; they were in our hair, in our eyes and ears, in the food we were preparing. Ian relished every minute of it.
Ian was a pescatarian. He was passionate about conservation: he planted a spinney or copse on the land behind his house in Christleton, and built a wild life haven there, for frogs and foxes and pheasants. At the same time, perhaps incongruously, he also liked fast cars, and hard driving.
One facet that emerged at Blundell's was his resilience and a sense of toughness. When he developed cancer in 2016, he never complained and he never really accepted that he wouldn't recover. However, he never enjoyed any respite.
I will remember him as an outstanding brother and companion – reliable, supportive, critical, contrary and fun.
Ian is survived by his wife Sue, also a lawyer, whom he met at Leeds University, and their two children, Morgan and Hanna.
Rob Jones