Obituary
Richard Stanley Peters
[Sadly, the obituary we were sent was a scanned document, and incomplete.]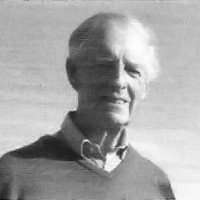 Dick Peters, who died in October after a short illness, was born at Woolwich in 1926. His father, who was in the Army, was then an instructor at the Royal Artillery Academy. Dick's childhood involved following his father to various postings. In 1939 he went to Blundell's School in Devon. He excelled at sports, was in all the school teams and was made captain of tennis.
Having seen a lot of aerial activity while living in southern England during the war, Dick was keen to become a pilot. After leaving school in 1944 he joined the RAF but was initially rejected for training as a pilot because a clerical error after a medical report said incorrectly that he had failed the eyesight test. Eventually Dick got another chance and this time was successful. After learning to fly he was posted to a Spitfire squadron in Germany in 1948. (Dick is the pilot in the photo below). He was there for 18 months, a period which included the Berlin airlift. He had one narrow escape when the engine of his Spitfire cut out over Russian-occupied territory but fortunately it started again when he was about 50 feet from the ground and he made his escape.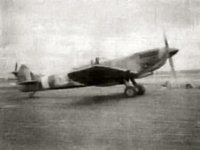 His next job was as ADC to the commander-in-chief of the RAF in Germany. He accompanied the C-in-C to many places, during which they had the use of Hitler's private train (Dick slept in Eva Braun's bedroom). They met various VIPs including Clement Attlee and Herbert Morrison. He also visited the Vatican. [SECTION MISSING]
His next job was as ADC to Lord Mountbatten who was chief of the defence staff from 1959 to 1965. This started with a five week world tour stopping in Aden, Kuala Lumpur, Singapore, Bangkok, Hong Kong, Canberra, Wellington, Ottawa and various other places. This was the first of a number of lengthy tours to many parts of the world meeting kings, presidents and prime ministers. The normal posting for an ADC was eighteen months but Mountbatten asked for Dick to be kept on and in total he served for an exceptional three and a half years in this demanding job.
At the end of this period Dick decided to leave the RAF. He then bought a business called Town and Country in Cirencester. This sold a variety of goods for home decoration such as lamps and lampshades. He also took up interior decorating; despite having no background in this sort of work, he evidently had a good eye for it and over the years designed the decoration of many houses in Gloucestershire. He became a well-known figure in Cirencester.
Dick's first marriage ended during this period. He had two children, Mark and Sarah. Diana subsequently came to work for him at the shop and they were married two years later. Diana had two children of her own, Anthony and Clementine. Dick and Diana ran the shop together until about 1990 when they sold it to the General Trading Company. Some 16 years ago they decided for a variety of reasons to move to this area and found a house in Burford which was still being built. [SECTION MISSING]