Obituary
Robert Edward Poole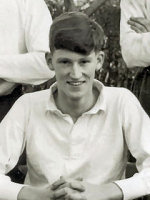 7 January 1939 to 16 March 2012.
Eulogy at St George's Church, Badshot Lea on 19 April 2012.
Sue has asked me to thank everyone for coming here today and those who attended on 29 March, and for all the messages of comfort received and generous donations made.
Robert was born 7 January 1939 in a small flat above his father's shop in Greenford, West London weighing in at 10½ lbs. His father, Ted Poole, who served as a Captain in the Royal Marines during WW2, was a Master Butcher. Ted Poole died from a heart attack heart in 1957, when Robert was only 18. Robert, his mother, 'Winnie', and sisters Anne and Viccy all lived in Courtfield Gardens, West Ealing having moved there in 1942. From an early age Robert was always trying to find out how things worked and there are stories of door handles being removed and never replaced. In 1944, Robert, sister Anne and mother went to the shops in West Ealing. His mother stopped to talk to a friend. Robert was being naughty and the friend walked on ahead while his mother took Robert and Anne back home. Robert's naughtiness saved his family's lives since, on the way home, there was a huge explosion behind them. A flying bomb had landed on the place where they were going and their friend was killed. Robert's father was one of the first to have a car in the area and Robert used to practice his driving skills on this when his father wasn't looking.
During the war John Poole, Robert's cousin who was 12 years older, had attended a 'Harvest Camp' and found he enjoyed farming. He went to live on a farm in Dorset for a year before going on to Agricultural College and, after College, he established himself in Hemel Hempstead - mixed farming which included a dairy herd. But more of this later.
In 1946, Robert went to school at Durston House Preparatory School in Ealing followed by Vine Hall Prep School, Robertsbridge, in East Sussex. His friend, Tony Green, who was a year older, lived in West Ealing half-a-mile away.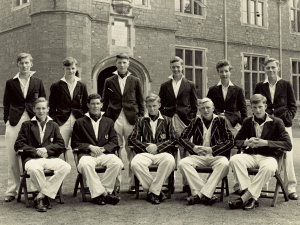 The two boys were together at both these Prep Schools and maintained a life-long friendship. In 1952, Robert aged 13 went to Blundell's School, Tiverton in Devon where he remained until 1955. He played rugby there and continued playing for a while after school. He was a very useful forward by all accounts and played in the 1st XV, in the same team as Richard Sharp who, for the uninitiated, was arguably the finest Outside Half who ever played Rugby for England. Richard Sharp stayed at the family home in Ealing as a teenager on several occasions, during exeats from school.
On leaving Blundell's, Robert chose a career in agriculture. Perhaps Cousin John had unwittingly set the example Robert wished to follow. Robert was 17 when he went to live with John and his family in Hertfordshire staying almost a year, in order to gain some practical farming experience. Then, in 1957 aged 18, he went to Seale Haynes Agricultural College, which is now a faculty of Plymouth University, where he studied a 2-year General Course in Agriculture.
Tony Green told me about Robert's cars in those days but he didn't have much money to run them. Being very practical Robert learnt the workings of the internal combustion engine. He over did it with his old 1933 Rover, burning out the engine near Salisbury Plain. Undeterred, he found another engine in a breaker's yard and, for £12, had his car back on the road shortly thereafter. Robert also had a Mini and removed the engine to do some essential repairs but could not get it back in properly. Ever resourceful, he called up some of his rugby playing friends who surrounded the bonnet and all pulled outwards, stretching the frame sufficiently for the engine to slot back in and be bolted into place.
In Dec 1962, after College and now working on a farm in Newton Abbott, Robert aged 23, had an horrific tractor accident on the 5th anniversary of his father's death. He was driving over a sloping field when his tractor rolled, trapping him underneath. Hot water dripped onto him from the fractured radiator and he wasn't discovered until several hours later. He was badly scalded and spent several months in hospital where he received numerous skin grafts to repair the damage. This accident changed the course of his life.
Robert needed time to recover so he returned home to Ealing to convalesce. During this time he found employment as a driving instructor at the British School of Motoring. He discovered he had a natural talent for this and made the decision to become self-employed. His reputation spread by word of mouth and when he left BSM very little advertising was necessary. His percentage of first time passes was amazing.
Robert now met David Sykes. David was involved with recruiting at Ealing Young Conservatives. In context of the early 1960s, the social scene was rather different than it is today. The YCs was more of a social club where boy meets girl. It offered parties, dinner dances and other events such as picnics, cricket matches and going bowling at Heathrow. The Ealing branch had more ladies than men. As the story goes, David visited Ealing Town Hall to examine the Electoral Roll. He targeted several men in the right age group and made contact with them. One of these was Robert whom he recruited in 1963 over a few beers. David and Robert became close friends. David recalls many happy hours with Robert spent in the loft of his mother's house, playing on this enormous and very professional Scalextric track.
It was through Ealing YCs early in 1965 that Robert met Sue and they were married at St Stephen's Church, West Ealing on 14 May 1966. Angela Browning, Sue's friend from Pitman's Secretarial College, met and married David Sykes and David later became Edward's Godfather. Robert and Sue's first home was a flat in Montague Gardens. Edward was born a year later in May 1967. Rachel was born in March 1969 and the flat in Montague Gardens was now too crowded. So, in 1971, the family moved to Roseheath Road, Hounslow where Adrian was born in December 1972. The final family move was to Badshot Park in 1978.
Robert, friend David Sykes and families would go to Bushy Park near Hampton Court to play with radio controlled boats. Both Edward and Adrian have described the occasion when their boat cut out and their Dad, in front of many onlookers, stripped to his Y-fronts and waded into the dirty, smelly water in order to retrieve it. Also they would all go to Horsenden Hill, Perivale in West London to fly radio controlled model aircraft. Robert, being multi-talented, built these boats and planes himself. There were occasions when a plane's receiver would not respond to the transmitter and the boys, acting as spotters, would have to go on a search for the missing aircraft. On one memorable occasion, the family had to scatter as they were dive-bombed by their own 'out-of-control' plane. It was all good fun. There is another perhaps more significant connection with Horsenden Hill since this was where Robert took Sue when they were courting.
The children have many happy memories of time spent with their father.
Edward, like his father before him in the late 1940s early 50s, saw his father's car as something on which he could practice his driving skills. Being crafty and not wanting to be caught out he would carefully mark the spot where the car was standing with chalk to ensure it went back in exactly the same place. But his father had this uncanny sense of always knowing what Edward was up to. Later Robert let it be known he was monitoring the mileage. He never missed a trick and was always one jump ahead.
Rachel has described to me many tales of her father's kindnesses and generosity. Here are a few.
It was December and Robert had the 3 children in the car near Haven Green, in Ealing Broadway. He stopped the car without warning and the kids watched him enter MacDonalds and come out with 3 bags. They were thrilled. But instead of coming back to them he went over to 3 'down and outs' sitting on a bench and gave them a bag each. He returned to the car and they asked him in horror: "Dad what have you done?" Robert replied simply: "It's Christmas." A similar story occurred when Robert was driving on Richmond Hill with Rachel and stopped without warning at the Star and Garter, ex-Servicemens' home. He went in and, having returned to their car, offered the explanation that he'd been meaning to make a donation for ages to this worthwhile charity.
Rachel was 17 and had passed her test first time, as one might expect. Robert had just bought himself a new car, his pride and joy. Rachel begged him to let her have it to take 2 of her girl friends out for the evening. She promised faithfully she would not harm it and would not drink alcohol. At 11 pm the phone rang at home and Edward said immediately: "that's Rachel. She's pranged your car Dad." Sure enough the car was damaged having been hit from behind. Robert only said to Rachel: "Are you ok and are the others all right?" Rachel told her father that they were all fine, just a bit shocked, but the other car had driven off. They had managed to take its number. Robert was not in the least bit phased. The Police later arrested the driver, who was uninsured so it was Robert's insurance that met the costs. The matter was never mentioned again.
Adrian and his father raced model petrol cars around Southern England competing very successfully at National level. This was 1988-93 time when Adrian was 15-20 years old and Robert was in his 50s. Robert became Adrian's No 2 or gopher. They were competing against those who had sponsorship and several engines for each car. Adrian and Robert did this on a shoe string budget with a single engine. If this blew then it was game over and head back home. They were in the top 15 in the country with a best place of 10th out of 120 starters. Adrian inherited his father's skills and the motor trade became his chosen career.
Robert taught me to drive in 1966. One thing he stressed was how tyres grip the road and he used Scalextric cars by way of example. If travelling at speed on a straight, brake immediately before a corner but then accelerate around the bend and the car will stay on the track. He told me to try cornering but braking on the bend and the car would spin off the track. I tried this later and it happened exactly as he predicted. Fast forward now 10 years. It was 1976 and I was on operations in the mountainous Dhofar region of Oman, bordering Yemen. I was driving a long wheelbase Land Rover with 6 Arab soldiers as passengers towards the plains of Salalah for a short period of rest. It was a winding single track dirt road, downhill with high rock on the right and a sheer drop on the left of some 200 feet/ 60 odd metres, down into a wadi. No crash barriers of course. I was following another Land Rover and a gap had developed between the two vehicles. I thought I was on a bit of a straight so I accelerated to catch up only to see the vehicle ahead disappear off to the right. It was a 90 degrees turn, contouring round a small re-entrant, with another turn of 180 degree about 40 metres further on; then it was uphill and into a final 90 degree turn to the right – the original direction. I was going far too fast and there was no room to brake. The appalling responsibility for my passengers hit me. In that instant I remembered what Robert told me about cornering with Scalextric and I followed his instructions. I applied the brakes but not enough to skid and the vehicle slowed slightly just before I was into the bend which I accelerated around at frightening speed, in a cloud of dust and stones. The vehicle held the road just as Robert had said it would. I could see it wasn't all over yet since I was bearing down on this very tight U bend, still travelling much too fast. I did the same thing and once again the wheels stayed glued to the road surface. We were now travelling uphill and began to slow down naturally. The rest was easy. I drove on with clammy hands, knowing what a close call it had been. It was Robert's teaching that saved 7 lives that day. I thanked him there and then and again when we met up 2 years later.
Memories. So much is recalled in the many messages of sympathy received by the family. Here are but a few describing Robert: gentle temperament; generous; always there to help; wonderful sense of humour; mischievous smile; always happy with a big grin on his face; thanks for being a really good bloke and friend; a big man and really kind; love for sweet things like golden syrup; his patience; a man who wanted no fuss; remembered with great affection; a character to the end; will be greatly missed.
Robert was a man of ingenuity. When confronted by a problem he remained undaunted, seeking the practical solution. He was prepared to try his hand at almost anything. He was also tenacious, being someone who would not give in easily. Couple this with his inherent kindness, decency and a rather naughty sense of humour and this is Robert. As you might expect, Edward, Rachel and Adrian have inherited these characteristics.
Sue asked me whether something might be relevant to include from our father's (Robert's father-in-law's) final sermon. The Rev Monty Cann preached this at St Paul's, Hammersmith in Dec 1957, some 3 months before he died of cancer in March 1958, during Holy Week. Actually there was something. The sermon was written in the full knowledge of his impending death. He gave a retrospective of his life and he spoke of regret at leaving friends and loved ones but not fearing death, even though it was entering the unknown. He looked back to happy days and he looked forward to a life of greater physical ease and the meeting of new and old faces and happenings. He ended by quoting from St Matthew Ch 9: "The harvest truly is plenteous but the labourers are few. Pray ye therefore the Lord of the harvest, that he will send forth labourers into his harvest."
Now Robert spoke to me a few years ago about the inevitability of his own death after having suffered a heart attack. At the end, his stoicism was there for all to see; suffering, which was bravely born. He had been ill for some time, of course. Diabetes, heart problems, prostate cancer & the cancer spreading. I saw Robert 3 weeks before he died, in Lent. Amazingly, I saw a flash of his old self when he smiled that little smile with a twinkle in his eye, at his lady carer, who was showing him great kindness. Though failing in body and mind he was still holding on right up until the very end when he suffered a final stroke. Robert was a good man; a provider; a good husband, father, grandfather, brother, cousin and friend. Surely here we have a really good example of someone called to greater things and, as his father-in-law put it, "a labourer being sent forth into the harvest".