OBs in the Military
Cdr Joe Blake RN (1933-37, M)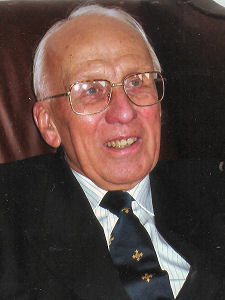 Cdr Joe Blake left Blundell's nearly 75 years ago now. His family hailed from Devon where they farmed and his first pet was a Jersey Cow. He has been often reminded of his trips to Tiverton in his bassinette by pony and trap. His father was 72 years of age when Joe was born and retired from farming in 1921 when he bought No's 5 & 6 St Aubyns' Villas. These houses were semi-detached and the family lived in No 5 and let out no 6.
Joe commenced his education at 5 years of age with a private tutor twice a week with prep in between. At 9 he joined Norwood Prep school taking a train to Exeter and back daily. Then a prospective tenant of No 6 (the neighbor at his home) asked to use it as a boys school and Joe left Norwood and became a founder member of 'St Aubyns' School. The school was a success and Joe's father agreed to let both homes to the school and moved out to a new bungalow at Bickleigh.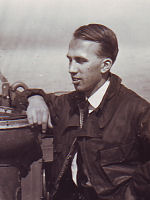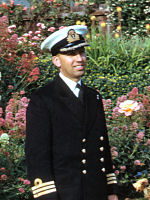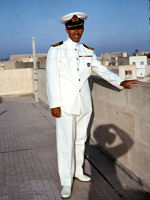 This necessitated Joe cycling back into Tiverton each day until he was 13 when he transferred to Blundell's as a Day boy. He recalls cycling into the town each day 'whatever the weather' with his Straw boater adorning his head. Each day finished at 6.00 pm where the return cycle was conducted, a quick supper and further 2 hours prep. His father died when Joe was still only 13, and his mother expected him to operate the electricity plant and the private water supply. There wasn't much spare time with Saturday Morning School, afternoon Rugger matches and Church on Sundays, but on occasions he did get to go shooting and hunting with the Tiverton Foxhounds.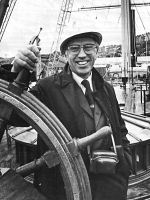 He has memories of family trips to the Channel Islands when he first experienced the challenge of the sea which led him to choose a career in the Royal Navy. He joined as a special entry cadet via  tough competitive ....... for which he was well prepared at Blundell's.
His naval training was completed by the end of 1940 and in 1941 he was the navigating office of a destroyer, also responsible for both communications and radar. He remained grateful for the theories learnt in the Science block! His naval career ended in 1970 when he became responsible for the restoration of the Brunel steam ship Great Britain, finally retiring in 1986.
Back to: OBs in the Military