OBs in the Military
Christopher Harrison (1928-33, FH)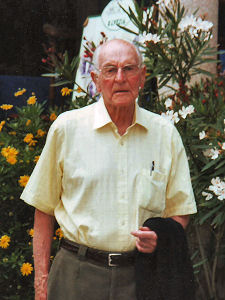 Christopher arrived at Blundell's in 1928 and rapidly got involved in many of the sporting activities including Rugby, Cricket and Tennis and running the Russell where he came 3rd in 1933. He thoroughly enjoyed his tennis with his team partners John Craig (FH) and john Martin (Petergate) and went on to play at Queens. Apart from the Choir (for which he did not qualify) there was little music at school in those days except on one's personal gramophone, but he was greatly encouraged by his Housemaster W R Lewin to appreciate classical music. He won the Blundell's exhibition to Sidney Sussex College Cambridge.
He left the school OTC and joined the Cambridge OTC with a  Territorial Commission.
After graduating, he was selected for and joined the Colonial Administrative Service in Nigeria. He joined the Volunteer Reserve of the Royal West African Frontier Force (RWAFF) and was called up in September 1939 and eventually posted to 7 Battalion the Nigeria Regiment, 3 (WA) Brigade. This brigade was allocated to General Wingate's Special Force (the Chindits). Battalions had to be reorganized into two autonomous 'Columns' and as Column CO he flew into Burma in March 1943 but was then appointed Bridge Major in the stronghold established at Henu which became known as the White City, because of all the supplies being dropped in by parachute.
Upon joining the Colonial Administration he was thrown in at the deep end by his District Officer who was another Old Blundellian from North Close Godfrey Allen. He was tasked with carrying out a survey for a new road (20 miles) and to find a suitable site for a bridge over the river.
Upon his return from Nigeria he went to work for the Guided Weapons Division of the English Electric Company in Stevenage, (now part of British Air Systems) and continued to be involved in military liaison jobs.
He is enjoying his retirement in West Oxfordshire with his second wife Janet and is still a very active actor in the village Filkins Players Theatre group where he recently played a boy of 11 and the part of the King's horse in a Mummers play. Amazingly active and fit for a gentleman who has just celebrated his 96th birthday, is still a keen gardener and grows for the village gardening club sale.
Back to: OBs in the Military