OBs in the Military
Tom Holden (1949-54, W)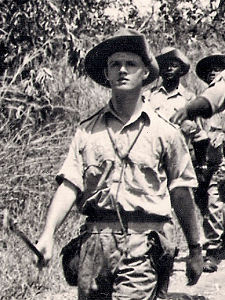 I was fortunate to go to Mr Seldon's House, Westlake, where I spent a very happy time. I ended up as Head of House and the Head of School with an Exhibition to Oxford. Things changed on 16th September 1954, when with my good friend Bill Roberts, we reported to Topsham Barracks for National Service. Our feet didn't seem to touch the ground, but some time later we emerged from Eaton Hall as Officers.
Bill went to Nigeria and I went to Kenya. It was still Mau Mau time so it wasn't long before I was on active service with the 4th Uganda Bn of the King's African Rifles in the Aberdare Forest. My Sergeant happened to be Idi Amin – then unknown and this photograph was published in The Daily Telegraph. We were just about to intern 120 Sudanese mutineers, who had killed their officers and fled into northern Uganda, where we had been posted.
After National Service I took my degree in Geography at Brasenose College and was fortunate to be invited to start the teaching of Geography at Eton College. At first it was a long hard struggle against a strong classical tradition, but I am proud to reflect that in my last year as Head of Department we secured six First Class Honors from former pupils at Oxford and Cambridge. After my first year I got married and we have three children and seven grandchildren. I experienced a very enjoyable tenure of fifteen years as a House Master, followed by a final seven as Lower Master or Deputy Head in charge of the five hundred junior boys.
Back to: OBs in the Military