OBs in the Military
Sir A G Norman KBE DFC (1930-34, OH)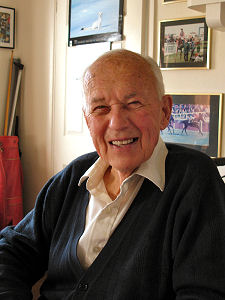 Sir Arthur Gordon Norman, or Gerry as he prefers to be known has had one of the most fascinating lives since leaving Blundell's, he has been afforded some of the highest honors possible, I was very fortunate to spend a morning with Gerry recently and find out a little more about how he feels Blundell's helped him in all his life's achievements.
Perhaps it started back with some of his first Masters, Ron Seldon, Joe Thug Thosby, Little Frenchy who he recalls made a distinct impression on him, he firmly believes Blundell's was and still is a school of exceptional quality. At School he particularly enjoyed Fives, Cricket and Rugby under his initial Head Master Wallace and then Gorton who commanded such high levels of respect.
Rupert Westall, his History and Careers Master recommended him to go to a meeting at 'De La Rue' the world's largest security printers who were at the time printing bank notes in London. The MD was just flying off to China for a meeting and said do you prefer People or Things? On answering 'People' he was offered the job. Perhaps the seeds for his success in business came at the tender age of 20 when he was asked to set up and oversee the business in China. It took 3 weeks to get there by ship. War broke out, all the machinery had to be dismantled, moved to Bombay, and another factory set up in order to enable a supply back to China.
He has had a distinguished career in the Royal Air Force during WW2, where his outstanding efforts and courage were awarded the Distinguished Flying Cross for his actions during 'Operation 'Elaborate' (the ferrying of Horsa gliders from Portreath to Rabat-Sale in Morocco). An article featuring this brave action recently appeared in the 'Britain at War' Magazine. He to this day maintains contact with surviving members of the crew. He met his wife who was in the WAF as a Radar Operator in Bournemouth.
After the war he came back to De La Rue and went onto become of the UK's top business executives, becoming Chairman of the company in 1964. Amongst his various achievements was his election as President of the Confederation of British Industry, Chairman of the UK Centre for Economic and Environmental Development. His interest in the Environment led to his Directorship and Chairmanship of World Wildlife Fund and the King Mehendra Trust for Nature Conservation of which he still very much follows with great interest. Another keen interest is the founding of a school in Kenya of which he was actively involved.
Had he not settled in Dorset he would have sent this three sons of five children to Blundell's, but his wife was from the Dorset are and it was important to them both that they could easily get to functions and matches. He has a very active and fulfilling family life although four of his children live overseas, he very much enjoys having another son as he neighbor. He particularly enjoys visits from one or other of his 17 great and great grand children throughout the year.
Since his retirement he has had a great interest in Flat racing, with a stake in many racehorses jointly with trainers with some success. He has only recently stopped driving as his car broke down and he felt that at 93, perhaps it was time to draw his driving career to a close. Throughout his life he has enjoyed the company of many treasured Labradors which has probably assisted in keeping him so fit and active together with his passion for gardening. He is an avid reader and I was very envious that he still doesn't need glasses. He still regularly travels to Australia for family visits.
It is wonderful to hear the tales of such a gentleman who clearly holds much affection still for his time here at Blundell's.
Back to: OBs in the Military