Blundell's Archive
Like any prestigious institution of its age, Blundell's School possesses a distinguished history. The highs and lows of School life over the past 400 or so years have been carefully preserved in the School Archive. The numerous ledgers, documents, photographs and artefacts, some 20,000 in all, tell of a rich heritage, which underpins the Blundell's School community to this day. The Archive also holds many invaluable property documents pertaining to the Southwest for the 15th to 19th centuries, which may be of interest to visiting scholars.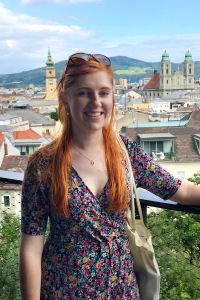 Growing up with Hampton Court Palace on her doorstep, it was no surprise that History became a real passion for Catherine from a young age. Catherine loves to travel with her history lecturer husband and two young children on his archive trips to Europe. She spends many happy hours doing genealogical research and has published some of her research in Carloviana – the journal for the Carlow Historical and Archaeological Society.
Established by former Bursar and Mayor of Tiverton, E.G. Peirce, in the first half of last century, Blundell's Archive is now located upstairs in the Modern Languages and EAL building. It has benefited greatly from the loving attention for many years of the recently retired archivist, local historian and award-winning author, Mike Sampson. His mantle has been taken on by Catherine Flavelle from the History Department, who is now putting to good use many hours of palaeography and medieval Latin lectures from her undergrad days at the University of Cambridge.
Catherine is very happy to answer queries from Old Blundellians and their families, academics and members of the public. Whilst the collection is extensive and continually updated, we are always interested in expanding the inventory and welcome relevant donations. Due to practical considerations, we sadly cannot take everything, even if the material has been left to us in a will. To avoid disappointment, it is best to be in touch with Catherine (see below), particularly if you are interested in any posthumous bequests.
Catherine Flavelle
Archivist
Blundell's School
Tiverton
Devon EX16 4DN
Tel: 01884 232420
Email: archive@blundells.org
Useful links
Historical Interest
Policies