OB Club
Cricket
See also: Somerset CCG Fixtures on the Ted Crowe Room page.
OB Cricket in 2023
2nd OB Surrey Tour
Tuesday 1st – Thursday 3rd August 2023
Introduction
After a successful and well-supported OBCC cricket tour to Surrey last year, we will return this August. We are pleased to invite you to join our party.
The Cricket
We will again play Guildford CC in an all-day match at their superb ground at Woodbridge. We then have two new fixtures, against Epsom and Woking & Horsell:
Tuesday 1st August at 11:30am: Guildford CC v OBCC
At The Sports Ground, Guildford GU1 4RP
This is Surrey CCC's second ground with a new pavilion and first class facilities. We are fortunate to have secured a game during the Guildford CC Cricket Week.
2nd August at 1:30pm: Epsom CC v OBCC
Francis Schnadhorst Memorial Ground,
Woodcote Road, Epsom KT18 7QN
The first recorded cricket in Epsom was in 1730. These days the Club is well established in the Surrey Championship.
Thursday 3rd August at 1:30pm: Woking & Horsell CC v OBCC
Brewery Road, Woking GU21 4NA
Woking & Horsell had a long association with Alec and Eric Bedser, who lived in the area. The Club plays in the Surrey Championship.
Tour HQ, programme and accommodation
Tour headquarters will be at the home of Chad & Sharon Murrin at 1 Old Kiln Barn, Berry Lane, Worplesdon, Guildford GU3 3QF. This is between Guildford and Woking. The games at Guildford and Woking are 10 minutes away, whilst Epsom is 30 minutes' drive away.
Tourists are asked to make their own arrangements to travel to Guildford Cricket Club, arriving by 10.30 am on the Tuesday for the all-day game. There will be a post-match barbecue at the Club.
The majority of the party will stay at Worplesdon Place Hotel (www.worplesdonplace.co.uk).
Rooms have been booked on a B & B basis for Tuesday, Wednesday and Thursday nights. Players will be expected to share a room.
If you are bringing your wife or partner and would like a double room, please let us know. If you prefer to make individual arrangements for accommodation, this is fine.
Following the match on Thursday at Woking, there will be a supper at the Worpesdon Place Hotel. If you prefer to depart and travel home on Thursday evening, please advise.
Costs
As this is our first Tour for some years, the OBCC will underwrite and significantly subsidise the costs from Club funds. These costs include match fees and cricket expenses, meals and accommodation.
Tourists will each make a contribution of £100 per head (£50 for those aged under 25) and meet their own travel expenses and beer kitty.
Tour Management
What do I do next?
In first instance, please contact Jon Day to register your interest. Please do this as soon as possible.
If you are interested in coming as a supporter only, please contact us to discuss.
Provided we have enough players, the tour will be highly enjoyable. A lot of work has gone into making the arrangements, so please commit early if you would like the Tour to go ahead.
We look forward to hearing from you!
2023 OBCC Fixture List
Date
Start
Opponents
Ground
Match Manager
Thurs 22 June
5.15
Blundell's School
Blundell's
Liam Lewis
Mon 24 July
12.00
Sou'westers
Blundell's
Justin Williams
Wed 27 July
11.30
Old Tauntonians
Taunton School
John Day
Surrey Tour
Tues 1 August
11.30
Guildford CC
Guildford
Tour Manager: Chad Murrin
Cricket Manager: Jon Day
Wed 2 August
1.30
Epsom CC
Epsom
Thurs 3 August
1.30
Woking & Horsell CC
Woking
Glenthorne Cup
Sun 10 September
1.00
Lynton & Lynmouth
Lynton
Richard Pugsley
* Contact details below
Contacts
Club Captain
Andy Giles
07818 085928
andgiles@aol.com
Match Managers
Liam Lewis
07841 825752
ljl@blundells.org
Justin Williams
07837 771520
justin_g_williams@hotmail.co.uk
Jon Day
07967 303932
Jonday30@gmail.com
Richard Pugsley
07729 511710
Richard@hole-pugsley.co.uk
Chad Murrin
07767 224632
chad_murrin@msn.com
Umpires
John Smith
01884 840798
Alistair Horton
07946 259199
Scorer
Ed Bailey
07967 643579
Review of the 2022 Season
The OBCC had a more ambitious programme in 2002, embarking on our first tour for many years. The tour was to Surrey and was well supported. We propose to repeat it in 2023.
We played six matches in total in the season. We won four and lost two. The only disappointment was that the Old Tauntonians were unable to raise a side to play us at Blundell's.
We are very grateful to our match managers (Liam Lewis, Justin Williams, Jon Day and Richard Pugsley) for their work in raising teams. Thank you also to John Smith and Alasdair Horton for umpiring. Alastair heroically stood three days running on the Surrey tour in heat wave conditions. Thank you also to Graham Cox, Head Groundsman at Blundell's, and to Sue Beale and her team for catering.
*
23rd June at Blundell's v The School
OBCC 107-8 (20 0vers)
L. Lewis 33, M. Mayor 3-18
Blundell's School -108-2 (10.5 overs).
H. Southgate 30*, J. Whittaker 20*, T. Hatton 20
Once again we were soundly beaten by a strong School 1st XI. The School won by 8 wickets with nearly half the overs left.
*
25th July at Blundell's v Sou'westers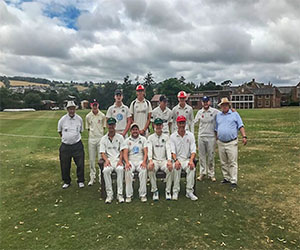 Sou'westers 195 (57.1 overs)
H. Chatfield-Roberts 56, P. Oliver 33, W. Hall-Tompkin 2-22, T.Reynolds 2-33, M.Mayor 2-35
OBCC 197-9 (49.4 overs)
F. Bucknell 55, A. Chilcott 52, A. Chambers 28, A. Bolan 3-35
We prevailed by one wicket in an extraordinary match against our old friends the Sou'westers. Chasing a modest 195, we were cruising at 140-2. We then lost six wickets for nothing. The last pair scrambled us over the line to a one wicket win.
*
Old Blundellian Cricket Club Surrey Tour 2022
The first OBCC Tour for many years was successful and well supported. Jon Day did great work raising teams and we had 12 or 13 players on each day. The weather was extraordinarily hot.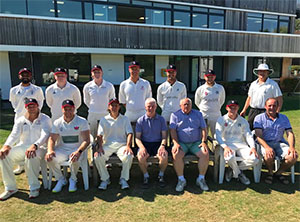 We were fortunate to secure an invitation to play Guildford CC in their Cricket Week at their excellent ground at Woodbridge Road. The OB's made 280-9 dec., with a century from Liam Lewis and solid support from Simon Sobczak and Andrew Chambers. We then found ourselves a couple of bowlers short and the home side eased to a four-wicket win.
It was good to see a good number of OB's coming to watch the match, including Andy Giles (who played on Thursday), Tom Hillman, Chris Harding, Anthony Jacques and Peter Price.
Next day, we had an evening T20 against Holmbury St Mary at their beautiful village cricket ground, up on the North Downs. The OB bowling restricted Holmbury to 139-5, with Benedict Barton and John Hill rolling back the years. Tim Chambers nipped in with two quick wickets at the end. Our batting was too strong, with a classy half-century from Will Bucknell and then Guy Bucknell hitting the winning runs.
The final game a was less competitive as we were too strong for the home side. The OB's made 259-5 in our 40 overs, with runs from Will Hall-Tompkin, Ed Carter and Will Gingell. We then bowled Normandy out for 158, with three wickets each for Tom Murphy and Hall-Tompkin. Jon Day starred in the field, with two catches and a run out.
9th August at Guildford
OBCC 280-9 dec.
L. Lewis 105*, S. Sobczak 50, A. Chambers 49, W.Hall-Tompkin 20
Guildford CC 284-6
W. Jenner 54, Sobczak 3-64
Guildford CC won by 4 wickets
10th August at Holmbury St Mary, Dorking
Holmbury St Mary CC 139-5 (20 0vers)
N. Menzies 51, T. Chambers 2-27
OBCC 140-3 16.5 overs)
W. Bucknell 50, S. Sobczak 26, W. Gingell 22
Old Blundellians won by 7 wickets
11th August at Normandy, Guildford
OBCC 259-5 (40 0vers)
W. Hall-Tompkin 53, E. Carter 51, W. Gingell 36
Normandy CC 158 all out (38.4 overs)
W. Hall-Tompkin 3-9, T. Murphy 3-24
Old Blundellians won by 101 runs
*
11th September at the Valley of the Rocks – The Glenthorne Cup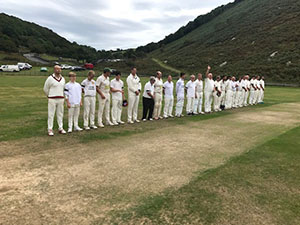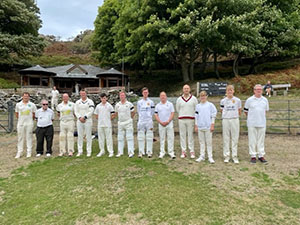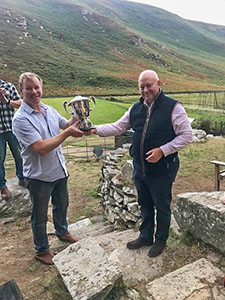 The official guidance was the match should proceed despite the death of Queen Elizabeth II three days earlier. The teams wore black arm bands and observed two minutes' silence at the start.
OBCC prevailed in an exciting close finish. With a dominant undefeated century from Liam Lewis, we totalled 186-7 in our 35 overs. All credit to Lynton, who chased gamely and finished just 10 runs short. Richard Pugsley was the pick of the OB bowlers with four wickets.
OBCC 187-7 (35 overs, innings closed)
L. Lewis 118*, H. Weekes 35
Lynton & Lynmouth CC 176-7 (35 overs, innings closed)
L. Constable 65, C. Constable 33, R. Pugsley 4-32
Old Blundellians won by 10 runs.
Review of the 2021 Season
The OBCC played four matches, winning two and losing two. It was pleasing that we have four match managers, each of whom raised good young teams. The best cricketers from the School's 1st XI, Joe Du'Gay and Tom Reynolds, made their debuts.
In June, a strong-looking OB side was thrashed by a very strong School 1st XI, which ended the season unbeaten. Full credit to Liam Lewis, Master in Charge, who has done great work developing some good young cricketers. We then lost comfortably in the traditional all-day match at the end of July to the Sou'westers. Two days later, Jon Day led the OB's to an impressive victory against the Old Tauntonians at Taunton School. We celebrated in style over a curry in the town centre.
The season ended with victory in the Glenthorne Cup against Lynton & Lynmouth CC. How good it was to see Lynton back playing cricket, after no matches in 2021. Richard Pugsley assembled a decent team and we saw off the locals.
Many thanks to John Smith for umpiring and to Graham Cox, Head Groundsman at Blundell's.
24th June at Blundell's
Blundell's School 194-2 (20 overs)
T. Hatton 99*, J du'Gay 74
OBCC 144-9 (20 overs)
W Gingell 26, J. Frankpitt 25, L. Lewis 21, T. Murphy 5-30
The School won by 50 runs.
26th July at Blundell's
Sou'westers 203-9 dec. (50 overs)
J. Flatt 69, W. Bucknell 3-69, W. Gingell 2-21, T. Reynolds 2-28
OBCC 103 (35 overs)
A. Chambers 18, J. Williams 17, H. Parker 5-26
Sou'westers won by 100 wickets
28th July at Taunton School
Old Tauntonians 236-8 (46 overs)
W. Abell 79, J. Dart 342, T. Reynolds 2-40
OBCC 237-5 (51.4 overs)
J. Dart 103*, J. Du'Gay 45, W. Bucknell 27
OBCC won by 5 wickets
12th September at the Valley of the Rocks
OBCC 202-9 (35 overs)
T. Chambers 65, N. White 46, A. Chambers 24, A' Spice 3-30
Lynton & Lynmouth CC 118 (35 overs)
N. Shilling 22, W. Bucknell 3-35, N. White 2-24
We are hoping to expand our programme in 2022. The OBCC has a historic tradition of touring and we are considering a short venture into Surrey next August.