OB Club
Squash
OBs v Blundell's 2017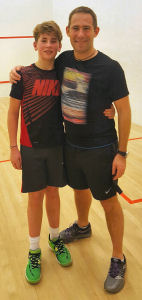 After OB Team Captain Grant Dee Shapland inexplicably chose to take last minute free tickets to Ireland v England in the Six Nations curtain-raiser, it was left to the OB trio of Chris Turlick, Giles Stimson and Richard Marsh to lead the charge!
Chris Turlick had lost none of his magic from his time at Blundell's and it was quickly decided that School Master, Bruce Wheatley, Head of Rackets, would make a worthy opponent. A great game ensued and despite Chris rolling his ankle he ultimately came out on top, 3-1.
Blundell's No. 2, Jos Marsh, played Giles Stimson and despite close games Giles's experience and general wiliness proved too strong with a 3-0 victory.
Finally, Lucas Amory, Blundell's No. 1 (although restricted with a case of tendonitis) played Richard Marsh and whilst the OB's scored another win with a 3-1 victory, on another day with a fully fit Lucas the result could have been very different.
OBs v Blundell's
Sat 24th March 2012
The annual Squash encounter between the OB's and the School is seldom an event without incident. This year proved no exception with the star signing at No1, Andrew Midgley, failing to make the match at all owing to grid lock on the M5. Thankfully Mr Wheatley stepped in for him at late notice and was able to secure a second win for the OB team against the Blundell's number one Ben Hancock.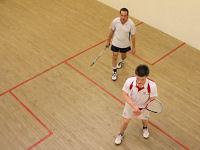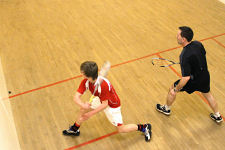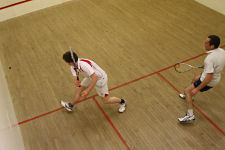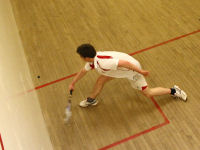 Earlier in the afternoon two thrilling battles took place at the No 2 and No 4 spot. Jess Mudge for the OB's returned from Birmingham to play Joe Pyne in a gruelling five setter which Joe won 13–11 in the fifth. Jess played an excellent game and has evidently kept her Squash going since leaving last year but her natural finesse, timing and patience ultimately succumbed to the powerful hitting Joe Pyne. In a similar, bruising encounter, the OB number four – Phil Hancock played William French in another nail-biter which also saw the school win 13–11 in the fifth game. Frequent stops to repair bits of Phil's body which fell off during the game gave Will the necessary respite to keep his athletic and hard-hitting game going. Phil put up a worthy fight against the youngster but ultimately the years of personal neglect and abuse took their toll and he hobbled off with a silver medal. Grant Dee Shapland at No3 returned to the grace the courts for the second time in four years to beat Gary Abdul 3–0. Grant's game has changed little since leaving Blundell's in 1981 and his natural athleticism, innate court sense and very hard-hitting were too much for Gary (who incidentally had returned to school to play the match having also played in the tournament in the morning!). In the No 5 slot Peter Melville-Shreeve made his debut for the OB's and put up a valiant performance but was perhaps a little outgunned by the unorthodox but effective shot combinations of Matthew Oddy. Peter lost his game 3–0 to leave the OB's in second place overall. Blundell's won 3–2, outrunning the Old Lags... but there is always next year!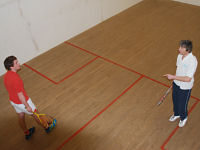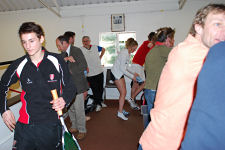 If anybody is interested in playing OB's Squash next year please contact Charlie Hamilton at cmh@blundells.org. CMH
OBs v Blundell's
2010
The OBs, including new President David d'Arcy Hughes, enjoyed an afternoon of squash and managed a 2-2 draw with the School. David lost to a member of the opposite sex for only the third time in a in a 53 year squash career!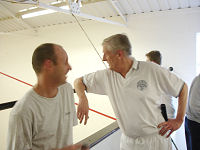 After the game players enjoyed a drink and supper in the Beale Centre.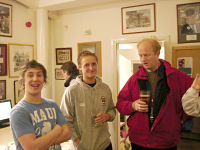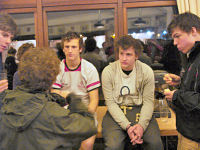 OBs v Blundell's
2009
An OB team consisting of Alex Hamilton, Rick Parker, Peter Melville-Shreeve, Charlie Hamilton and Paddy Armstrong enjoyed a match against the School on 21st March, with the School winning 4-1.