OB Club
Fives
Reichwald Trophy Tournament
Sunday 26th Sept. 2021
The annual Reichwald Fives Trophy Tournament is taking place on Sunday 26th September 2021. Please do come along and support fives at Blundell's and do not worry if you haven't been near a court for years as the handicapping system makes it an enjoyable tournament for everyone! It has always been a very friendly event and a way of encouraging the game throughout the age range at the school. We would be delighted to see you if you are interested in taking part or spectating. Please contact Janet at the OB Club or Alex Steel (GH 1998-2005) the OB Club representative: alexandrasteel1@sky.com / 07769 159170.
The arrangements for the day are as follows:
Time
Event
12.15pm
Arrive at the Beale Centre - Pairings organised. (Strongest students play with
oldest and weakest OBs and vice-versa!)
12.30pm
Lunch in the Beale Centre for all players (OBs, students, spectators and
parents - should they wish to stay.)
1.30pm
Tournament Main competition and probably three Plate competitions as well -
so everyone should have plenty of games.
4.30-4.45pm
Finish playing
5.00pm
Tea for players and any supporters in the Beale Centre. Presentation of trophy.
The cost for lunch and tea for Blundell's Community players and spectators is £10, or £5 for lunch or tea, payable as cash on the day. Please let Janet know if you would like either and of any dietary requirements. (This event is subsidised by the Old Blundellian Club.)
For further information, contact Janet Wooff - details can be found at the foot of this page.
Reichwald Fives Tournament report
Sunday 13th September 2019
The 11th Reichwald Fives Trophy Tournament took place on Sunday 13th September and a superb day was had by all. The day started with an excellent lunch in the Beale Centre, which was good preparation for an intense afternoon of play. There were 30 players involved and the tournament followed the usual format of a current pupil pairing up with an OB.
The standard of play was very high and there were many gripping and closely fought games. It was great to have a representation of every year group from year 7 to 13 involved, including girls. It was also gratifying to have some current parents playing!
Frank Akerman (P 1953-58), the creator or the tournament was much in evidence during the day and presented the awards alongside the Headmaster.
RESULTS
Reichwald Trophy: Alex Rew/Dan Pugsley
1st Plate: Alexandra Steel/Ed Swarbrick
2nd Plate: Wayne Enstone/Angus Rackham
3rd Plate: Tim Lewis/James Pugsley
Fives Tournament for the Reichwald Trophy
Sunday 24th September 2017
Despite various spells of rain and the closure of two courts due to slippery surface this year's tournament produced many fine performances from pupils, OB's and parents, some who hadn't played Fives for many years, 35 in one case. The spectators seemed un-phased by the conditions and were treated to many compelling matches that took their minds off the weather.
The day began with the usual meeting in the Beale Centre where Janet Wooff, assisted by husband Mark (M 1977-82), produced a superb lunch and players were introduced to their partner, OB's playing with pupil. Mr Chris Hedley Dent (CHD) also announced various new positions of Blundell's Fives for the season: Captain, Addie Chai; Vice Captain, James Maclaurin: and Social Secretary, Barney Ames.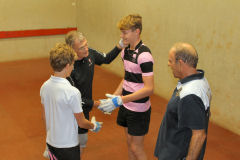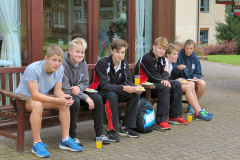 The initial tournament was three pools of four pairs that established the next round of pools for the main Reichwald Trophy competition and three Plate competitions. In Pool 1 James MacLaurin and Melanie Whitehead had a hard fought match against Addie Chai and Katherine Armstrong, just winning and going through to the Reichwald Trophy draw. In Pool 2 there were three pairs, Toby Pearce, a newcomer to Fives, Christian Cabburn, Captain of Fives last year, had great enthusiasm despite having just returned from a European trip and produced some fine shots throughout the day considering his lack of practice. Tommy Ryder and Alexandra Steel gave eventual winners George Gibbs and Christian Brookes a very close match with a one point difference. Finally, Pool 3 was the most hotly contested with three pairs, Max Maher/ Maddy Raynor, Dom Wielenga /Keith Kennerely, and Oscar Wetheral/Dan Hill all winning two matches, the positions were decided on who beat who and that meant Max and Maddy went through to contest the Trophy Pool.
At this stage of proceedings, most players looked pretty exhausted, however, as happens with all pools playing for either the Reichwald Trophy or the three Plates, the energy levels rose again.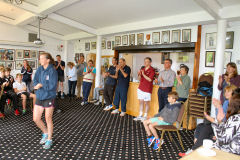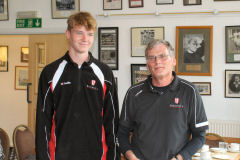 The Reichwald Trophy winners this year were James Maclaurin and Melanie Whitehead, runners up George Gibbs and Christian Brooks.
The event finished with the usual tea and thanks and presentations back in the Beale Centre. This year was a significant occasion as Frank Akerman, who initiated the Reichwald Trophy, noted in his speech the recent sad passing of Maureen Reichwald, Chris Reichwald's widow.
Mr CHD handed over the Master In Charge of Fives role to Mr Richard Moore. Captain of Fives, Addie Chai, responded with a speech thanking Mr CHD for the great contribution that he has made to Fives since taking it on in 2006. A moment of reflection for the many good times CHD has given us all over those years. Fortunately, CHD is still involved for the time being and for this season at least. Farewells were said as some OB's had quite a way to journey home, and all were looking forward to next year's event!
Wayne Enstone
Blundell's players: Addie Chai, James MacLaurin, Barney Ames, Toby Pearce, Tommy Ryder, George Gibbs, Boris Ames, Harry Rackham, Max Mayor, Oscar Wetherall, Dom Wielenga, James Bartlett.
OB players: Daniel Hill, Alexandra Steel, Maddie Raynor, Melanie Whitehead, Christian Cabburn, Christian Brooks, Katharine Armstrong, Christy Bartlett, CHD + Exeter Club payers: Tim Lewis, Keith Kennerley and Nick Geere.
Results
Reichwald Trophy: James MacLaurin & Melanie Whitehead
Runners up: George Gibbs & Christian Brooks
First Plate winners: Addie Chai and Katherine Armstrong
Second Plate winners: Dom Wielenga and Keith Kennerley
Third Plate winners: Boris Ames and CHD, all pairs in this pool scoring highly
Additional Photos
(Click on any photo to see a larger version)
RFA v Old Blundellians
28th January 2017
The RFA v Old Blundellian match was ably organised by Alex Rew (OB NC 1984-89).
Match Report
RFA only managed two players so received a 10-point penalty from the get go. This rallied them into action and we had a fantastic afternoon's fives in the sun at Tiverton.
The RFA team comprised Alex Rew (OB), Nick Geere, Tim (two new knees) Lewis and Jeremy Wren (from Bristol, and an OB). The OB's were represented by John Savery (wiley agriculturist), Alexandra Steel (female, from London), Dan Hill (OB stalwart) and Jeremy Tricks (first competitive game for 28 years).
Two games of doubles to 15 for each pair.
Final result: RFA 109 less 10 point deduction = 99 v OB 99. A draw!
Well played all, and thanks for coming!
Reichwald Trophy 2016
Players
School: Tobias Francis, Ben Clarke, Addie Chai, James Maclaurin, Christian Cabburn, Barney Ames, Lucas Amery, Ed Swarbrick, CHD, Bertie Matthew
OBs: Daniel Hill, Jonathan Webber, Alexandra Steel, Christian Brooks, Melanie Whitehead, Frank Akerman, Will Akerman, Tom Massey, John Savery, Nick Geere, Wayne Enstone
Scorers: Alex Rew, Tim Lewis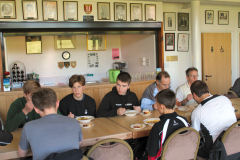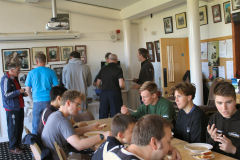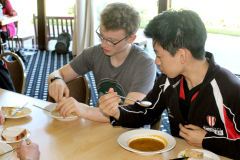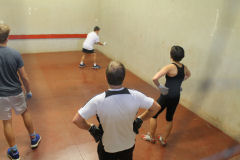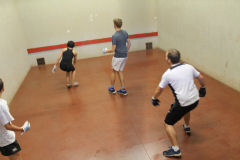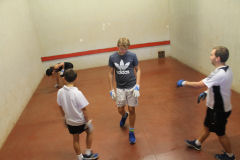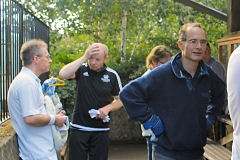 Match Report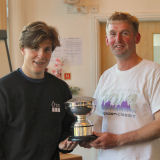 As ever we had a thoroughly enjoyable and competitive afternoon of Fives and apart from the odd shower had good weather. We followed the normal format of pairing up ten OB's with a current pupil on a strong to weaker basis and a draw was made to ensure that the pairings were evenly balanced. We had less pupils than usual as there was a clash between the tournament and the Mills Cup and CCF, thus making unavailable the year 9 and 10 invited players. Nevertheless the matches were very tightly contested and the afternoon saw many long and exciting rallies at the pool stage. The tempo increased at the knock out stage. The results were as follows:
The Reichwald Cup was won by Christian Cabburn and John Savery (15-14)
(by a hair's breadth against Barney Ames and Wayne Enstone)
1st plate by Lucas Amery and Will Akerman
2nd plate by James Maclaurin and Alexandra Steel
3rd plate by Ed Swarbrick and Dan Hill
4th Plate was won by Tobias Francis and Tom Massey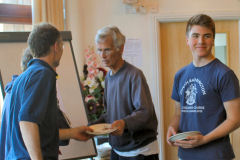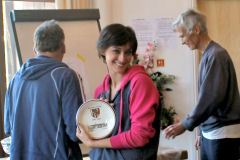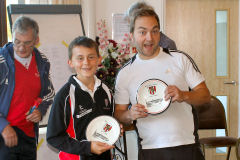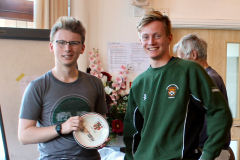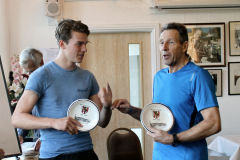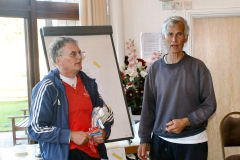 It was great to have Bertie Matthew come and play with his usual vigour and enthusiasm. Ed Swarbrick as the youngest player deserves special mention for his pluckiness and super serving.
We owe may thanks to Wayne for masterminding the draw and to Frank Akerman and the Exeter and Tiverton clubs for their unwavering support of the event. As ever Janet Wooff provided us with a very tasty lunch and tea at the Beale Centre.
OB Sport Weekend
Fri 18th, Sat 19th March 2016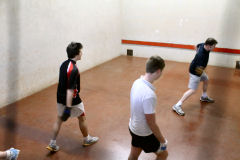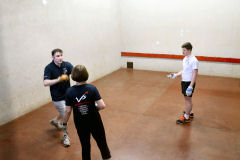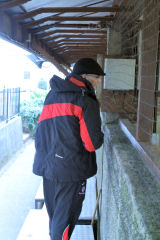 We had a great afternoon of Fives against the OB's on Saturday. The teams overall were evenly matched. The Blundell's squad played dynamically and skilfully throughout and with good spirit. In the end honours were evenly distributed. In the Singles unsurprisingly the OB's with their superior experience and skill won overall 107-70. However, Tobias and and Addie played exceptionally well against Rob Whitehorn and Daniel Hill.
Christian Cabburn really revved up in his second match against Bob Hitchens and Ed Pawson was triumphant in both tightly fought games against Christian Brooks.
Blundell's came in to their own in the Doubles winning 73-70. Pawson/Ferguson-Thompson won both their games and the Maclaurin/Cabburn duo played very inventively against Kennerley/Hitchens winning 15-7 in the first game and narrowly losing 12-15 in the second. Francis/Chai played brilliantly against the awesome firepower and tactics of the first pair Whitethorn/Hill and managed to score 8 points in both games. This will serve as fantastic preparation for the Nationals in two weeks time.
Overall it was a very upbeat and fitting end to a very good season.
The Reichwald Trophy
2014
Players
School: Tobias Francis, Jack Lockwood, Lucas Amery, Addie Chai, James Maclaurin, Jake Le Gassick, Will Hall-Tompkin, Miles Lawler, George Gibbs, Alfie Gardner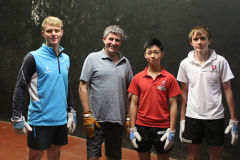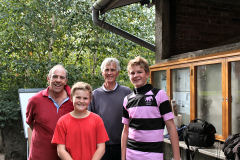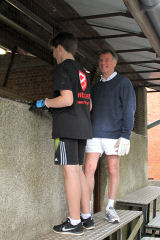 OB's: Sam Wyatt-Haines, Daniel Hill, Wayne Enstone, Tim Lewis, Jonathan Webber, Richard Wyatt-Haines, Frank Akerman, Douglas Rice, CH-D, Jonathan Amery.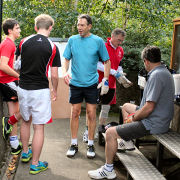 We had a very enjoyable and exciting afternoon of fives helped by the excellent weather. We followed the normal format, with a current pupil pairing up with an OB or staff member. 10 pairs were involved and there was much gripping fives to be seen at the pool stage and in the final rounds. It was great to welcome back Sam Wyatt-Haines and father Richard as Old Blundellians. The School squad was one of our youngest and it was pleasing to see the year 8 and 9 players perform with increasing confidence and fluency. Special thanks goes to Frank Akerman, Wayne Enstone & Chris Prosser for their help and support. As ever Jessica at the Beale Centre provided an excellent lunch and tea.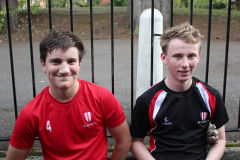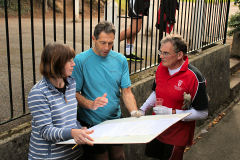 Results
The Reichwald Cup was won by by Addie Chai and Jonathan Webber
1st plate by George Gibbs and Daniel Hill
2nd plate by Tobias Francis and Jonathan Amery
3rd plate was won by James Maclaurin and Frank Akerman
Many of the final games were very tightly contested and praise is due to the runners up:
Will Hall-Tompkin, Miles Lawler, Lucas Amery and Jack Lockwood.
The Reichwald Trophy
Sun 13th Oct 2013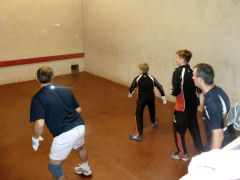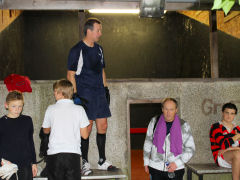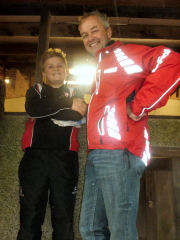 The annual OB Reichwald Doubles Tournament was a very enjoyable affair that involved 24 current pupils and old Blundellians. We played the normal format in which an OB or Men's Club player was paired with a current pupil. (The matches were organised on a pool basis with winners being determined by overall points scored). Players conducted themselves in best Blundellian spirit throughout, on and off the court. It was great to see a good representation of younger players from years 8 and 9. One of the aims of the day is to give junior players an insight into the tactical and technical skill levels of mature players. Overall there was an excellent and highly competitive standard of fives played. Matches were very tightly contested and in many cases the runners up were only 1 or 2 points behind.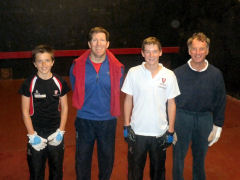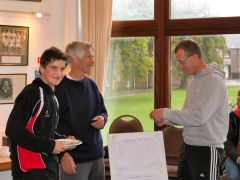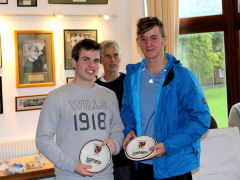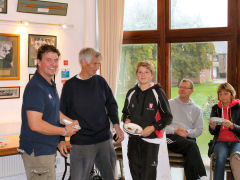 Sam Wyatt-Haines and Melanie Whitehead won the Reichwald Trophy scoring a maximum of 45 points.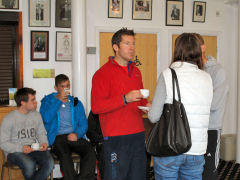 The Runners up were Jack Grandfield and Nick Cumberlege and were awarded the First Plate, scoring 43 points.
Jack Lockwood and Richard Wyatt-Haines won the Second Plate competition, scoring the maximum of 45 points.
James Maclaurin and Simon Hartwright won the Third Plate competition, scoring 42 points. The runners-up, Joseph Duncan and Jeremy Wren were only 1 point behind with 41.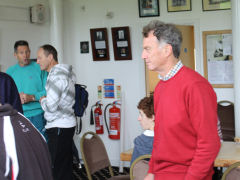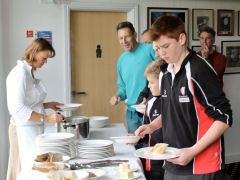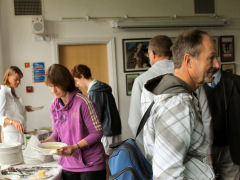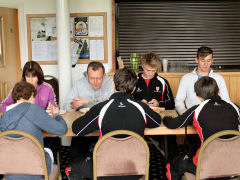 All in all, a great day!
OB Fives
Fri 15th March 2013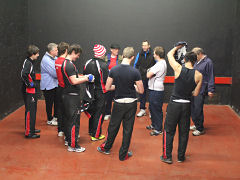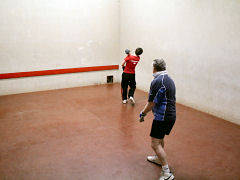 Squad: Tom McPherson, Harvey Scott, Jack Webber, Alistair Chilcott, Sam Combe, Suguru Saito.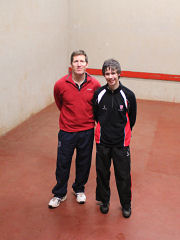 OB's: Alex Rew, Wayne Enstone, Daniel Hill, Bob Hitchings, Tim Lewis, Chris Hedley-Dent.
We had an entertaining if wet fives match against the OB's. It was a tough but good natured battle. The OB's got the upper hand winning 114-72, experience and cunning winning over youthful vigour and enthusiasm. There were many good games and Tom McPherson, Alistair Chilcott and Jack Webber played particularly well in the singles. Harvey Scott and Tom McPherson Fought hard in the doubles against Rew/Lewis as did Chilcott/Webber, winning one of their games 11-9. Suguru Saito and Sam Combe turned the tables on Enstone/Hedley-Dent, pushing the second game to a gentleman's draw of 10-all!
All in all it was an excellent match played in good spirit.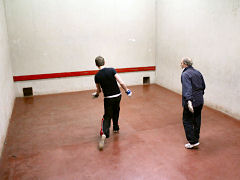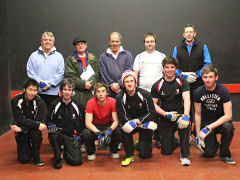 Reichwald Trophy Tournament
Sun 7th Oct 2012
Our annual OB Reichwald Doubles Tournament was a very happy affair that involved 34 current pupils and old Blundellians. We played the normal format in which an OB was paired with a current pupil. Players conducted themselves impeccably throughout as did the OB's! Overall there was an excellent standard fives played and it was good to see four SH pupils involved for the first time. As ever, the event was very ably co-organised by Frank Akerman and we are very grateful to Maureen Reichwald for presenting the trophies.
The finals were very closely contested.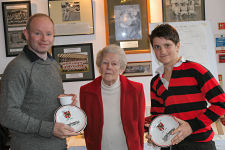 Jack Grandfield and Jonathan Webber won the Reichwald Trophy, beating
Jack Klinkenberg and Alex Rew 11-9, 8-11, 11-3.
Harvey Scott and Andrew Wyeth won the First Plate, defeating Alexander Gibson 11-3, 11-2.
Jack Lockwood and Mr Matthew won the Second plate, beating Will Klinkenberg and Jack Turner 11-9, 9-11,11-8.
Tom McPherson and Melanie Whitehead won the Third Plate, defeating Will Hall-Tompkin 11-9, 11-7.
OB's vs Blundell's
2012
The OBs won 207-135 and OB pair Tim Lewis and Keith Kennerly won the league tournament. RDJM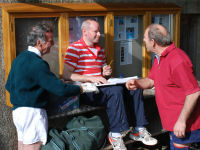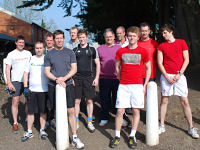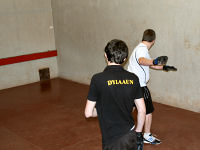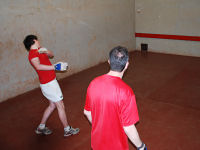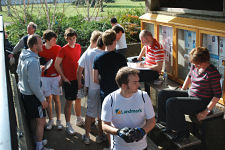 Marlborough Fives McNab Challenge
Sun 27th Nov 2011
The Marlborough Town Fives Club made history, on the 27th November 2011, they visited and played at Rugby School, Eton College and Winchester College. This tremendous undertaking took 14 hours, over 300 miles, copious Champagne and Beer, smoked salmon bagels, crisps and chocolate.
Also see this YouTube video of the Fives McNab Challenge from Leslie Jenkinson!
I was at school in FH 1964 – 1968 at the height of Chris Reichwald's housemastership and Fives stewardship. Anyone who seemed to be doing nothing in their spare time was encouraged – or more likely – ordered to use the courts which were and are, of course, very close. I have resumed playing regularly at Marlborough in the last 4 years and have represented Rugby Fives Association at Clifton, Kings Bruton, Marlborough as well as competing in National Vintage and Veterans championship. My recent excellent experience of Fives leads me to urge as many as possible to take up the game and continue to play on into life.
The Reichwald Trophy
Sun 16th Oct 2011
The third Reichwald trophy was held at Blundell's on Sunday 16th October. This time, thirty two players were involved including twelve OB's, staff and guests. Four current pupils subbed up as OB's in order to make up the numbers.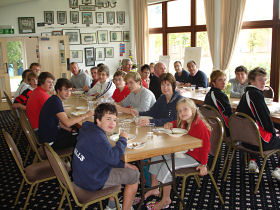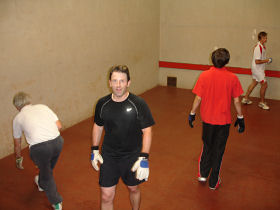 After the usual excellent light lunch battle began in earnest on the Fives courts, with pupils pairing with OB's. We were gain lucky with the other. There was some really top class Fives played throughout the tournament and good support from parents and friends.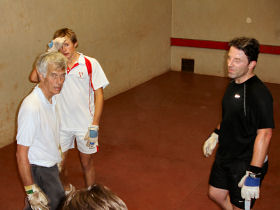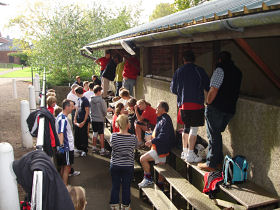 Winning Results:
Reichwald Trophy: Sam Wyatt-Haines (OH) & Georgina Scott (GH)
1st Plate: Tom McPherson (P) 7 Alistair Chilcot (FH)
2nd Plate: Christain Larder & Alex Scott (OH)
3rd Plate: Tom Hillman & Harvey Scott (OH)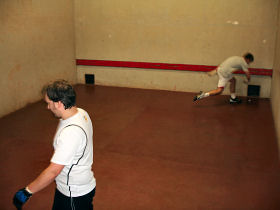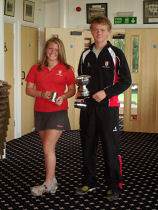 After the tournament players were given a delicious tea and Maureen Reichwald presented the cup and plates. Many thanks must go to Frank Akerman for co-organising the tournament and Alex Rew for doing such a stalwart job in supervising the scoring.
The Reichwald Trophy
Sun 17th Oct 2010
On Sunday 17th October forty Old Blundellians, Blundellians and guests took part in a competition at Blundell's for the Reichwald Trophy.
OB's and boys fueling the tank before a
gruelling afternoon's fives.
Studying the draw.
Six National Champions; Wayne Enstone, Douglas Rice, Samuel Wyatt-Haines, Melanie Whitehead, Jack Grandfield and Tim Lewis graced the courts together with Frank Akerman, the current Rugby Fives Association President.
Tim Lewis, master Johny Nelmes admiring the
drop ball retrieval.
Spot the ball!
After an excellent lunch in the Colin Beale Centre players and their families enjoyed a feast of Fives in late autumnal sunshine. Several players came out of retirement and were stiffening up nicely over cups of tea and cake later!
OB's Henry Charteris, Robin Thompson, Simon Cartwright
and winning finalist guest, Alistair Hellewell, enjoying
tea after OB Fives day.
Maureen Reichwald presenting The Reichwald Trophy
to winners Sam Wyatt-Haines and Alistair Hellewell
with Frank Akerman looking on.
The Reichwald Trophy was won by Samuel Wyatt-Haines and Alistair Hellewell who beat Alex Rew and Tom Wardle in the final. During tea in the Colin Beale Centre Maureen Reichwald presented the trophy and plans were made for next years' event.
OB Fives v School to Celebrate Anniversary
An OB/school Fives competition was held at Blundell's on Sunday 18th October 2009 to celebrate the 50th Anniversary of James McLachlan and Richard White's win in the Final of the National School's doubles competition. The day began with an excellent lunch in the Beale Centre and was followed by a feast of fives throughout the afternoon. Tea and presentations followed in the Beale Centre for players and spectators. An article will appear about the event in the Spring Blundell's Diary. Many thanks to Frank Akerman for his excellent organisation.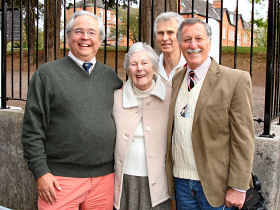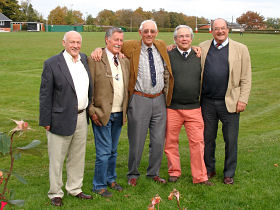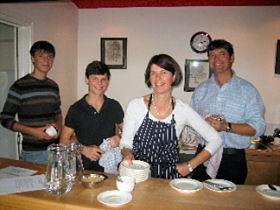 OB Fives v School
On 21st March, OBs and the School had an enjoyable afternoon on the Fives courts.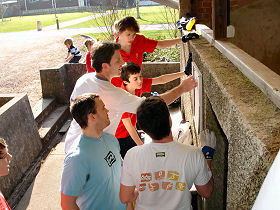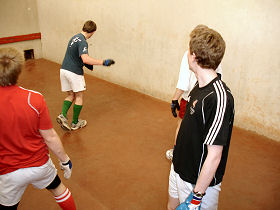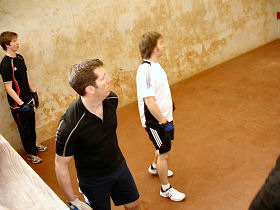 The Jesters Club Edinburgh annual Rugby Fives weekend
On Jan 16th twenty four members and candidates for the Jesters Club converged on Edinburgh for the club's annual rugby fives tour. Included in the party were Harry Akerman, (P 1986-91), Simon North (NC 1980-85) Edmund Thompson (FH. 1980-85) Robin Thompson (FH 1983-88) and Frank Akerman (P1953-58) with Peter Kirby (FH 1980-85) unfortunately having to withdraw.
With 18 matches of a variety of standards played over the weekend, it was a very intensive and enjoyable sporting and social couple of days. The matches were played against combinations from the four schools who have courts (Edinburgh Academy, Fettes, Loretto and Merchiston Castle), the University, an Old Merchistonian side and an extremely strong Caledonian Club. Over the years a number of OBs have come on this tour and if there are others who would like to be considered for membership of the Jesters and to play in Edinburgh please make contact.