OB Club
Football
OB Sport Weekend
Fri 16th, Sat 17th March 2018
Old Blundellian Football Match Report 2018 - 'Cold Boys Match'
Last minute injuries and drop-outs meant a much depleted squad for the Old Boys today. 10 men made it back to Tiverton in the end. Never a good sign when contrasted with the ever-fitter and greater-numbered school team. Special shoutout to Dan Nation for making a last-minute appearance when his own game for Tivvy town was cancelled. People playing out of position (Theo Belcher hanging up his goalie gloves to play in central defence arguably the most dramatic, Lewis Tancock being on a sports field this side of 2016 the most surprising), the snowy conditions and a borrowed player from the school whose ability betrayed his affability made up an Old Boys XI that looked much less imposing than usual. The result was a very even first 10 minutes that saw action at both ends; Tom Adams, Charlie Luxton and Alex Bartley all rediscovering the form they showed while at school. However, our initial enthusiasm and passing game was compromised by our arguable lack of fitness, which began to show as the half wore on. The school began to gain the upper hand and slipped three goals past the clumsy keeping of yours truly in quick succession. A lovely touch from Charlie Furzdon gave us something to play for at half-time, however. After an ever-inspirational Kwame Asare team talk at half time, plus the wind, allowed us to score both second half goals. Critics/haters would say that Luke Ricketts' effort was in the wrong goal but wrong footed this keeper beautifully nevertheless. A goalmouth scrabble meant we grabbed another but exhaustion (no subs used all game) meant we were unable to capitalise on Balsdon's utilisation of his more useless substitutions as the 70 minutes wore on. Better luck next year lads – hopefully the new era under Casper Montgomery will see a return to the victories of the past and this can be seen as a very snowy statistical blip. Final score 4-2.
OB Sport Weekend
Fri 17th, Sat 18th March 2017
On a windy, grey, drizzly day that seems to typify every OB football gameday, a strong OB squad arrived looking to overturn a 3-year losing streak. A good mix of returning senior players who had their rugby weekend off, and a 'younger OB' generation coming through, there was a real belief in the changing room that this was going to be our year.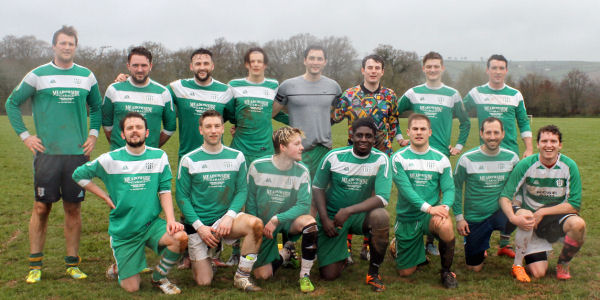 This confidence translated into dominance of the first 20mins and after a sustained bombardment of corners, Liam Lewis bundled the ball into the back of the net to give the OB's a 1-0. The OB's should have pressed on our advantage from there, however it served as a catalyst for the current XI to realise they were in a game and they slowly began to grow into the match. The 1st began to retain more possession and created several clear opportunities to equalise, but through a combination of wonderful saves from OB keeper Simon Sobczak, and last ditch challenges from the OB back 3, OB's went into halftime 1-0 up.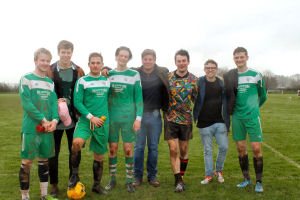 In previous years, a strong Dr B team talk and the deterioration of OB fitness usually lead to a less competitive second half, however an energised & fitter OB squad were not to be undone this year and came out the blocks full of energy. A tight affair resumed, with both sides knowing the side that the next goal was crucial for shaping the rest of the game. The breakthrough finally came through for the OB's about halfway through the second half, where Sobczak now relieved of his goalkeeping leash, went on a mazy (uncontrolled) run through the Blundell's defence and set up Liam for his second goal of the game. Cries of disbelief, tears of joy, would have been worthy emotions running through the OB's, but composure was needed for the closing stages of the game to see the result through.
Credit to the 1st, they did not allow their heads to drop and kept pressing to get that consolation goal and maybe create some tension for the OB's. With the game in the closing stages, Blundell's gave away a free kick in a dangerous position in their final third. There were several OB's sniffing around trying to get their paws on the ball, however there was only one man who would be taking this free-kick. With the headlines ready to write themselves and the paparazzi snapping away, Liam curled a beautifully weighted free-kick into the corner past the keeper.
3-0
Liam Lewis x3 (bragging rights to his Business study pupils and match ball taken home!) Job done.
Thank you to everyone that participated, the growing number of supporters that OB football is building and of course to Dr B for his continued dedication to football at Blundell's. Long may it continue.
OB Sport Weekend
Fri 18th, Sat 19th March 2016
Under the exceptional leadership of Kwame Asare, the OB Footballers once again returned with a strong squad. The 1st xi however took the game to them in the first half and led 2:0 at the break thanks to a brace from Alex Lomas. The OB's put on a far stronger performance in the second half and thoroughly deserved their goal from Rory Thomas in the second half. After a further twenty minutes of excellent Football from both teams it ended 2:1 to the 1st xi. A great game.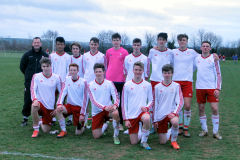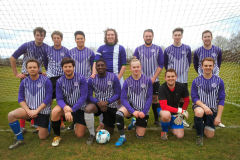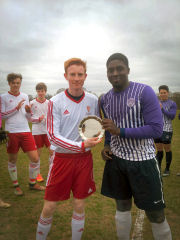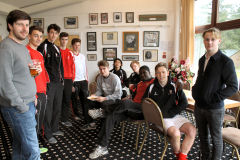 OBs v Blundell's 1st XI
2012
An end to end game which saw the OBs respond magnificently to the school's opening goal resulted in a 6-1 victory for the school. The OBs found the school's energy and organisation too much for their weary legs towards the finish of the second half. Matt Pynn is to be congratulated on his 12th consecutive cap for the OBs.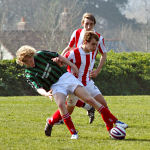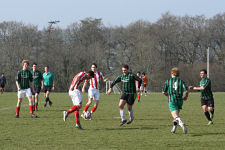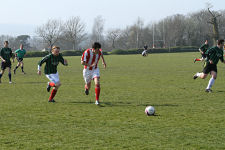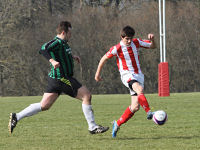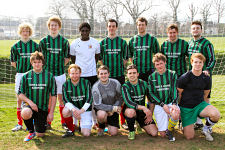 OBs v Blundell's 1st XI
2010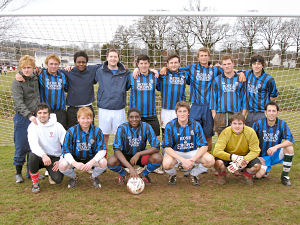 Once again Kwabena Asare brought together a seasoned squad of soccer players for the match against the School on Saturday 20th April.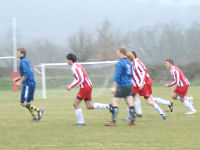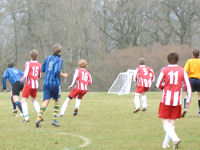 Although talented and extremely fit for their ages, the OBs were not able to cope with the Schools' teamwork. Despite judicious and imaginative substitutions by the OBs, the School ran out 4-2 winners.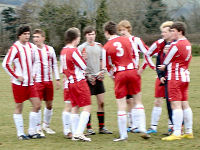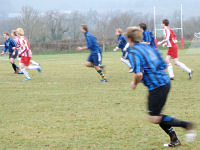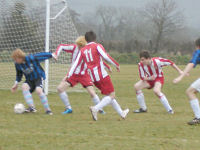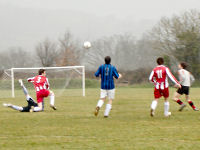 Post match drinks and supper were enjoyed in the Beale Centre.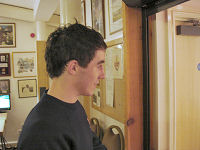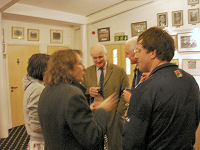 OBs v Blundell's 1st XI
2009
The most recent OB event was the football match against Blundell's 1st XI on Saturday 10th January. The following report was written by Dr John Balsdon, the master in charge of football at Blundell's. (Please click on the images for larger versions.)
Under the leadership of Kwame Asare, the Old Boys returned with an impressive squad of nineteen players of varying fitness and even a good number of supporters – there must have been quite a party somewhere that evening around Tiverton! The OBs started brightly and looked full of running and invention, particularly when Liam Lewis and Matt Pinn were on the field. Ryan Mason gave them a deserved lead with a neatly taken goal after five minutes of play following some hesitancy in the 1st XI defence. The OBs created further chances but some good fortune (Kwabena Asare being unable to find the old turbo of days gone by!) and eccentric goalkeeping by Julian Strong kept them at bay.
As the game developed, the lack of a convincing and coherent OB fitness regime began to make itself felt and the boys gradually dominated more of the possession. The school side then started to play some excellent flowing football, though too often hesitant finishing led to a failure to convert their chances; that is until Joe Packer-Byrne scored the equaliser following a well worked move starting from the edge of our own penalty area. Unfortunately, just when the OBs were looking a spent force, one of their rolling subs, Shaun Mardell, stunned us with a late winner. The OBs were 'over-the-moon' but the school knew they had been 'mugged', the result had been 'burgled' and they were generally gutted! JTB